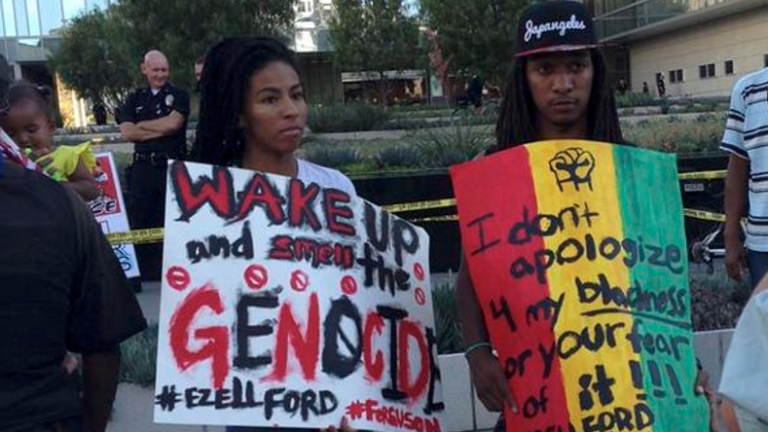 Officers Who Allegedly Murdered Ezell Ford Names Leaked
Jasmyne Cannick, political analyst and communications strategist, as well as a respected member of the Los Angeles community- just named the officers that she was leaked in the murder of Ezell Ford.
The Los Angeles Police Department has been under fire for delaying the autopsy results for Ford. They are also missing footage from dash and lapel cameras and have refused to name the killers of Ezell Ford andOmar Abrego, two unarmed men both murdered in a nine day span in Los Angeles.
Cannick was named one of ESSENCE Magazine's 25 Women Shaping the World and one of the Most Influential African-Americans in Los Angeles Under 40, she has won many awards for her work as a social commentator, co-founded of the the National Black Justice Coalition, produced television projects and films, and currently works in political communications as media counsel.
This is not Cannick's first time making waves at LAPD, she has previously released recordings of LAPD detective Frank Lyga, who fatally shot a fellow officer during a traffic dispute (both undercover and neither knew the other was a cop) making racially charged comments about shooting black men as well as vulgar comments about Capt. Lillian Carranza causing her to sue for slander and Lyga to be relieved of duties in June of this year.
Chief Beck has also had to issue extremely angry statements after Cannick released information reporting on inappropriate influence in two cases involving his daughter and other internal LAPD matters.
In her blog posted to twitter around 11:30pm, Wednesday Night, titled "Ezell Ford: I Don't Know But I've Been Told…The Names", she names Sharlton K. Wampler (Serial No. 36135) and Joseph Vigueras (Serial No. 31537) as the alleged murderers.
"I approached Captain Ed Prokop of Newton Division and privately told him that I had information on who the cops were that killed Ezell Ford and that tonight I was going to reveal the names of the officers allegedly involved. I don't think he believed me until I saw the expression on his face when I told him the names." Cannick wrote.
According to Vigueras linked-in profile he has worked at LAPD Rampart Division, the Special Forces, as well as the National Guard.
Current
Battalion Operations Officer at 304th Information Operations Battalion
Newton Area Adjutant at LAPD
Past
Company Commander at A Company 304th Information Operations Battalion
Patrol Adjutant at LAPD Newton Division
Officer in Charge, Rampart Division Parolee Compliance Unit (PCU) at LAPD

Officer in Charge, Rampart Division, Gang Enforcement Detail Sergeant at LAPD
Patrol Sergeant at LAPD
Professional Standards Bureau (Internal Affairs) at LAPD
Patrol Sergeant at LAPD
Police Officer III (Field Training Officer) at LAPD
Commissioned Officer at United States Army Reserve & National Guard
Police Officer II at LAPD
Police Officer I at LAPD
Recruit at LAPD Academy
Special Forces Enlisted at US Army
Education
Wampler was harder to find information on as his information has obviously been scrubbed from the internet. He was however named in a 2009 civil rights lawsuit where he was accused of unlawful and warrantless searches of persons and property, intimidation, assaults, threats, beatings, drowning, torture and humiliation.
At this time, Plaintiffs MANUEL HERNANDEZ and MARIA DE JESUS

HERNANDEZ, Plaintiff DANIEL HERNANDEZ's father and mother, came forward in a

non-threatenting manner pleading and begging the SCENE DEFENDANTS to not

drown their son and to allow him to breath. The SCENE DEFENDANTS pushed·and

shoved both Plaintiffs MANUEL HERNANDEZ and MARIA DE JESUS HERNANDEZ

into the house telling Plaintiffs MANUEL HERNANDEZ and MARIA DE JESUS

HERNANDEZ that they are "the police" and would do "whatever they wanted" to

Plaintiff DANIEL HERNANDEZ, and threatened Plaintiffs MANUEL HERNANDEZ and

MARIA DE JESUS HERNANDEZ by saying: "It will go better for him [Plaintiff DANIEL

HERNANDEZ] if you remain quiet because. We will do what we need to. You are not

going to call or tell anybody. No one is going to believe you anyway."
We still need the names of Omar Abrego's murderers. If there are any "good cops" in LAPD, we urge you to leak the names. Show us that you have even just one ounce of humanity in you. Ezell Ford's funeral is this Saturday and his family cannot afford this tragic and unexpected expense. If Darren Wilson, murderer of Mike Brown, can raise a half a million dollars and we can't help a family bury their son who was murdered, what does that say about this country? Please help give Ezell a proper funeral by donating here.

h/t Olaasm