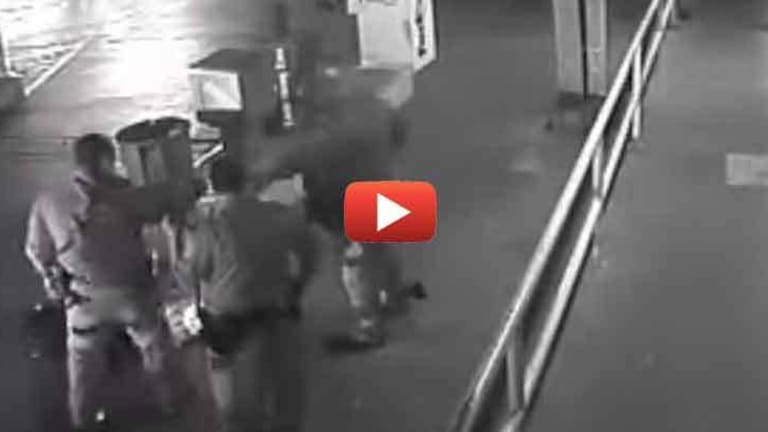 Cops Who Fist Bumped After Firing 80 Rounds Into Mentally Ill Man Cleared of Any Wrongdoing
80 rounds and a fist bump afterwards....for a mentally ill man who was asleep when officers first approached him.
Laredo, TX-- The officers involved in the fatal shooting of Jose Garza, 30, who suffered from schizophrenia, last August have been cleared of any wrongdoing, both criminally and professionally. They have now returned to the force.
Back in August, police arrived at a truck stop after receiving a call about a man with a gun. Witnesses, however, say that police knew it was a pellet gun upon arriving, but executed him anyway.
Before the police arrived, Garza was approached by security about the gun. Garza explained that it was a pellet gun he had just purchased from Walmart, and the guard checked it out to be sure. The guard has stated that he could tell it was not a real gun based on the cartridges. The private guard asked him to put it away, and Garza did. After the encounter, Garza reportedly fell asleep on the couch in front of the building with a bottle of wine and headphones on.
"This was an individual that came and sat down at the couch in front of the building and basically had a bottle of wine and fell asleep. He was sitting down, and he woke up after several commands, because he had headphones on and he was asleep. As he stood up, the police officers began firing." a witness explained.

"There was so much stray gunfire, people inside the building were forced to drop to the ground and crawl their way out of the police line of fire."
Six officers opened fire on the schizophrenic man approximately five minutes after arriving on the scene. The family said that he was shot at least 80 times. His injuries were so severe that they decided to cremate him as he no longer has a face.
" width="791" height="593" frameborder="0" allowfullscreen="allowfullscreen">
After murdering this man for sleeping with a pellet gun, the cold and heartless officers needlessly handcuffed his lifeless body. Then, as if to celebrate their firing squad style street execution, they are seen fist bumping 1:25 minutes into the video and taking photos with their cell phones.
In December, a grand jury decided lethal force was justified and cleared all of the officers of any criminal wrongdoing. This week an internal investigation has cleared the men to return to their regular positions.
"Basically the process regarding the internal review of the officers actions that evening has concluded the findings were basically brought before a firearms review board which is comprised of some of firearm instructors we have here at the police department and they reviewed the use of force continuum in regards to this particular incident. They found the police officers were basically in conformity with what would be normal response to an individual perception what was going on.", Investigator Joe Baeza told KGNS.
Beware Laredo, you have reckless armed executioners stalking your streets.