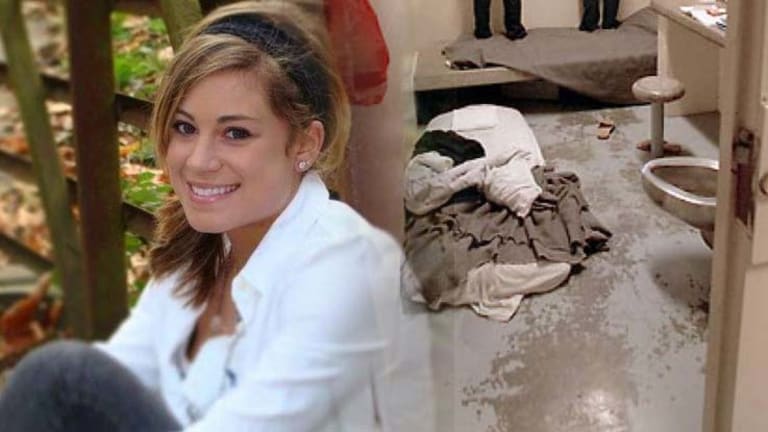 Instead of Easily Saving Her Life, Officers Mocked Young Woman as She Died in Front of Them
As officers mocked her, in a concrete cage, littered with vomit-filled biohazard bags, her heart stopped while she was face down in a prison toilet.
Everett, WA -- Lindsay Kronberger was an all American girl next door who married her high school sweetheart, and began building a family. However, her life would take a turn for the worse in 2014 when she became addicted to heroin. Multiplying her problems with addiction was the state's immoral war on drugs that led to her untimely death in a Washington jail.
Kronberger's family has since filed a lawsuit claiming the jail staff failed to deliver life-saving treatment to her as she died in right front of them as officers mocked her.
Not only does the lawsuit show the jail failed to provide treatment, Karen Moore, an attorney with Brewe Layman, representing the Kronbergers, says they have a video showing the officers mock the young girl as she lay suffering and ultimately dying in her jail cell.
"Lindsay suffered tremendously at the hands of her jailers in the last few days of her life, and her death was completely preventable," said Moore.
According to a report from Seattlepi.com:
Kronberger died just weeks after Snohomish County agreed to pay $1.3 million to the family of Lyndsey Lason, another young woman who died at the jail. Both women were part of a troubling series of deaths there that left county officials promising changes.

On Wednesday, Moore said her client's death calls into question those promises. The attorney said it is "impossible to believe" the county is committed to changing "the way they do business at the jail."
Days before she died, on January 13, 2014, Kronberger was arrested on suspicion of violating a court order. She was booked into the Snohomish County jail in the midst of a heroin withdrawal.
As the state is a soulless machine that knows no compassion, instead of the help she needed, Kronberger was neglected and left to die.
While the heroin withdrawal itself is highly unlikely to kill someone, the complications, and symptoms associated with it, can cause serious, life-threatening problems.
According to jail records, Kronberger was put on "detox watch" and she weighed only 95 pounds upon arrival. Her heart rate was dangerously high, her blood pressure plummetting, and she was so dangerously sick she lost eight more pounds in only nine days.
This 24-year-old woman would die weighing only 86 pounds.
According to the lawsuit, a jail nurse falsely claimed she found Kronberger to be improving during an examination hours before she died, according to the report in Seattlepi. In truth, the former long-distance runner couldn't even walk to a drink cart just feet from her cell.
Writing in court papers, according to Seattlepi, Moore said corrections officers can be seen on surveillance video joking about Kronberger's condition. One deputy mimics the dying young woman while a sergeant laughingly makes mocking hand motions. Another is seen dancing in front of her cell door.
"Lindsay was medically fragile, vulnerable, and completely under their power and control," Moore said in the civil complaint. "They stood just outside her cell mimicking and mocking her as she lay on her bed suffering needlessly."
Eventually, Kronberger could not walk at all. She asked for a wheelchair but was denied.
In a concrete cage, littered with vomit-filled biohazard bags, Kronberger's heart stopped while she was face down in a prison toilet. All the while, officers morbidly cheering on her death.
Since her death, Kronberger's parents have taken action to make sure this doesn't happen to anyone else.
"Lindsay's family wants to ensure that the no one else suffers this same fate," said Moore.
The Snohomish jail was most assuredly a key factor in the tragic death of this young girl. Their cruel and inhumane treatment, however, is a mere symptom of a much large problem -- America's drug war.
Until the state stops kidnapping, caging, and killing people for their personal choices -- Lindsay Kronbergers across the country will continue to die, every hour of every day.
[author title="" image="https://tftpstagingstg.wpengine.com/wp-content/uploads/2016/03/magorist-e1456948757204.jpg"]Matt Agorist is an honorably discharged veteran of the USMC and former intelligence operator directly tasked by the NSA. This prior experience gives him unique insight into the world of government corruption and the American police state. Agorist has been an independent journalist for over a decade and has been featured on mainstream networks around the world. Follow @MattAgorist on Twitter and now on Steemit[/author]