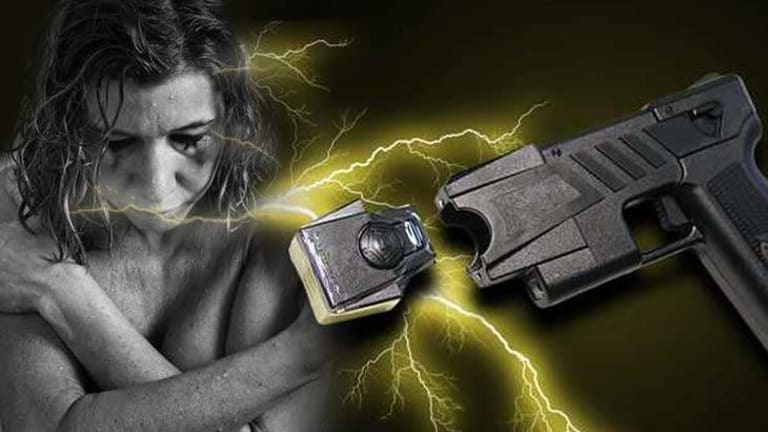 Cops Torture Mentally Disabled Woman, Offer to Let Her Go if they Can Tase Her in the Face
Two officers will go to prison after tasing an innocent mentally disabled woman repeatedly while she was restrained.
Columbia, SC - Two South Carolina police officers were sentenced to prison yesterday after an incident in April 2013. The officers repeatedly shocked a mentally disabled woman before she even had a chance to comply with their orders. Franklin Brown was sentenced to 18 months behind bars; Eric Walters, a year and a day.
Officer Eric Walters confronted Melissa Brown on a morning patrol in Marion when he saw her walking out of the yard of a home up for sale, assuming she had broken into the residence. According to court records, Walters asked the mentally-disabled woman what she was doing, then tased her before she could reply. Davis collapsed to the ground, at which point the officer ordered her to put her hands behind her back, again not giving her a chance to comply before he tased her four more times.
It was shortly after this when Officer Brown arrived on the scene to find Walters removing the barbs of the taser from the woman's back after he finally decided she had done nothing wrong. Good thing he didn't do anything drastic, like electrocuting her repeatedly for no reason.
It gets worse.
Court records show Brown then noticed that his fellow officer didn't properly apply the handcuffs, allowing one of her hands to slip out. This caused him to order everyone to move back while he tased her three more times, despite the fact that the woman was absolutely no threat to herself or anyone else. He finally stopped electrocuting her when she rolled back over to be handcuffed properly. He then offered to let her go if she let him tase her in the forehead, telling other officers at the scene that he only tased her because he "did not want to touch that nasty b*tch."
The two officers were fired three weeks after the incident occurred. Franklin Brown was sentenced to 18 months behind bars; Eric Walters, a year and a day, both pleading guilty to deprivation of rights. Although Walters was the sole cause of the brutal attack on the innocent woman, Brown received a longer sentence because he electrocuted the woman when she was restrained and vulnerable. Davis attended the trial but began sobbing when Walters attempted an apology, and was escorted out by her family.
Understandably, the family is outraged and has filed a lawsuit seeking damages in the amount of two million dollars. Melissa Davis still does not know what she did to deserve to be terrorized and brutally attacked by two men who are supposed to protect innocent citizens, not electrocute them.