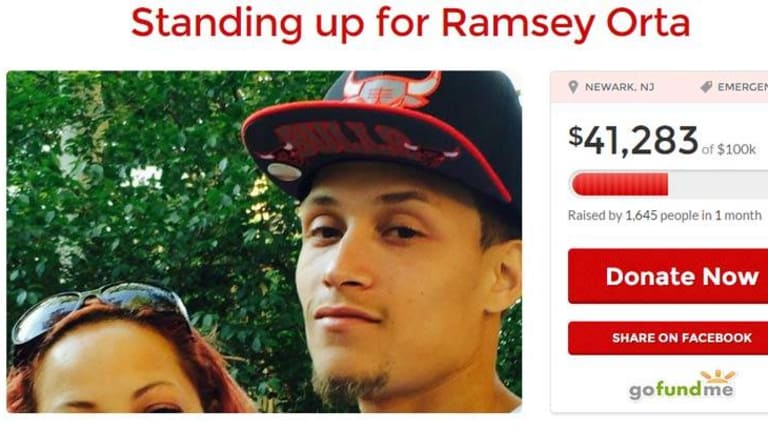 Officials Refuse to Let Ramsey Orta Out of Jail Despite Grassroots Effort Raising & Posting Bail
On Thursday afternoon, Ramsey Orta used funds from his grassroots campaign and posted bond. However, smashing all of this recent hope, officials are still refusing to release him.
New York, NY -- Three days ago, Ramsey Orta, the man who filmed the NYPD killing of Eric Garner was beginning to lose hope as he sat behind bars at Rikers prison in New York.
As a high profile police accountability activist, Orta feared for his life while in police custody, and those fears were confirmed when fellow inmates at Rikers began falling ill because their food was laced with rat poison. To protect himself from similar attacks, Orta has been refusing to eat.
However, after a push from The Free Thought Project, Ramsey Orta was given new-found hope. Orta's story went viral and was shared tens of thousands of times on social media. The resultant virility has raised just over $40,000 as of Thursday. 
On Thursday afternoon Orta posted bond. However, smashing all of this recent hope, officials are still refusing to release him.
According to PIX 11,
The Staten Island district attorney, Dan Donovan, demanded a hearing to determine if the SOURCE of the bail money is permissible. That's in spite of the fact that most of the donors, from around the country, have given their names. And District Attorney Dan Donovan happens to be running for Congress in the special election for the district made up of Staten Island and parts of Brooklyn four weeks from now.
This politically ambitious DA is single-handedly denying the due process of Ramsey Orta. To make matters worse, there is no judge currently available to hear this ad hoc hearing demanded by Donovan. It won't take place until Monday, at the earliest, despite Orta already posting bail. The Free Thought Project contacted the DA's office and asked if it's normal for them not to accept crowd-sourced bail. They claimed to have "no idea and can't comment on on-going cases." They then directed us to their public relations department.
Dan Donovan Contact Information:
Via telephone at: (718) 876-6300
Via U.S. Mail at:
Office of the Richmond County District Attorney
130 Stuyvesant Place, 7th Floor
Staten Island, NY 10301
Via e-mail at: [email protected]
(Any e-mail to District Attorney Donovan may be sent to [email protected] and will be routed to his attention)