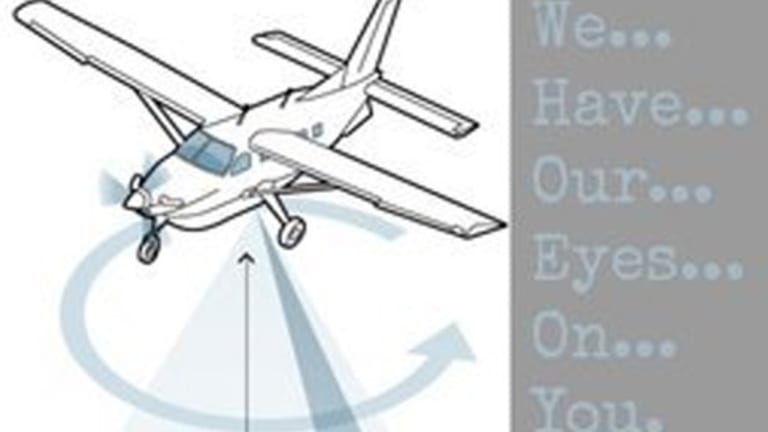 Ohio Police Chief, 'I Want Them To Be Worried We're Watching, To Never Know When We're Overhead.'
'I Want Them To Be Worried We're Watching... To Never Know When We're Overhead.'
Law enforcement push 'persistent surveillance' monitoring systems
- Jon Queally, staff writer Commondreams.org
(Promotional image: Persistent Surveillance Systems)"I want them to be worried that we're watching. I want them to be worried that they never know when we're overhead."
That's what Police Chief Richard Biehl of Dayton, Ohio told the Washington Post while referring to the people of his city as he supported new aerial surveillance technology that would allow his officers to "track every vehicle and person across an area the size of a small city, for several hours at a time."
Focused on the work of Persistent Surveillance Systems—a Dayton-based company that is already providing aerial surveillance for large events, like political rallies and sporting events—the Post's reporting reveals that even as "Americans have grown increasingly comfortable with traditional surveillance cameras, a new, far more powerful generation is being quietly deployed."
For its part, Persistent Surveillance bills itself as a "full-service, wide area surveillance provider" that sells its capabilities to law enforcement agencies, border patrol, and others private firms. According to the company's website, their signature "Hawkeye II" surveillance system "is similar to a live version of Google-Earth—only with a TiVo-like capability" and provides:
Wide-Area Surveillance Sensors and Services that enable continuous, second-by-second video monitoring of a city-sized area. Because of the very high-resolution nature of PSS's sensors (up to 200 megapixels), vehicle and pedestrian activity can be tracked over a 16 square-mile area. If an event-of-interest happens within this area (a murder, for example), users can rewind the event to identify the perpetrator's place-of-origin, meeting locations, accomplices, driving routes, and final destination.
(Click for larger image. Source: WaPo)According to the Post:
Already, the cameras have been flown above major public events such as the Ohio political rally where Sen. John McCain (R-Ariz.) named Sarah Palin as his running mate in 2008, McNutt said. They've been flown above Baltimore; Philadelphia; Compton, Calif.; and Dayton in demonstrations for police. They've also been used for traffic impact studies, for security at NASCAR races and at the request of a Mexican politician.
Predictably, those in favor of the hovering surveillance technology, like Police Chief Biehl and the company's president Ryan McNutt, say the whole purpose of the 'unblinking eye-in-the-sky' is to solve crimes or prevent them from happening. And as McNutt explained, he envisions his companies technology not just attached to small planes, as they are now, but to ones with longer and wider ranges as well. He also thinks fixed surveillance units could "protect" large areas, boasting to the Post that "a single camera mounted atop the Washington Monument [...] could deter crime all around the [Natioanal] Mall."
But privacy advocates contend this is just another creepy development in the evolution of the 'Big Brother' society that George Orwell warned about and the National Security Agency has helped turn into a global enterprise.
"There are an infinite number of surveillance technologies that would help solve crimes . . . but there are reasons that we don't do those things, or shouldn't be doing those things," said Joel Pruce, a University of Dayton postdoctoral fellow in human rights who opposed the use of the surveillance aircraft in Ohio supported by Biehl.
And Jay Stanley, a privacy expert with the American Civil Liberties Union, told the Post: "If you turn your country into a totalitarian surveillance state, there's always some wrongdoing you can prevent. The balance struck in our Constitution tilts toward liberty, and I think we should keep that value."
____________________________________________
Reprinted with permission from Common Dreams.org