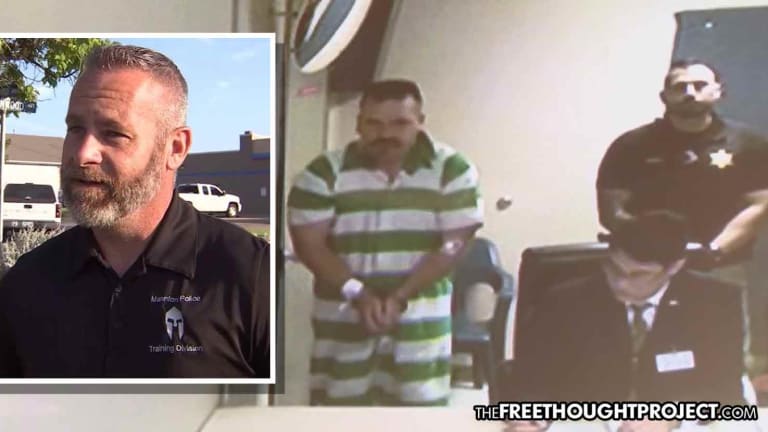 Oklahoma Cop Found GUILTY of Murder — He Decapitated His Own Police Chief
An Oklahoma cop has been found guilty of murder after beating his own police chief so violently that he internally decapitated him.
Tulsa, OK — The numbers do not lie. Police in America are the deadliest throughout the entire world. American cops kill far more than their counterparts in the rest of the world and these numbers are indisputable. One indicator that the problem has gotten out of hand is the fact that cops are killing cops. In a tragic case out of Florida in 2019, a police officer killed his own police chief. This week, he was convicted for the murder of his own police chief.
In November 2019, Mannford police officer Michael Patrick Nealey, 49, was arrested and charged with the murder of Mannford police chief Lucky Miller, 44. The duo traveled from the small town of Mannford, Oklahoma for a conference in Pensacola when things took a tragic turn.
According to forensics investigators, Nealey beat Miller so violently that he was internally decapitated, which would require the same force of a vehicular crash.
On Wednesday, Nealey was found guilty of second-degree murder by a Florida jury, who deliberated for just two hours. After the verdict was read aloud, WEAR reports that this killer cop was handcuffed, fingerprinted and taken into custody, showing no emotion.
In a local story out of Tulsa at the time, KTUL reported that Nealey had no idea why he's in jail nor what happened. This was part of his defense at trial, claiming that alcohol caused him to lose it and kill his police chief. Prosecutors did not buy it.
"Only two people were in that room. One of them is dead and one of them is on trial," said prosecutor Trey Myers during closing arguments.
"It's impossible to get inside the mind of a man who was here for a law enforcement conference who has had half a gallon of vodka to drink and understand his thoughts," added Myers. "Alcohol may explain what happened, but it does not excuse legally in the state of Florida the taking of Lucky Miller's life."
Last year, video was released of Nealey's interrogation and he explained to investigators he had no idea what happened.
"I know you're asking me questions, but can I ask you a question? Homicide? Who is dead?" Nealey asked the officers interviewing him.
"Lucky's dead," replied the officers.
"Lucky's dead. Hmm," Nealey said in response.
As KTUL reports, in pictures of the crime scene, blood and paramedic equipment is seen on the floor and a mostly empty vodka bottle is seen nearby. Nealey claims to not know what happened.
"I would like to know what happened. I'm telling you I don't have any memory of any of this sh--. I'm shocked that Lucky's dead. It's shocking," he said.
Nealey's wife backs up this sudden onset of amnesia for her husband, claiming he just "woke up in a nightmare."
"Only way I can describe it is he fell asleep and woke up in a nightmare. I wish we could have answers. There's just not any at this point," said Lisa Nealey.
"I've got no problem with Lucky," Nealey said. "I can't believe what you're telling me has happened. I can't believe. Hmmm. Wow."
But the facts do not lie.
That fateful night, the two men were staying at the Hilton on Pensacola Beach for a law enforcement conference. During their stay, authorities say an alcohol-fueled brawl broke out between the pair.
On Nov. 10, hotel security was called because the two men were disrupting the other guests.
"I would hear only what I could describe as a roar out of an individual and then I would hear 'Stop it Mike. Stop it Mike'," said Charles Brown, a witness who testified during the trial.
According to the Escambia County Sheriff's department, when deputies arrived on the scene, Miller was dead. Police say there was no weapon — implying that Nealey beat Miller to death.
"The statement that was given by the second noise complaint was they could hear a male scream 'Mike, stop. Mike, stop' and then it just went quiet," said one investigator to Nealey in the newly released tapes.
As WEAR reports:
Channel 3 News also obtained law enforcement's interview with John Garner, the hotel's maintenance worker who was told to check on the room and walked into the crime scene.

Garner told investigators when he went into their room, he heard grunting and then saw Miller's feet sticking out from between the bed and the wall.
"Saw one gentleman sitting on top of another gentleman and I told him he needed to get up and all he would do was grunt," said Garner.
Garner told investigators that he pulled Nealey off of Miller — still grunting — as Miller remained unresponsive on the floor.
"The gentleman on the floor, his face was discolored. I got on the radio and said, 'Call for the ambulance,'" Garner told investigators.
"Did you have any sort of animosity or anything like that towards Lucky?" an investigator asked Nealey.
"Nope," Nealey responded.
"Lucky is dead. I cannot believe it. I cannot believe it," he added.
Nealey is currently being held at the Escambia County Jail on a $1.5 million bond for the second-degree murder of Miller.
"We are heartbroken by the news," Mannford Mayor Tyler Buttram said in a statement at the time. "Please keep both families in your prayers as we work to move forward."
As TFTP reported, in a tragic twist of irony, the conference which the pair was attending was to teach officers about death scene investigations.
After the news of the murder broke, officials in Mannford were quick to praise both officers, going so far as to call Nealey a "great man."
"Lucky was a great man, but I'll be honest, so was Officer Nealey. Those two were the best of friends. Where one was, the other one was. They were always together," said Mannford Mayor Tyler Buttram.
Nealey is due back in court at the end of the month for sentencing.
Below is the video of the interrogation video released last year.