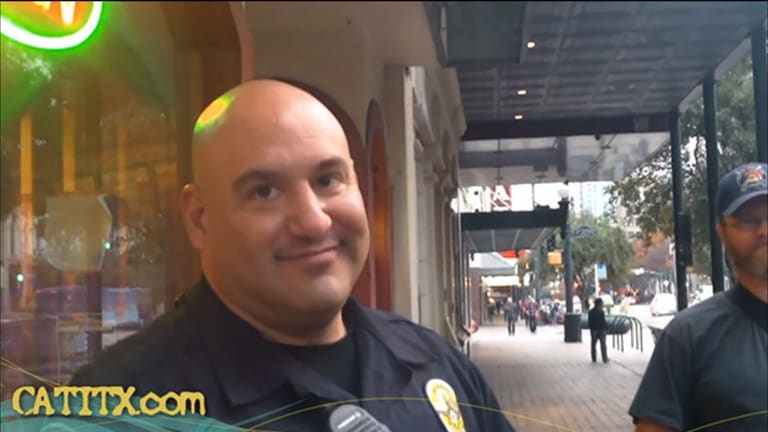 OMG: Texas Cop Upholds Oath To Constitution (Video)
Officer chats it up with open carry advocates instead of harassing them
Adan Salazar
Infowars.com
March 4, 2014
An Austin police officer is being hailed as a hero for abiding by the Constitution, upholding Texas gun laws and not overreacting to open carry advocates brandishing rifles just down the street from the capitol building.
In a surprising taped interaction, APD Officer Mark Dale did not harass members of Come and Take It Texas when he responded to a call that "suspicious" persons were carrying rifles out in the open, something perfectly legal in Texas.
Instead, Officer Dale began chatting up the friendly rifle-wielding activists and admitted he and other citizens actually felt safer with them there.
"Just checking you guys out. I already know the law," the officer told the open carry proponents as he inspected them.
Officer Dale explained he was summoned to investigate "suspicious persons, two white males in Subway with guns."
"And they said they were non-violent, being nice. And I was like 'OK,'" the officer says. "So they were kind of concerned but they weren't really freaked out."
"APD's been great," the person filming, presumably the vice president of Come and Take It, says. "[W]e end up with bad police videos, but we don't want bad ones, we want good ones like this."
The officer openly discussed Texas law with the rally participants and acknowledged that he wasn't concerned when he heard the initial dispatch call or when he approached the activists.
"Y'all are happy-go-lucky, you're not mean-mugging me. So I'm fine.. Plus you all got more power than me, what am I gonna do?" quipped the officer.
APD Officer Mark Dale / Image via CATI Texas Youtube
Although the incident took place last December, the officer's model behavior has kept the video, months later, in the public spotlight.
"Officer dale is a true cop!!" one Youtube user commented. "This is what cops are supposed to be like, he sets a great example for all of law enforcement and his superiors should reward him."
"Dale should be highly commended," another user said, adding, "all officers should be required to watch this video. Outstanding and how an officer should treat, approach law-obeying citizens. This is how you build trust with your citizens who would have their back in a heartbeat."
The officer's lax demeanor is a major turnaround from what we witnessed in Austin mere months ago.
In October, two Second Amendment activists were arrested during a peaceful demonstration at the capitol for brandishing black powder antique 19th century handguns, which the law permits.
Again in November, two open carry advocates were arrested at the capitol building for trespassing after they staged a Veteran's Day rally.
It's clear Officer Dale embodies what people want to see in peace officers, and if more acted the way he did, police would likely be regarded with a great deal more respect.
Source: Infowars.com