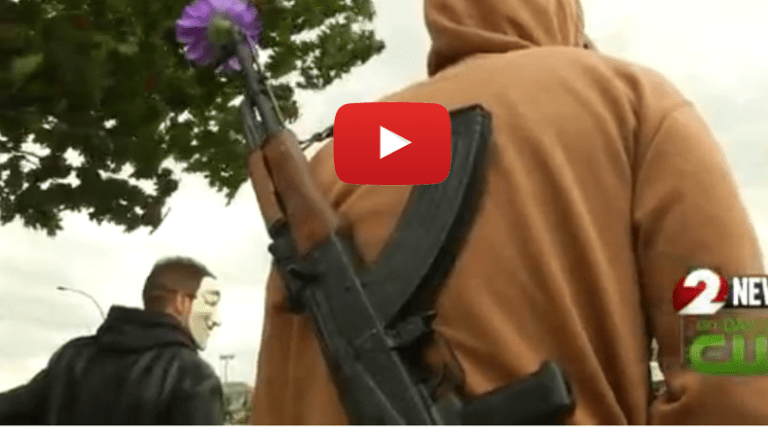 Open Carry Protest Held at Walmart Where John Crawford Was Killed For Holding a Toy Gun
Beavercreek, Ohio – On Sunday, an open-carry protest was held in front of the Walmart store where 22-year-old John Crawford III was shot and killed by officers for holding a bb gun.
Roughly 40 demonstrators showed up to protest the killing of Crawford, with a number of the activists openly carrying firearms into the Walmart.
Crawford was shot and killed by responding officers after Ronald Ritchie, another customer, called 9-1-1 and claimed that Crawford was threatening customers with a gun.
Surveillance footage of the shooting incident was later released that completely refuted Ritchie's statements made on the emergency call, and which showed that Crawford never even remotely threatened anyone with the bb gun and was simply wandering around the store talking on a cellphone while gently swinging the toy.
A grand jury was convened into the shooting of the innocent man, but they failed to charge the officers involved in the shooting. It has since been announced that the Department of Justice is now investigating the case.
Ohio is an open-carry state and the killing of Crawford for casually holding a bb gun in a non-threatening manner raised serious red flags amongst supporters of open-carry.
The protesters said they wanted to remind residents and law enforcement that Ohio is an open-carry state and it's legally protected activity.
One demonstrator who asked to remain anonymous said,
"The whole point of this is to be a peaceful protest and educate people that Ohio is an open-carry state, and a man was killed while open-carrying a gun inside the Walmart."
A number of the protesters held signs reading, "I am John Crawford," and "Serve and Protect. Not Serve to Kill," while others wore Guy Fawkes "Anonymous" masks.
Demonstrator Virgil Vaduva in a statement to WDTN 2 said,
"This case is clearly a case related to open-carry, maybe John Crawford was not carrying a real firearm but he was carrying what seemed to be a firearm and the overreaction of police in this instance is just completely outrageous."
There have been a number of protests following the Walmart shooting of Crawford. Protesters are currently "occupying" the Beavercreek police department in an attempt to force accountability for his killing by officers.
The overly aggressive and militarized tactics of law enforcement are causing many citizens to rethink the proper role of law enforcement in society, as far too many cases of innocents being gunned down are coming to light to simply ignore. People are slowing coming to the realization that the police state has virtually no accountability unless forced to by the citizenry.
Jay Syrmopoulos is an investigative journalist, freethinker, researcher, and ardent opponent of authoritarianism. He is currently a graduate student at University of Denver pursuing a masters in Global Affairs. Jay's work has previously been published on BenSwann.com and WeAreChange.org. You can follow him on Twitter @sirmetropolis and on Facebook at Sir Metropolis.