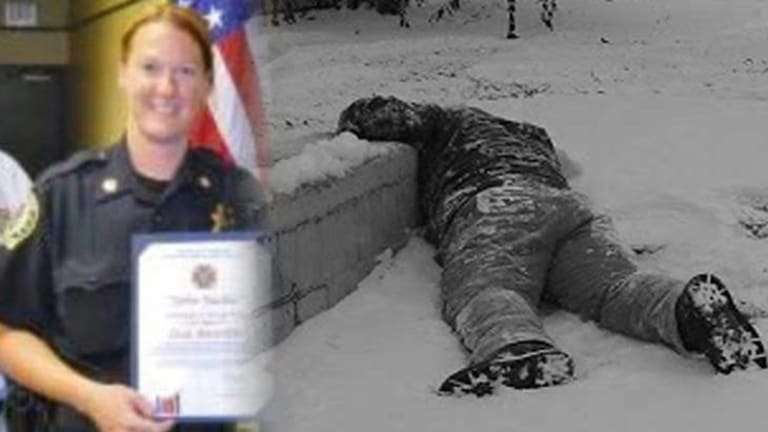 Cop Arrested After Video Shows Her Shoot Unarmed Man in Back Lying Face Down in the Snow
Harrisburg, PA-- Hummelstown police Officer, Lisa J. Mearkle was charged with criminal homicide on Tuesday in the shooting death of 59-year-old David Kassick on February 2.
Mearkle shot Kassick as he laid face down on the ground in the snow, unarmed, during a routine traffic stop gone awry.
Mearkle had attempted to pull Kassick over for an expired inspection sticker, but the situation escalated when Kassick attempted to flee from the officer.
Eventually Mearkle caught up to the motorist close to his sister's home where he was staying, but Kassick got out of the vehicle and fled on foot. As he was attempting to run away, he was incapacitated by the officer's taser which she held in her left hand. With her right hand, she unnecessarily pulled out her service gun and shot the unarmed man twice in the back as he lay face-down on the ground.
The 36-year-old officer claims that she shot the unarmed man because he would not show his hands and she was concerned he may have been reaching in his jacket for a weapon, but the recording from the deployed taser paints a different picture.
District Attorney Ed Marsico has stated that it appeared from the recording that Kassick was simply trying to remove the stun gun probes from his back before his life was taken.
"At the time Officer Mearkle fires both rounds from her pistol, the video clearly depicts Kassick lying on the snow covered lawn with his face toward the ground, furthermore, at the time the rounds are fired nothing can be seen in either of Kassick's hands, nor does he point or direct anything toward Officer Mearkle," the arrest affidavit reads.
A syringe was found near his body, and there were unspecified drugs as well as alcohol in his system when he died. His family has admitted that he has struggled with addiction, a personal problem which should not have cost him his life.
"Mr. Kassick is now dead as a result of a traffic stop, a routine traffic stop," one of the family's attorneys, Christopher Slusser, told the press. "He should not be dead. He should not have died as a result of that traffic stop. And the manner in which he was shot — you can infer from that what you will."
Mearkle is currently free on $250,000 bail. She faces potential charges ranging from misdemeanor involuntary manslaughter to felony first-degree murder depending on what the prosecution decides when she is formally arraigned.