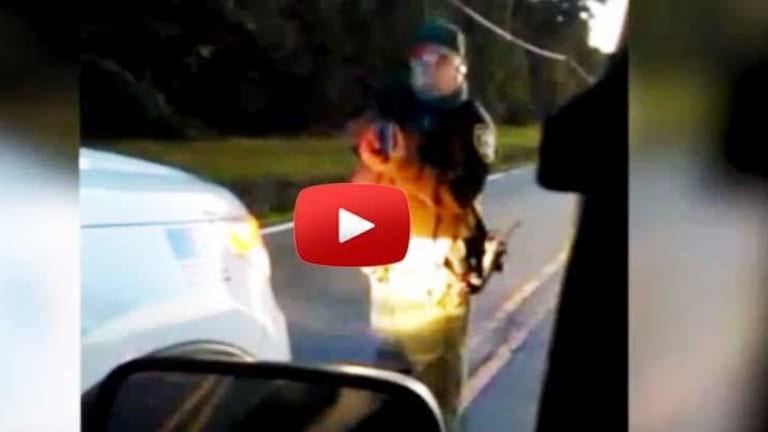 Park Cop Assaults Couple with Pistol for Leaving a Park Minutes After Closing
A power tripping public servant decided an innocent couple needed to be assaulted with a deadly weapon for their late departure from a public park.
Chesapeake, VA - A Virginia couple was recently assaulted as they were leaving Northwest River Park just minutes after closing time. While walking out, they were confronted by a park ranger who pulled a gun on them. Dylan Newton, one of the victims, was quick to take his cell phone and record the encounter, catching the park ranger in the act.
"I was hoping he wasn't going to shoot at us,"Newton told reporters, adding that "With all the things going on in the media with cops using excessive force and all these videos coming out like that's the only thing running through my head like I'm going to be one of these people."
According to Newton, him and his girlfriend were on a hike in the park, and were driving out of the area just a few minutes after the park's scheduled closing time of 6:15 p.m.
When they were driving out of the park they were stopped by a park ranger who demanded that they turn off their vehicle immediately and hand over their license and registration. The ranger was asked on multiple occasions who he was and why he was stopping the couple, but he refused to answer any of their questions.
"I turned off my car, my hands were in my lap, I proceeded to put my hands on the wheel and I saw him reach for his weapon. So I turned my car on because I was genuinely terrified for my girlfriend and myself at that point," Newton said.
Newton then sped away in fear for his life, and the Ranger chased him as if he was a criminal.
"He almost T-boned me off the road into another car and he immediately jumped out of his car and continued to point his weapon at me and my girlfriend for about 15 minutes until police showed up," Newton explained.
Newton was then charged with trespassing, failure to stop and failure to provide identification to an officer.
"Now I'm facing charges for something I felt like I wasn't doing anything wrong," he said.
According to a Chesapeake city spokesman the case is currently being investigated.

John Vibes is an author, researcher and investigative journalist who takes a special interest in the counter-culture and the drug war. In addition to his writing and activist work, he organizes a number of large events including the Free Your Mind Conference, which features top caliber speakers and whistle-blowers from all over the world. You can contact him and stay connected to his work at his Facebook page. You can find his 65 chapter Book entitled "Alchemy of the Timeless Renaissance" at bookpatch.com.