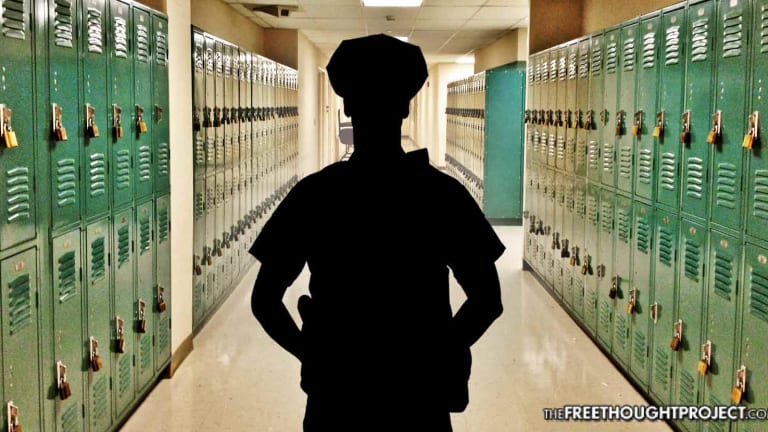 The Florida Officer Is Not Alone—5 Times School Cops Hurt Kids—While Refusing to Help Them
The news that a school security guard chose to wait outside while an active shooter killed students inside has shocked many, but he is not the first in his position to harm students instead of helping them.
As several of the students from Marjory Stoneman Douglas High School call for gun control to prevent future mass shootings, the sheriff in Broward Country has revealed that the deputy who was stationed at the school failed to intervene and instead chose to cower outside while a gunman shot and killed 17 people inside.
While the actions of this one officer have shocked and angered many, the fact is that he is not alone. He may be one of the few officers who would choose to spare his own life while an active shooter killed innocent students, but he is far from the first officer whose actions hurt and traumatized the students he was assigned to protect.
Here are five times police officers assigned to schools hurt their students, instead of helping them:
1. A School Security Officer was Caught On Video Assaulting a Handcuffed Student with Cerebral Palsy in a Wheelchair in Oakland, California
Former School Security Officer Marchell Mitchell was pushing a handicapped student to class when he began assaulting the student in the hallway, as shown on security cameras in May 2014. Francisco Martinez had cerebral palsy and was confined to a wheelchair, and although Mitchell should have been aware that the student's condition may require additional patience from the officer, he gave the opposite response.
When Martinez reportedly slapped Mitchell's hand, the officer responded by handcuffing the student and unleashing a fury of punches that knocked Martinez out of his wheelchair and onto the floor. Following the assault, Mitchell lost his job, was convicted of felony assault, and was sentenced to five years of probation.
2. A School Resource Officer Was Caught On Video Assaulting a Student for Wearing the Wrong Uniform in Baltimore, Maryland
A school resource officer was caught on camera repeatedly slapping and kicking a 16-year-old student in March 2016 for the crime of wearing the wrong uniform to school. Officers accused the boy of "trespassing" on school grounds, but the school later confirmed that he was enrolled as a student, and he had just worn the wrong uniform.
While the actions of officer Anthony Spence may seem extreme, given the fact that the student did not appear to be a threat to him or anyone else, it should be noted that Spence was previously fired from his job as a Baltimore Sheriff's deputy for the use of excessive force, and he arguably should never have had access to children.
3. A School Resource Officer Was Caught On Video Violently Slamming a Female Student To The Ground and Then Arresting Her in La Mesa, California
At least two men stood by and did nothing as they watched a school resource officer grab a 17-year-old girl and violently slam her onto the ground before putting her in handcuffs. While the department supported the actions of the officer and insisted that he was following through on the request from teachers to escort the girl out of class, fellow students claimed there was more to the story.
A family friend said that the girl asked to be excused from class because she did not feel well, and the teacher responded by accusing her of "being on drugs," forcefully searching her backpack for illegal substances, and then attempting to send her to in-school suspension when she found pepper spray in the girl's backpack.
4. A School Resource Officer was Caught On Video Violently Assaulting a Female Student While Removing Her from Class in Richland County, South Carolina
A school resource officer resorted to assault when he attempted to intervene after a teacher claimed that she asked one of her female students to leave the classroom in October 2015. While there were no reports of the girl becoming aggressive, violent or combative, the officer is seen on video grabbing the student, placing her in a headlock, flipping her backward and then throwing her to the ground and dragging her several feet.
Despite the fact that the cellphone footage of the assault went viral, the only people who faced disciplinary action for their roles in the attack were the girl who was assaulted by the officer, and the classmate who was courageous enough to film it.
5. A School Security Officer Was Caught on Video Choking, Assaulting Female Students in Corpus Christi, Texas
When two middle school girls got into a fight in the schoolyard last week, they were apprehended by a school security guard who arguably did more physical damage to them than they would have done to each other.
The guard was caught on video attacking both the girls who were taking part in the fight, and a third girl who attempted to intervene. He even put his hand on one girl's throat, forcing her to the ground with all of his weight, and then put his knee on her throat before forcefully flipping her over. It is not clear yet whether the officer will face charges for the assault.
All of the incidents mentioned above received attention because they were caught on video. While the clear evidence does not guarantee that the offending officers face consequences for their actions, it does serve as a reminder that there are a number of incidences that are not caught on camera.