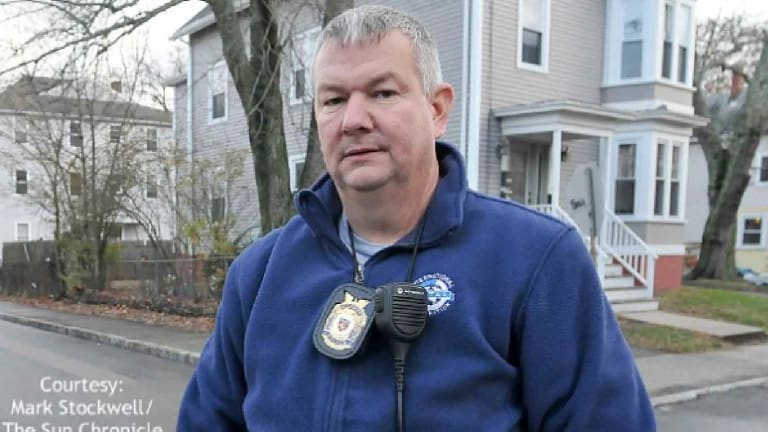 It's Becoming an Epidemic — DHS Arrests Cop for Sex with a Child & Child Porn
During the search of his home, they found an inhalant version of a popular date rape drug and a massive cache of child porn.
Attleboro, MA — In what seems to be an increasing number of law enforcement officers finding themselves on the other side of the law, another veteran police officer has been arrested on pedophilia-related crimes. Attleboro officer Richard Woodhead,54, was arrested for attempting to engage in sex with a minor, possessing child pornography and attempting to receive child pornography.
Outwardly, Woodhead appeared to have it all together. He had a nice job as a peace officer, a position he'd held for 32 years. He was married and had children of his own, but the officer's apparent obsession with child porn eventually led to his arrest. A search warrant was obtained for his home and executed.
During their search, investigators found, in a hidden compartment in his bedroom, a stash of child pornography, as well as a substance known as "jungle juice," something which can be used as an inhalant.
According to the Global Information Network About Drugs, Jungle Juice is considered a "popper," often used in the gay community as an aphrodisiac. Its chemical name is Amyl Nitrite and is a vasodilator. Its dizzying effects have also been put to use as a date rape drug.
State and federal authorities were seen searching the inside of his home. Along with the possession charges, he was also charged with attempting to receive child pornography.
Woodhead was made to appear before a federal judge in Rhode Island shortly after being arrested. According to WHDH News 7, who reported on the case, prosecutors say the crimes began last fall and involve emails as well as phone messages. More details will emerge when he goes before the judge to determine if bail will be allowed in his case.
As The Free Thought Project has reported extensively, the federal government reportedly maintains child pornography websites and use those sites to identify, and arrest unsuspecting pedophiles. When asked to reveal the measures they use to get their suspects, the government has even dropped charges against its defendants.
While, for the moment, no child has been implicated as a victim of officer Woodhead, there still exists the possibility federal prosecutors are protecting their identity. The arrest comes after what appears to be an epidemic of sex crimes involving high profile individuals. From former U.S. Congressman Anthony Weiner, who is under investigation and will likely be charged with child pornography crimes, to former Speaker of the House Dennis Hastert, who raped young wrestlers when he was their coach, our nation's leaders are involved in sex crimes with children. They come from both sides of the political spectrum, reach across all religions, and serve as judges all the way to street-level police officers. Pedophiles are everywhere and increasingly, it seems, civil servants.
The United States has yet to see a scandal involving crimes against children be as wide-reaching as those we've reported coming out of the United Kingdom and Europe. But rest assured, the day will likely come when a great number of pedophiles in the highest levels of government are arrested in a major roundup that will make pizzagate look like a school field trip.