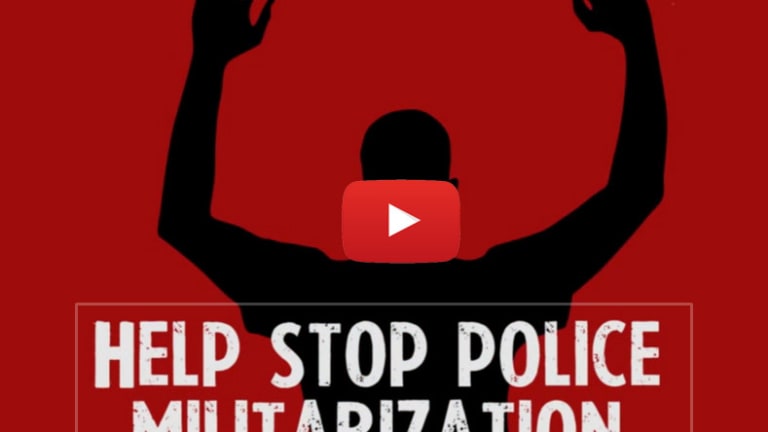 Want to Know Why People are Afraid of Cops? Watch this Video.
The realization of a standing army in the supposed "Land of the Free" has since become mainstream, after last month's show of militarized force in Ferguson, MO, a town with a population of 21,000.
Nothing says it's time for a national conversation more than politicians becoming worried about the rise of the Police State USA. Sadly, it was the politicians that created this leviathan in the first place.
Criminalizing personal choice through the state's immoral war on drugs has been one of the main catalysts in the creation of this nonsensical standing army that now occupies the USSA.
The war on drugs has reached prodigious asininity. Police now find it acceptable to sodomize people in public in a search for an arbitrary substance deemed 'illegal' by the state. What person, police officer or not, would be okay with carrying out such a heinous act of sexual abuse to perform their job?
How many more doors busted in, grenades thrown in cribs, victims sodomized, and lives must be ruined before the American people stand up and say, "We've had enough"?
The power to end the war on drugs and stop this nonsense is in our hands. We just have to demand it. The Free thought Project is in the process of planning a worldwide day of protest to finally bring peace to the war on drugs. Check back frequently to find out when and where.
Ever wonder why police look like soldiers? With the 1033 Programs, "Protect and Serve" Became "Search and Destroy" WATCH MORE:https://youtu.be/utjxA3GQF5A?list=PLQ9...
You can fight back. Join us: https://www.youtube.com/subscription_c...
SIGN THE PETITION: https://stoppolicemilitary.org
Quick facts on Police Militarization:
• Pentagon's Excess Property Program (1033 Program) has supplied police departments across the country with more than $4.3 billion in gear since 1997. This includes $449 million in 2013.
• St. Louis County, where Ferguson is located, received two military vehicles, a trailer, a generator, 12 5.56-millimeter rifles and six .45 caliber pistols from the Pentagon.
• Military style police raids have increased in recent years, with one count putting the number at 80,000 such raids last year.
• In SWAT style raids, people of color are most affected - 37% were Black, 12% Latino, and 19% White. Race was not known for the remainder.
Police militarization grew out of our failed drug war. Does a town of 2,200 need a massive military tank? Why does the police department in Dundee Michigan need a MRAP (Mine-Resistant, Ambush-Protected vehicle)? They don't. Military grade gear does not improve the safety and security in small towns. Defense Secretary Chuck Hagel must end the flow of military grade gear from the Pentagon to our local communities. It's time for the militarizing of police to end.
Last month, protests in Ferguson, MO turned violent after police showed up in full SWAT gear after fellow officer Darren Wilson shot and killed Michael Brown. But Ferguson isn't the only community receiving military grade weaponry from the Pentagon.
We need to roll back programs 1033, 1122, and the National Defense Authorization Act. Sen. Claire McCaskill of Missouri will chair a subcommittee hearing tomorrow on Capitol Hill looking into police militarization.
You can fight back. Join us: https://www.youtube.com/subscription_c...
SIGN THE PETITION: https://stoppolicemilitary.org
Click here to watch more: https://youtu.be/KTF_a1DuIyE?list=PLQ9...
ABOUT BRAVE NEW FILMS
Robert Greenwald and Brave New Films are at the forefront of the fight to create a just America. Using new media and internet video campaigns, Brave New Films has created a quick-strike capability that informs the public, challenges corporate media with the truth, and motivates people to take action on social issues nationwide. Brave New Films' investigative films have scrutinized the impact of U.S. drone strikes; the war on whistleblowers; and Wal Mart's corporate practices. The company's films have received more than 56 million views online. For more information, visit https://www.bravenewfilms.org/, watch videos at https://www.youtube.com/user/bravenew... , and follow them athttps://twitter.com/bravenewfilms and Robert Greenwald at https://twitter.com/robertgreenwald .