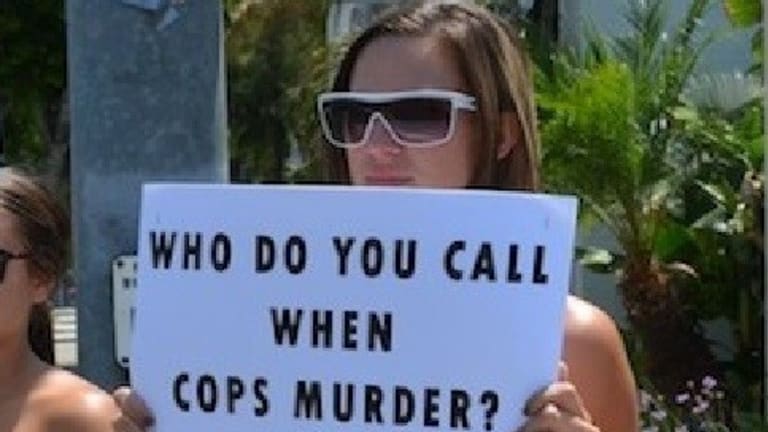 The People of Troy, New York are Organizing Against Their Corrupt Police Department
Troy Community Alliance Against Police Violence advocates for victims of police violence and works on community solutions to deter future use of force incidents.
Not that petitions incite much of anything when they are trying to change things in DC, however, a couple hundred thousand signatures for a town like Troy, New York could speak volumes.
The townspeople have gotten together and produced a compilation video (below) of the atrocities committed on behalf of the Troy Police, which is quite powerful.
If enough people respond to and share this call to action some real change could come to not only the people of Troy, but to municipalities nationwide whose police have become more of a public threat than a public service.

We demand:
1. Drop charges against Troy's police brutality victims
2. Immediately suspend without pay all implicated officers
3. Authorize an external, independent and open investigation to issue binding results as regards this incident, Troy PD use of force policy, and the oversight thereof
Several New York residents were beaten with batons by Troy Police Department officers on the morning of Saturday, January 25, 2014 inside and near Kokopellis night club in downtown Troy, NY. At least one resident sustained serious head injuries.
According to civilian cell phone video footage and uninterrupted Kokopellis security camera footage shot from multiple angles, when Troy Police officers arrived at the night club, patrons were leaving the establishment in an orderly fashion. Some patrons appeared to either say something that offended one or more officers, or were responding more slowly to commands than officers were willing to tolerate. At least one officer escalated the situation by punching a patron in the face or neck. Within seconds, multiple officers were using batons to beat several patrons. A patron or staff member of the establishment sprayed a fire extinguisher into a cluster of people who were being beaten with batons by officers as they attempted to flee through the main entrance. This effectively de-escalated the situation for a moment. At this point, Mr. Roshawon Donley, who had been injured in the prior situation, was being restrained by an officer against a bar. A cell phone video shows Donley injured and confused, clearly stating that he did not understand why he was being harmed or detained. Moments later, this officer and others tackled Donley to the ground and begin beating him again with batons. He sustained several head injuries while laying prone on the ground. At no time did his posture or mannerisms meet the Department of Justice criteria for imminent threat to officers or civilians, nor of aggressive resistance.
According to the Department of Justice, striking with batons to the head is deadly force, which should be reserved only for individuals who present an immediate threat of severe injury or death to a civilian or officer. The videos clearly depict a situation that the Troy Police created and escalated. The escalation of violence by the police reached a level far beyond what is reasonable by any community standards of decency. The level of violence used was beyond what is acceptable in most American police departments for the compliance and threat levels apparent in this situation. The level of violence used by these police was CRIMINAL.
Because this situation was created and escalated by the Troy Police, no civilian should be charged with offenses resulting from this. We demand all charges be dropped against all patrons of Kokopellis or otherwise near the establishment if these charges are for offenses that occurred after the arrival of the officers on site Saturday morning, January 25, 2014.
Because the level of violence used was so egregious, we demand all officers who used batons on people on this call be suspended immediately without pay.
Because this incident indicates an abuse of authority, a criminal use of violence, and a violation of the civil and human rights of those brutalized, we demand an authorized external, independent, and open investigation to issue binding findings regarding the use of force and arrests at this call on January 25, 2014.
Because this incident follows other recent incidents of excessive force by Troy Police Department and indicates a failure of the department in policy and training, we demand an external, independent and open investigation to issue binding policy regarding Troy PD use of force policy, and the oversight thereof.
Failure by the Mayor, City Council and District Attorney to respond to these demands demonstrates a wanton disregard for public safety and negligence in responding to official misconduct against residents of and visitors to Troy, New York.
To:
Arthur F. Glass, Jr., Acting District Attorney
Lou Rosamilia, Mayor
Rodney Wiltshire, Jr., Troy City Council President

Drop the charges against victims of police brutality in Troy, NY, on January 25, 2014; suspend without pay all implicated officers; open an external investigation into this incident, police use of force and the oversight thereof in the city of Troy, NY.

Sincerely,
[Your name]
Sign the petition here.