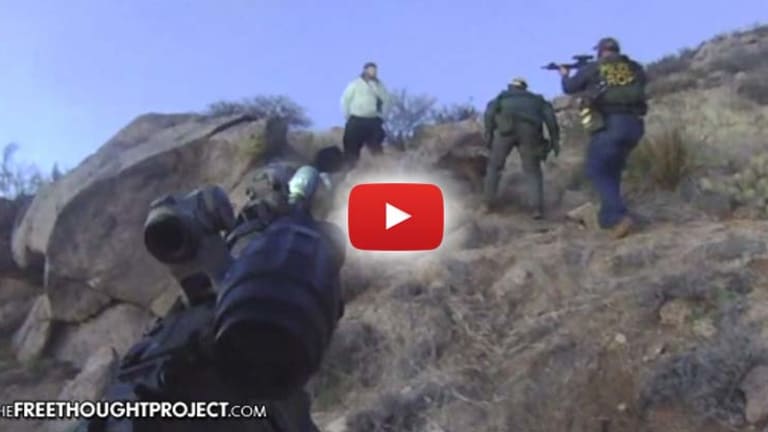 Justice Failure -- Cop Gets Job Back After Murdering Man on Video for Illegally Camping
For murdering James Boyd, a mentally ill homeless man, for the act of illegally camping, this cop will not only escape jail, but he'll go back to work as a cop.
Albuquerque, NM -- In a matter of two days, former Albuquerque police officer Dominique Perez went from facing a new trial for the murder of James Boyd to getting his job back.
A mistrial was declared by Judge Alisa Hadfield in October when only three of twelve jurors voted to convict the two officers — which, though deplorably typical, seems inexplicable given officer helmet-camera footage and several nasty details in the case.
Instead of holding a second trial, however, Police Chief Gorden Eden issued a statement after the district attorney announced that Perez and former detective Keith Sandy will not be retried, according to the Albuquerque Journal.
Sandy will also continue to collect his $37,000 annual pension -- for murdering a man on video.
Not only will the officers not be held accountable for murdering a mentally ill man on video, but Perez will now go back to work in the same department.
Luis Robles, Perez's attorney, said Friday that his client and the city are completing the terms of his return to the Albuquerque Police Department, according to the journal.
"It's not a question of if; it's a question of when," Robles said.
Only in America's corrupt police institution can a person needlessly gun down a mentally ill man for camping and face no consequences.
Prior to the fatal shooting, a conversation involving Officer Sandy was captured on tape, revealing not only a lack of compassion or understanding for those with mental health issues, but utter disregard for human life:
Sandy: What do they have you guys doing here?
Ware: I don't know. The guy asked for state police.
Sandy: Who asked?
Ware: I don't know.
Sandy: For this fucking lunatic? I'm going to shoot him in the penis with a shotgun here in a second.
Police had been summoned to the rocky hillside location of Boyd's illegal campsite in March 2014, after receiving calls of someone acting erratically. As footage from an officer's camera-bedecked helmet subsequently revealed, a small army of 19 cops — some sporting a ridiculous amount of tactical gear — and a K-9 officer responded to the scene.
Boyd begins gathering his belongings and seems to be complying with police demands to leave, when one officer abruptly fires a flash-bang grenade — completely disorienting the man who had been diagnosed with schizophrenia, an illness characterized most often by visual and auditory hallucinations.
Video shows Boyd appearing to pull out two knives as an officer with the K-9 approaches, but ineffectually waves them in the air, not making any significant threatening moves toward any of the cops.
When Boyd turns to retrieve his bags from the hillside, officers Sandy and Perez shoot him in the back — killing him, in what many who have seen the footage termed an execution.
Even if the homeless man's movements prior to being shot could be deemed threatening, at the moment officers fired the fatal rounds, his back was clearly visible.
">
"What was the crime that prompted this paramilitary response?" Special Prosecutor Randi McGinn said during the original probable cause hearing, adding that shooting someone in the back isn't something "reasonable people" do. "It was not a terrorist act. It was illegal camping."
McGinn toldABC News in October she was not surprised by the deadlocked jury in this case, but hoped the trial would broaden the discussion and 'leave a lasting legacy.'
Apparently, the only legacy left now is further reassurance of the precedent that cops can kill, on video, and keep their jobs.