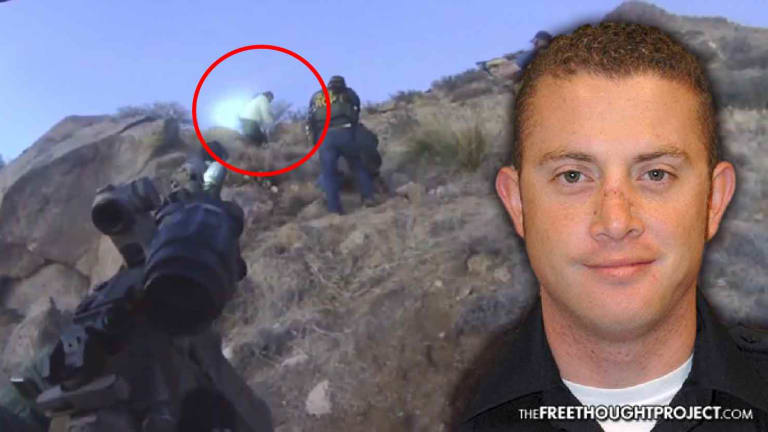 Cop Paid $140K to Return to Work After Murdering Man on Video for Illegally Camping
Dominique Perez was initially fired from the Albuquerque Police Department when he was charged with murder in the shooting death of James Boyd.
Albuquerque, NM — The same police officer who was charged with murder in the execution-style shooting that killed a homeless man in 2014, for illegal camping, has returned to work with a settlement agreement that includes over $140,00.
Dominique Perez went from facing second-degree murder charges, to returning to the Albuquerque Police Department with an extra $143,159 in back wages and benefits, all thanks to a mistrial, and a severely broken justice system.
The Albuquerque Police Department released a statement, announcing Perez's return, and noting that while he will not be allowed to be on patrol or respond to calls for one year, he will be on an administrative assignment with the department's tactical unit.
"He must also complete all of the department's new training related to our settlement agreement, along with state required training, and pass a psychological exam. The agreement also calls for him to receive $143,159.07 in back wages (which includes the city's cost of benefits associated with the wages)."
The case surrounded the death of James Boyd, a 38-year-old schizophrenic homeless man who was shot in the back by police in March 2014, after they received calls about his illegal campsite. The shooting occurred after than hours-long standoff, in which officers said they felt threatened by Boyd—who was at least 30 feet away, and armed with a pocket knife.
The trial involved both Perez and his former colleague, Keith Sandy. While Perez was initially fired by the Albuquerque Police Department, Sandy retired after the shooting.
Sandy's involvement in the shooting was unique, in that he was caught on police Dashcam, plotting to shoot Boyd two hours before he was killed. When another officer said state police were requested at the scene, Sandy replied, "For this f­––king lunatic? I'm going to shoot him in the penis with a shotgun here in a second."
A mistrial was declared in October 2016, after a jury deadlocked 9 to 3 in favor of the Albuquerque officers. Bernalillo Country District Attorney Raul Torrez announced in February that the state does not intend to pursue a retrial.
In a statement to HuffPost, Peter Simonson, the executive director of the American Civil Liberties Union of New Mexico, noted that many activists involved in police reform see Perez's rehiring as a step backward.
"Officer Perez's reinstatement raises concerns because, despite some progress in its reform under the consent decree with the Department of Justice, APD has failed to establish a reliable system to hold officers accountable for violations of its use of force policy," Simonson said. "The citizens of Albuquerque still cannot trust that supervisory or command staff will keep an officer like Perez, who has a history of violating APD policies, in check."
"What was the crime that prompted this paramilitary response?" Special Prosecutor Randi McGinn said during the original probable cause hearing, adding that shooting someone in the back isn't something "reasonable people" do. "It was not a terrorist act. It was illegal camping."
McGinn toldABC News in October she was not surprised by the deadlocked jury in this case, but hoped the trial would broaden the discussion and "leave a lasting legacy."
Apparently, the only legacy left now is further reassurance of the precedent that cops can kill, on video, and keep their jobs.