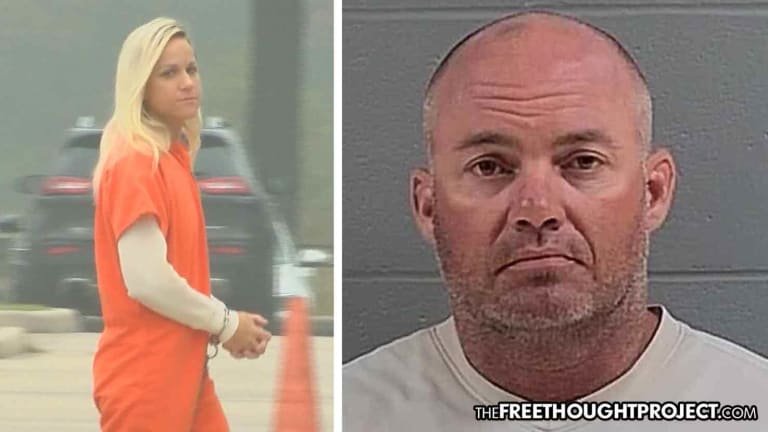 High-Level Police Commander and Wife Indicted on 150 Counts for Child Sex Ring, Sex With Animals
A high-level SWAT commander and his wife face up to 6,000 years in prison for over 150 felonies stemming from unspeakable acts against children and animals.
Livingston, LA — A high level Livingston Parish Sheriff's Office deputy — who commanded the SWAT team — and his wife have been indicted this week on more than 150 felonies for unspeakable crimes against children. Dennis Perkins, 44, and and his wife Cynthia Perkins, 34, are accused of multiple counts of child rape and the production of child pornography, among other disturbing charges.
In October, the couple was arrested after a months-long criminal probe headed up by the Louisiana Attorney General's Office. Then on Tuesday, a grand jury indicted Dennis Perkins on 78 felonies and his wife, Cynthia Perkins, on 72 felonies.
According to WAFB, among the felonies are child pornography charges, first-degree rape, attempted first-degree rape, sexual battery of a child under the age of 13, video voyeurism as well as a count of sexual abuse of an animal. The indictment also includes 61 counts of producing child pornography.
Also, according to the Advocate, the pair both face a count of mingling harmful substances, which involves putting harmful substances in food, drink or medicine with intent to hurt someone.
According to a source close to the case, the couple was seen in videos and photos committing unspeakable acts with naked children. Horrifying indeed. When police attempted to arrest Dennis (Denny) Perkins, he reportedly knew they were coming so he tossed his cellphone in a nearby river and fled. This move also led to the top cop being charged with obstruction of justice on top of the child rape counts.
WAFB 9 reports, that Denny Perkins was a lieutenant with the Livingston Parish Sheriff's Office Special Operations Unit (SWAT) before being terminated the week of Oct. 21. He was hired in 2002 from the Walker Police Department. This alleged child rapist commanded an entire SWAT division and was considered a "hero" by the community.
After her arrest, his wife, Cynthia Perkins resigned from her teaching position at Westside Junior High School in Walker. It is currently unknown if the victims in the images were students of Cynthia's.
The investigation found so much disturbing evidence against the Perkins that this top cop and his wife are facing a sentence of more than 6,000 years in prison.
The investigation started after the National Center for Missing and Exploited Children received a tip that the couple was raping children, filming it it, and then distributing it to their network.
If you or anyone you know was molested or raped by this couple, please contact the FBI with your story. It is highly likely that they have more victims who have remained silent because their attacker was a SWAT commander.
According to WAFB, Perkins was originally booked into the Livingston Parish Prison, but due to "safety reason," was relocated to Elaine Hunt Correctional Facility, a state facility, in Ascension Parish. Perhaps he was about to get some street justice for the crimes of which he alleged to have committed.
The evidence in the case is reportedly so overwhelming that Denny Perkins' attorney has requested to be removed from the case and no longer wishes to represent him.
Even more disturbing is the fact that Dennis Perkins was caught in bed — by his former wife, not Cynthia — with a child in 2013. However, due to state and federal laws that largely limit law enforcement from acting on allegations of grooming, nothing ever happened to Perkins. Instead, the child was sent to counseling.
"The counselor also told (the State Police) that he believed Perkins had done this before and would do it again," the report reads.
"It is a sad day for us, for all law enforcement officers, when you arrest one of your own," Livingston Parish Sheriff Jason Ard said. "We at the LPSO work hard every day to retain the trust placed in us by our citizens. I understand this was a veteran law enforcement officer, one who had dedicated a lot of time and effort into this community, but as I have said in the past, no one is above the law. This type of alleged behavior will not be tolerated by me or anyone at the LPSO. I do not condone these alleged acts. I am disappointed. I have always considered Denny a friend and a family member. The Attorney General's Office is leading this investigation. We are assisting and offering to cooperate in any way we can."
Indeed, it is a sad day when police officers — the ones who claim to protect us — are caught preying on society's most vulnerable. However, there are a lot of sad days as this situation plays out like a broken record, over and over again.
Pedophiles often seek out positions of power and authority over children so they are in a position to abuse. Priests, teachers, coaches, police officers, counselors, and others are just some of the fields in which pedophiles will attempt to gain employment. Unfortunately, it's not the first time we have reported on police officers using their badge and so-called "authority" to rape kids.