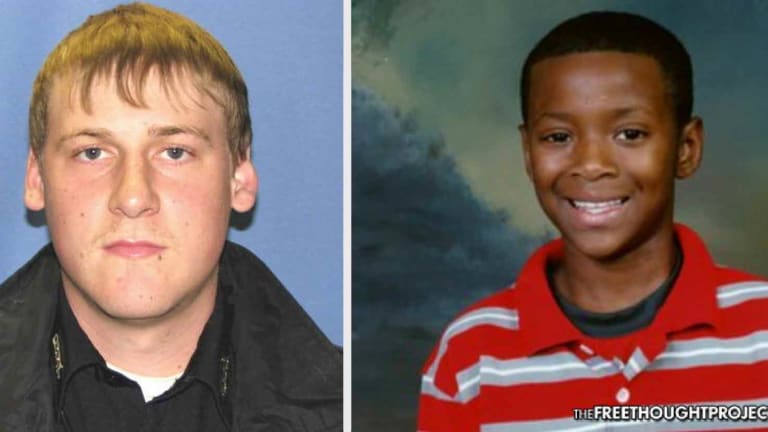 Cop Ordered to Pay $415K of Own Money to Family of Unarmed Teen He Killed
In an encouraging end to a tragic story, a police officer has been found personally liable for the shooting death of a 15-year-old boy.
Little Rock, AR -- An encouraging end to a tragic story comes out of Arkansas this week after a former Little Rock police officer was found liable in the shooting death of 15-year-old boy in 2012. What sets this case apart from the myriad of other civil cases in which police officers are found responsible for killing, beating, and depriving people of their rights, is that this cop was held personally responsible -- and will have to pay the victim's family using his own assets, not the taxpayers.
On August 12, 2012, then-Little Rock Police Officer Josh Hastings, 31, and another officer were investigating a report of car break-ins. The officers attempted to box in a car occupied by the victim, Bobby Moore III, along with two other teens.
Hastings fired 3 rounds into the vehicle of unarmed teens, striking Moore three times, killing him.
As is the norm when police shoot into moving vehicles, Hastings claimed he feared for his life as the 15-year-old boy attempted to run over him.
However, according to court records, the car was in reverse when Hastings fired. The other teens in the car also testified that they were trying to flee and they did not want to run the officer over.
Before the civil case this month, Hasting was tried twice in criminal court -- each time on charges of manslaughter -- but the juries ended in deadlock both times. After two mistrials, the prosecutors declined to go after Hastings a third time.
Naturally, after the deadlocked juries, the family of Moore was shaken, feeling like they'd never see justice for their lost child. However, last Thursday, all that changed and a heartening precedent was set.
After two days of deliberation, the unanimous verdict was returned at 3:15 pm on Thursday.
U.S. District Judge James Moody Jr., filling in for presiding Chief U.S. District Judge Brian Miller, read aloud the verdict that awarded Moore's mother, Sylvia Perkins, and her family $415,000.
As the Arkansas Democrat reported, Perkins cried so hard at the news of the verdict that she shook.
The court threw out the case against two others involved in the lawsuit, and Perkins was told she could file an appeal that decision.
"There are times when my faith in the judicial system has been weakened," Austin Porter Jr., co-counsel for Perkins said. "There are times when my faith in the judicial system has been strengthened. This is one of those rare times when justice has prevailed."
Hastings, who is now a delivery driver, noted that he has no idea how he'll pay the $415,000. However, it was not money that Perkins was after, it was justice.
The case has never been about money, Perkins said, adding that she just wanted the truth to come out.
"It's been five years," she said. "Ain't nothing going to bring him back."
As the Free Thought Project has reported extensively, police officers, even when found at fault for their abusive actions, are almost never held personally liable. It is the taxpayers who foot the bill. However, this new trend in accountability seems to be on the rise, and will be massively more effective at curbing police brutality than any system in place right now.
In February, former Los Angeles County Sheriff Lee Baca was told he must decide whether to pay $100,000 in damages, from his own pocket -- stemming from a civil lawsuit involving an inmate abuse case -- or face liens on his assets.
Baca's case was the second such case in only a short time, in which cops are being forced to come out of pocket after being found at fault in a lawsuit. Palm Beach County Sheriff's Deputy Adam Lin's case was similar but a bit more extreme than Baca's and Hastings, however.
In 2013, Lin spotted 19-year-old Dontrell Stephens in a "high-crime area" — the man's own low-income neighborhood — riding a bicycle in a manner the deputy found suspicious.
Lin stopped the youth, who dismounted the bike with a cell phone in his hand and slowly approached the officer. Just outside the range of dash cam video, the officer shot Stephens four times — claiming he was in fear for his life — but footage and evidence clearly showed the claim to be baseless.
Three of the bullets remain lodged in Stephens' body, according to the Sun Sentinel — two in his arm and one in his spine, which left him paralyzed and dependent on a wheelchair for mobility.
Stephens won a massive $22.4 million settlement and U.S. Magistrate Judge Barry Seltzer ruled that Lin should foot at least a portion of the bill. Last month, nearly everything this officer owned was seized to pay back Stephens — including everything from his furniture to his clothing.
Both Lin and Hastings will most assuredly think twice before shooting another unarmed teen.
Imagine, for a moment, the result of all police officers being held personally liable for their actions. In nearly every other profession on the planet, if someone hurts someone else while on the job, they are held liable — personally. Why can't cops carry personal liability insurance just like doctors?
As instances of police brutality and police killings continue to be exposed, there is no doubt that the US is in dire need of reform. The simple requirement for police to be insured for personal liability is an easy fix -- especially to remove repeat offenders from the force.
All too often, when a tragic death such as Tamir Rice occurs, months later we find out that the officer should have never been given a badge and a gun in the first place because of their past. However, insurance companies, who can't fleece the taxpayers to pay for problem cops, would have to come out of pocket to pay for them and would make sure that these officers are uninsurable.
If the officer becomes uninsurable, the officer becomes unhirable -- simple as that.
There are likely many cops out there right now who would be denied insurance coverage by any company, due to their track records. A requirement for personal liability insurance would, quite literally, weed out problem officers — almost overnight.