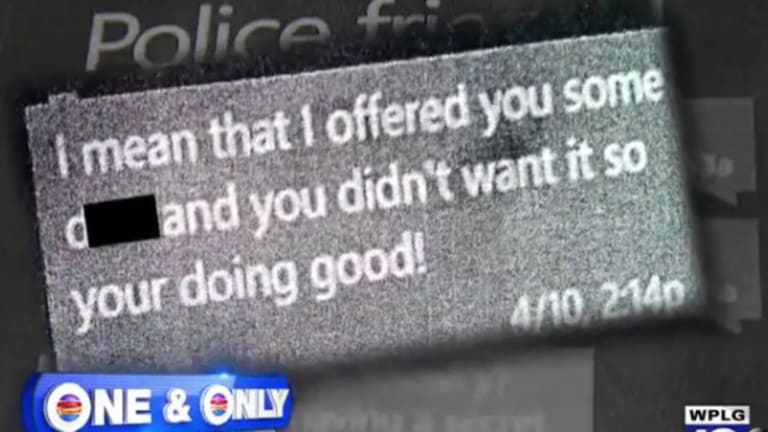 Pervert Cop Sending Explicit Texts to Teen, You Won't Believe What they Found in His Patrol Car!
May 8, 2014
Miami-Dade Schools Police Department Officer Juan Cecchinelli was supposed to be helping this young girl who'd been sexually abused. Instead he took advantage of his authority to play out some sick fantasy in his head.
A local news outlet obtained the texts allegedly sent by Cecchinelli to a teenage girl; they were completely out of line:
"Don't you like having a secret admirer? Don't let them know you are chatting with me," a text believed to be from Cecchinelli said.
"Who my parents?" the teen replied in her text.
"I don't need any drama," Cecchinelli allegedly replied.
The student had apparently run away and was sexually assaulted. Cecchinelli was investigating that incident, but instead of helping her, he sent the following texts, the report alleges:
"You say it hurt like a mother!! LOL!!"
"You did it in the front or back?"
"If he knew his (expletive) it shouldn't hurt either way."
"I wanna be doing you, but you to damn young."
"I mean I offered you some (expletive) and you didn't want it so your doing good."
According to the report, the teen thought the texts from the officer were "weird."
If you read the Internal Affairs report, you can see that Cecchinelli went full on disgusting psychopath, well past "weird." He kept asking her if she bled when she was sexually abused and was obsessed with finding out if the sex was anal or vaginal.
According to the report, Cecchinelli also had sex toys in his police car, but he refused to say why. He resigned during the internal affairs investigation.
Many parents said they were shocked and disgusted by the allegations.
"We do not condone this type of behavior for our employees and hold our certified police officers to the highest ethical standards," Miami-Dade Schools Police Chief Ian Moffett said in a statement Wednesday to Local 10. 
Apparently the city has no plans to charge him with any crime either, he may only be stripped of his law enforcement certification.
"Upon the employee resigning, we immediately flagged him from our system for future employment and sent all appropriate documents to the Florida Department of Law Enforcement for action on the employee's police certification," the statement continued. "In fact, just today, the Criminal Justice Standards and Training Commission found sufficient information from our investigative report to have a probable cause hearing which may eventually lead to sanctions toward the former officer's certification."
How could they not find any criminal behavior to justify prison? What about child endangerment? Stalking? Contacting a minor for lewd acts? All of these are criminal acts.
The special treatment that cops receive for criminal acts is disgusting.
Just last year, an Illinois cop was found to have been texting his girlfriend's 12 year old daughter and asking her for "sexy pictures." He still has his job!
If you are just a run of the mill sicko, not on the other side of the thin blue line, watch out. Anthony Christopher Sota, was caught sending lewd texts to a 14 year old, he was arrested and charged.
The justice system is a joke in this country.