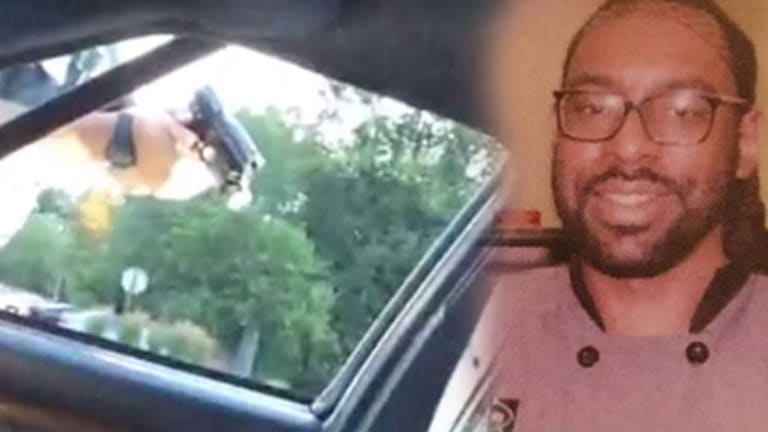 Philando Castile: 3 Extremely Important Facts Everyone Needs to Know
Philando Castile obeyed orders, did not resist, did not make any sudden movements, and did not break a law -- yet he was murdered by police.
Minneapolis, MN - In shocking video streamed on Facebook Live, Philando Castile, 32, is seen bleeding to death after a Minnesota police officer shot him through his driver-side car window. His girlfriend, Lavish Reynolds, also know as Diamond Reynolds, captured the horrific scene on her cell phone, narrating the tragic events, and streaming them live on Facebook.
According to Reynolds, police pulled them over for a broken tail light and callously shot her Castile to death after he told the officers that he had a firearm and a conceal-and-carry permit. Reynold's 4-year-old daughter was reportedly sitting in the back seat when the officer fired at least four bullets into Castile's arm and chest.
The officer who shot and killed Castile is with the St. Anthony Police Department in Falcon Heights, Minnesota and has not yet been identified. However, he has been put on administrative leave – standard operating procedure following a shooting.
Reynolds can be heard on the video telling her boyfriend "stay with me," as he bleeds out in the vehicle.
"We got pulled over for a busted tail light in the back and he's covered… They killed my boyfriend. He's licensed to carry. He was trying to get out his ID and his wallet out his pocket and he let the officer know that he had a firearm and he was reaching for his wallet and the officer just shot him in his arm," Reynolds says, narrating the events that had just taken place.
"He lived by the law and died by the law," his mother, Valerie Castile
Philando Castile's mom Valerie: "He lived by the law & died by the law." #FalconHeightspic.twitter.com/sgs7bdYFlG
— Jennifer Mayerle (@jennifermayerle) July 7, 2016
" target="_blank">told a WCCO TV reporter.
Castile's mother, Valerie, confirmed that her son died overnight in a local hospital. Police released a statement with little details, stating only that a gun was recovered at the scene and that the shooting originated with a traffic stop with two officers present.
With the media often guilty of simply running with the police narrative, and often working in concert to vilify the victims in cases such as this, it's important that people know who Philando Castile really was.
1. Philando Castile Worked in an Elementary School Cafeteria -- Parents Said He was Kind & Snuck Extra Graham Crackers to Children
Castile's mother, Valerie Castile, said Philando Castile worked as a cafeteria supervisor at J.J. Hill Montessori School in St. Paul, according to WCCO television.
Saint Paul Public Schools released a statement about Philando Castile that stated:
Saint Paul Public Schools and its staff grieve the tragic death of a former student and current employee, Philando Castile.

He graduated from Central High School in 2001 and had worked for Saint Paul Public Schools (SPPS) since he was 19 years old, beginning in 2002, in the Nutrition Services Department.

Mr. Castile was promoted to a supervisory position two years ago and was currently working in one of our schools during the summer term.

Colleagues describe him as a team player who maintained great relationships with staff and students alike. He had a cheerful disposition and his colleagues enjoyed working with him. He was quick to greet former coworkers with a smile and hug.

One coworker said, "Kids loved him. He was smart, over-qualified. He was quiet, respectful, and kind. I knew him as warm and funny; he called me his 'wing man.' He wore a shirt and tie to his supervisor interview and said his goal was to one day 'sit on the other side of this table.'"

Those who worked with him daily said he will be greatly missed.

"I am deeply sorry for his family and for their loss. He's worked in SPPS for many years and he graduated from our district, so he was one of our own," said SPPS Superintendent Valeria Silva.

Grief counselors will be available for staff and students as needed or requested.

The Saint Paul Public Schools family extends its deepest sympathy to Mr. Castile's family and loved ones.
"This was a GOOD MAN," a parent of a child at the school wrote on Facebook, noting that Castile snuck extra graham crackers to children and gave hugs to a borderline autistic child every day. He "pushed extra food in them like a grandma" and made sure to know the name of all the children.
Philando's uncle Clarence said he had been employed in the cafeteria for 12 to 15 years "cooking for the little kids," according to the Minneapolis Star-Tribune. Clarence Castile called Philando "a good kid" and said he grew up in St. Paul, Minnesota, also living in Minneapolis.
2. Philando Castile Was a Straight A Student in High School & Had No Criminal Record
Philando's cousin, Antonio Johnson, 31, told the Star-Tribune that Philando was an honors student at St. Paul Central High School, "where he was a straight-A student," noting Castile was a "very non-confrontational" person.
On the Facebook Live video posted by Reynolds, she can be heard stating that Castile worked for the St. Paul school system, that he's not affiliated with gangs and that he has no criminal record. A search of the Minnesota Department of Public Safety database revealed Castile had no criminal history -- with convictions for misdemeanor traffic tickets only.
Philando's uncle Clarence also told KARE 11 News that Castile was, in every sense of the word, an "upstanding young man."
3. Philando Castile Had a Concealed Carry Permit, Says Reynolds, & Had Worked Since He Was 18
In her Facebook Live video, Lavish Reynolds stated that Philando Castile had a concealed carry permit. Reynolds made note that Castile is "licensed to carry" and was "trying to get out his ID" and "he let the officer know he had a firearm, and he was reaching for his wallet, and the officer just shot him. … He just shot his arm off."
Castile's mother told the Star-Tribune that her son was a hard worker and had been employed all of his adult life.
"They killed my son. They took a good man, a hard-working man; he worked since he was 18 years old."
It's important to note that in many cases similar to this, police, and their corporate media cronies, often attempt to shift the blame onto the victim rather than being held accountable for their actual actions.