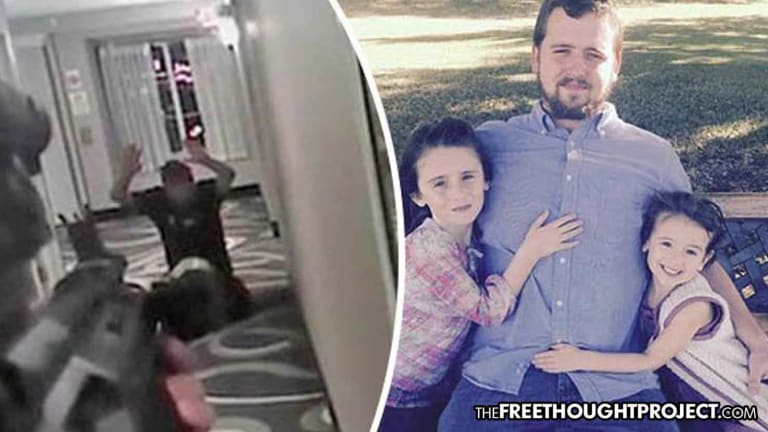 Killer Cop Rehired, Gets Pension for Murdering Innocent Unarmed Dad Begging for His Life
Former Mesa PD Officer Phillip Brailsford was rehired and then promptly fired with full pension of $31,000 a year, a million dollar payout over one's lifetime for killing unarmed father of two, Daniel Shaver.
In a move which will likely infuriate those who seek to hold police accountable for often murderous actions, former Mesa Police Officer Philip Brailsford (as TFTP predicted) was rehired. He then immediately retired from law enforcement winning the equivalent of a lottery jackpot in retirement earnings. Brailsford, known as a "killer cop" in accountability circles, blew away Daniel Shaver at La Quinta Inn in Mesa, AZ on Jan 18, 2016.
As TFTP consistently reported, Shaver was the unarmed victim of an officer-involved murder whereby a guest at the hotel called 911 to report seeing a man with a gun. It turns out the gun was no gun at all but an air rifle Shaver used to kill pests per his contract as an exterminator.
When Brailsford and his partner arrived, they began a standoff with an unarmed man and his female companion. Shaver was begging for his life, crying, crawling on his belly, then on his hands and knees, eventually shot to death by Brailsford when Shaver reached back to pull up his shorts which were falling down as he crawled.
We interviewed career police officers who were sickened after viewing the body camera footage. One 20-year veteran of the police department asked us why Brailsford didn't simply put handcuffs on Shaver instead of creating such a s small "window of compliance".
Sickeningly, the body camera footage of Brailsford's assassination of Shaver went viral, even making headlines internationally. Mesa PD fired Brailsford upon learning the inside of his AR15's dust cover had the words engraved "You're F**ked", a violation of police department policy.
Subsequently, Brailsford was charged with Shaver's murder but a jury of his peers found him "not guilty" and acquitted him of all charges. Even with undeniable footage the Mesa cop killed an unarmed man who was begging for his life, the citizens on Brailsford's jury were seemingly conditioned to give the officer a pass. Now, that same officer has collected a pension of $31,000 a year for life!
Since Brailsford is still in his 20's, if he lives to be 65 he will have been paid over 1 million dollars for killing Shaver, an action which supposedly now has caused Brailsford to be disabled according to the terms of his retirement. Mesa PD rehired Brailsford who promptly retired on the same day his pension was approved.
According to Phoenix 12 News, Brailsford was quietly rehired last year as he and his lawyers worked out the terms of his request to retire with full pension:
According to the City of Mesa, Brailsford was rehired more than two years later, on Aug. 27, 2018, under a settlement that allowed Brailsford to file for accidental disability retirement benefits. He agreed to waive his right to appeal his firing, in exchange for allowing him come back and file for the medical retirement, Mesa spokesman Steven Wright said in an interview Wednesday. Under the settlement, Brailsford was slotted into an unbudgeted position, didn't get a paycheck, and had no police duties, Wright said. Brailsford, who is 28, applied for an accidental disability retirement resulting from an on-the-job injury, according to pension documents. The injury was not disclosed. "His condition totally and permanently prevents him from performing a reasonable range of duties within his job classification," according to Mesa Police Pension Board minutes.
To put it all into perspective, because a fearful citizen called 911 to report seeing a man with a gun (AZ is an open carry state and firearms are not illegal), an unarmed married businessman and father of two was shot and killed by a trigger-happy cop who some believe was intent on killing someone. That same cop was found not guilty, got his job back, retired with a million dollar payout, and could conceivably go to another state and become a cop again. Now you know why we do what we do at TFTP.