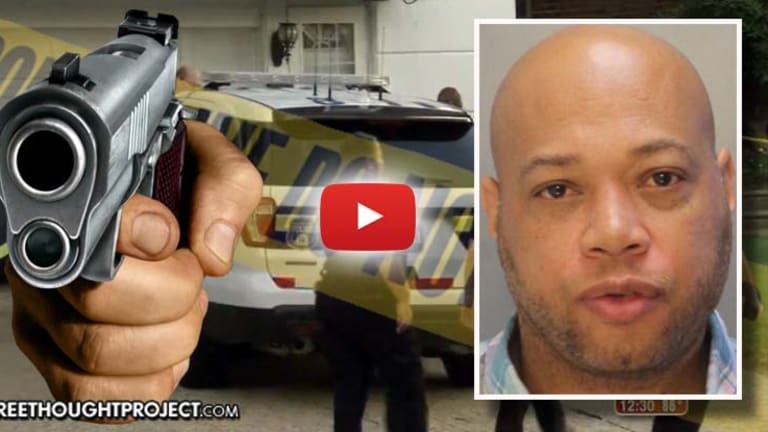 Philly Cop Charged For Shooting His Unarmed Teen Son in the Back
A Philly cop has been charged with attempted murder after he shot his own unarmed son in the back as he ran away.
Philadelphia, PA -- In the last three years, the city of Philadelphia has not charged a single cop in the 116 officer-involved shootings that have taken place. However, all that has now changed after Philadelphia police officer Dorion Young made the decision to shoot his own 19-year-old son in his back because the teen had 'disrespected him.'
The incident happened on Labor Day of this year as the 25-year veteran of the Philly Police department started an argument with his oldest son, Devine, over "perceived disrespect he felt about the use of the family car," according to District Attorney Seth Williams.
As the argument escalated, reports Philly.com, Young waved his personal .40-caliber pistol and shouted, "You my son, and you aren't going to keep disrespecting me," according to the District Attorney's Office.
Young walked away from his son and called 911, but then went back, and broke down his son's bedroom door and began fighting with him, Williams said.

The fight moved from the bedroom into the hallway, where Young ended up on his back as his son stepped over him and tried to get away by walking down the stairs, said Tariq El-Shabazz, deputy of the district attorney's investigations division.

As the teenager walked down the stairs, his father sat up and, with his legs extended in front of him, fired two shots, El-Shabazz said.
According to investigators, one bullet went through the cop's own shoe, narrowly missing his foot and the second one struck his son in the back.
"While this is a terrible tragedy, there is no excuse for what happened that day, and Dorion Young will be held responsible for having shot his son," Williams said.
As his son still tries to recover from losing his spleen and part of his colon, Dorion Young is now facing charges of attempted murder, as well as charges of aggravated assault, simple assault, possessing instruments of a crime, and related offenses.
The fact that Young is facing charges is definitely a win. However, as the Free Thought Project reported back in September, originally, the department attempted to whitewash the shooting -- claiming it was an accidental discharge.
"Apparently, they got into some type of a scuffle, argument or something. The off-duty (sic) accidentally or inadvertently discharged his weapon," claimed Police Commissioner Richard Ross immediately after the shooting. This claim was made prior to any investigation and was a clear attempt by the department to cover it up.
In spite of the gun discharging twice, the commissioner still pushed the narrative of an accidental discharge.
When cops are shooting their own children in the back, we might have a problem.
Shockingly enough, this is not an isolated incident. Last year Palm Beach police officer Shatara K. Shatara was afforded the same blue privilege after he too killed his own son.
On Christmas Eve, Shatara killed his son Khamis, 21, during a domestic dispute. Ironically, Khamis was aspiring to be a cop. However, he was apparently mentally ill.
For 9-months, and without ever facing a single charge, Shatara enjoyed a paid vacation, only to be quietly placed back on regular duty last September.
Nothing exposes the tendency of police to quickly escalate to deadly violence quite like cops shooting their own children.
[author title="" image="https://tftpstagingstg.wpengine.com/wp-content/uploads/2016/03/magorist-e1456948757204.jpg"]Matt Agorist is an honorably discharged veteran of the USMC and former intelligence operator directly tasked by the NSA. This prior experience gives him unique insight into the world of government corruption and the American police state. Agorist has been an independent journalist for over a decade and has been featured on mainstream networks around the world. Follow @MattAgorist on Twitter and now on Steemit[/author]