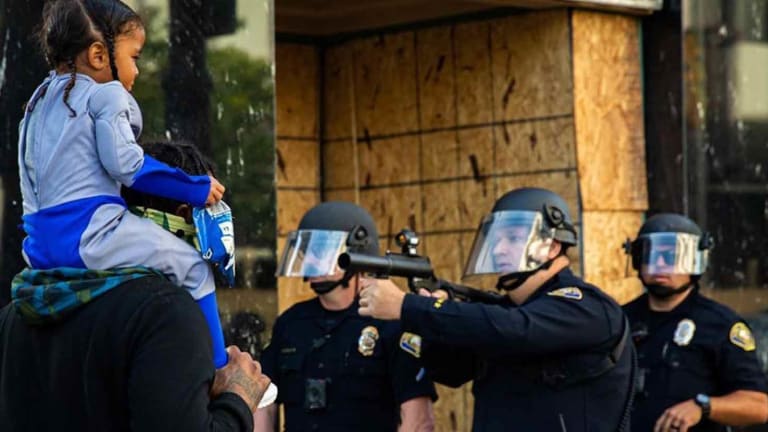 Shocking Photo Shows Cop Appear to Aim a Grenade Launcher Toward Little Girl
A photo taken during the protests in Long Beach, CA could perhaps be the most iconic image of 2020 — incredibly summing up the current disparity in the land of the free.
Long Beach, CA — A photo by freelance photographer Richard Grant could quite possibly be the most iconic picture of 2020. It is not a landscape of the mountains or a portrait of foreign building but a cop pointing what appears to be a 40MM LMT Single Shot Tactical Grenade Launcher in the direction of the face of a little girl on her daddy's shoulders.
If there ever there were a photo that perfectly summed up 2020, this is it. It was taken during the protests held in Long Beach, CA over the weekend.
Over the weekend, peaceful protesters with their message of anti-police brutality and racial equality took to the streets of Long Beach, Santa Monica, Pasadena, Hollywood and other communities, demanding to have their voices heard.
Throughout the weekend, the overwhelming majority of the protests were peaceful. However, they were marred by the acts of a few who began carrying out widespread looting, which prompted the mayor to call in the National Guard.
According to ABC 7, after the peaceful protesters marched through the area, security guards described seeing a group of disrupters being dropped off in cars. Many were seen looting from businesses, apparently on a mission to destroy property.
"Now any chance you had to catch up on your rent, you don't. Or feeding your kids your anything. And today's (June 1). And all the checks come out for seniors, for SSI, low incomes and where are they going to go shopping or pay their bills," resident John Kindred said.
The acts of vandalism and looting also prompted the city to enact a ridiculously early curfew of 1 p.m. for the business district and a citywide curfew is in place at 4 p.m. Officials have not announced when this curfew will be lifted.
"It's devastating. You can see shop owners come outside and just looked at everything they lost," resident Katie O'Neil said.
Unfortunately, the acts of a few tarnish the image of the many and muddy the waters of their message. However, thanks to the profoundly iconic photo by Richard Grant, we can see the blight faced by the African American community, summed up without words. Grant posted the photo to his Instagram account with the following description:
A man stands with his child in front of police during demonstrations Sunday in downtown Long Beach. Police pointed rubber bullet guns to get crowds to back away.

This man stood with his child most of the time until the police started using concussive grenades but they never fired on him but did occasionally pointed their rubber bullet guns towards him
Though Grant says the weapon in the photo is a rubber bullet gun, it is not. It is in fact the weapon mentioned above: a 40MM LMT Single Shot Tactical Grenade Launcher.
The devastation this would have if fired from such a close distance could prove to be fatal. As TFTP has reported, these tear gas grenades fired at close range have severely injured fully grown men. There is no telling the destruction that may have ensued had this cop pulled the trigger and hurled a speeding hot canister of tear gas directly into this little girl's face.
In case you think it's photoshopped, here is another angle.

When you see people out in the streets and have no clue why they are there, it's because of this. While many will claim that this man shouldn't have had his little girl out there at these protests, that is irrelevant. Which is worse: a father peacefully protesting with his daughter to protect her future, or a militarized government agent aiming a grenade launcher at her face?
What's more, as mentioned above, the protests were peaceful and didn't become chaotic until after most protesters left and people were being dropped off to begin smashing windows and stealing.