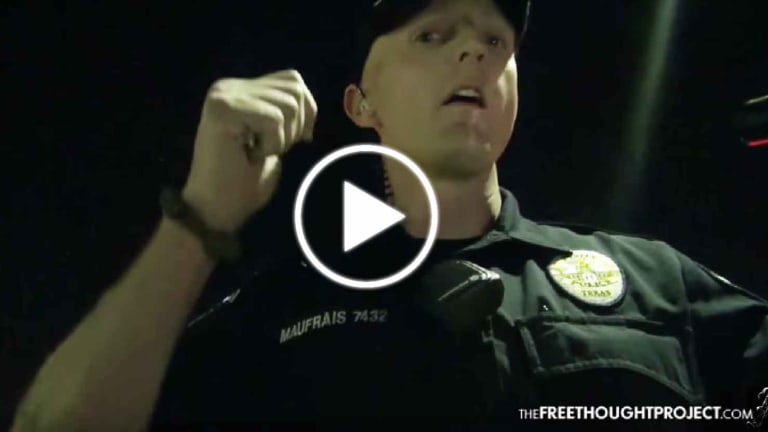 WATCH: Belligerent Cops Get Punished for Harassing & Threatening Man for Filming
Photography activist Phillip Turner is once again harassed for filming police — but this time the cops were actually held accountable.
Activist Phillip Turner now has two victories to celebrate in 2017. In February, in what could be considered a landmark victory for photography rights activists, the Fifth Circuit Court of Appeals ruled citizens in Texas, Mississippi, and Louisiana have a first-amendment right to film police. Now, Turner has won again.
The incident, which led the former police chief to open an investigation, happened in November. As is his custom, when Turner so chooses, he often pulls his car over to the side of the road, grabs his camera, and begins to film police while they're going about their daily duties. Turner was quietly filming a traffic stop whereby an Austin PD officer had pulled over a dark colored sports car when other officers arrived.
Officer James Maufrais and Jesse Lane both confronted Turner, who was exercising what the courts later determined were his constitutional rights to film police. Maufrais approached Turner and asked, "What's going on today buddy?"
The officer then took to standing directly in front of Turner and his camera, preventing him from filming the traffic stop. The veteran officer then took out his flashlight and shined it directly into the lens of Turner's camera, keeping him from filming any of the investigating officer's activities with the motorist.
"Everything okay today?" he asked again.
Turner responded, "What's your problem?"
"I'm going to ask you what's going on," Maufrais said.
"Looks like I'm filming," Turner said.
"Okay. Cool," the officer said as he tracked Turner's camera with his light, shining into the lens, distorting any images Turner may be able to catch of the traffic stop.
The photography activist asked, "Any particular reason you're blinding my camera?" The officer wouldn't give a clear answer and began to bark orders at Turner who complied with the officer's requests. However, he found himself being harassed by the two officers who wouldn't stop shining their lights into his multiple cameras.
"You're not going to interfere with the traffic stop," Maufrias insisted.
Turner responded by telling the officer he should "really know what your policy is," something he said was spelled out in "3802" dealing with interactions with the community. "I have the right to film," Tuner said.
"I'm not worried about that right now," the officer said.
Turner asked, "You're not worried about your policy?"
The conflict quickly escalated with Tuner stating he, "didn't respect officers like you." Neither did the officer seem to give any respect to Turner's contention he had a right to be in public, filming police encounters, and doing so without being harrassed.
Repeatedly, even with Turner's non-violent, compliant disposition on display at all times, the officer repeatedly pushed and grabbed Turner. We asked Turner why he felt like the officer insisted on making physical contact. Turner told us he did so to try and get a physical reaction out of the activist in order to give the officer just cause, presumably, to take him down in an arrest.
The two officers stood in front of Turner's cameras at all times during the encounter. They then began to, some might say, indiscriminately and arbitrarily determine where he could and couldn't stand, eventually driving him out of the traffic stop scene and down the road. The pair of officers forced Turner to stay over 100 yards away from the traffic stop, even after the arresting officer had left, and the tow truck arrived. The officers implied it was a crime scene and Turner had no right to retrieve his cameras, get into his car, and go home. Turner called the actions by the officers a de facto detention and objected to being unable to get to his belongings and drive away.
Turner filed a complaint with the police department which led to an investigation into the incident. He uploaded the" target="_blank"> video to his Youtube channel. Following the police investigation, in what may come as a surprise to many, Officer Maufrais was found to have violated departmental policies for preventing Turner from filming and was suspended for 20 days without pay. Officer Lane was only given 10 days suspension without pay.
In November, then police chief Art Acevedo criticized the officers' actions. "We will not tolerate our officers being dismissive of policy…If you're a police officer and you're diligent…and you wrap yourself with policy, it really is a shield. It's ultimately there to protect the community we serve. When someone shows a dismissive attitude as regards to policy we're probably going to take a pretty harsh look at that individual."
Now that the police department has taken action in the matter, Turner had a chance to speak with reporters at KXAN News. He said of the incident, "If he was asking me to stand back or [saying] I'm too close, now, I could see that, but for the flashlight, there's no reason — there's no way they can justify that."
"The goal is for a lot of people to pick it up and start filming their own interactions, I'm not going to stop until I see people filming their own interactions with police officers," he said.
Officer Maufria's lawyer Brad Heilman said he and his client believe the punishment does not fit the crime, so to speak. "He completely admitted to it, I think [there are] some mitigating factors that should've been taken into consideration and probably weren't," the lawyer said, citing his recent military involvement. "He was only on the streets for less than eight months after getting back from Afghanistan and being put on the streets…he's just not used to someone recording him in such a short vicinity," he contended. Heilman added, "He knows that it wasn't right to shine his flashlight into this guy's camera and he'll never do it again. I can assure you, he learned his lesson."