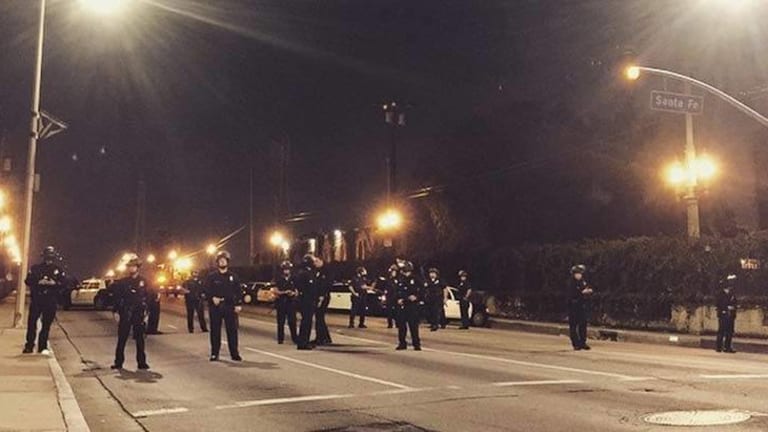 Photography Event Raided By Police After Being Mistaken For Rave
Dozens of LAPD cops and a helicopter were dispatched to break up a nighttime photographers' gathering.
Los Angeles, California - This weekend, police broke up a peaceful gathering of several hundred photographers and sent them home after their event was mistaken for a rave.
Luckily, there were no arrests, injuries or incidents reported, aside from the fact that hundreds of people had their right to peaceably assemble violated the LAPD. The event is called Photo Walk, and according to the organizer's website they are "a group of like-minded creatives that get together once a month and take photos of their city. Started in San Francisco, FlaskMob started a chapter in Los Angeles less than one year later." Police got reports of people gathering in the Boyle Heights area of Los Angeles and prepared to bust what they assumed was a rave. According to NBC News, a large group of LAPD police officers and a helicopter arrived at the event around 7pm on Saturday.

The police chased the large crowd out of the area and forced them into traffic. After several minutes the crowd eventually dispersed.
"We're all out here just enjoying ourselves, exploring Los Angeles, meeting new people, networking, hanging out with people with the same passions, and, you know, creativity is us," one of the photographers, Nick Brazinsky told ABC.
John Vibes is an author, researcher and investigative journalist who takes a special interest in the counter culture and the drug war. In addition to his writing and activist work he is also the owner of a successful music promotion company. In 2013, he became one of the organizers of the Free Your Mind Conference, which features top caliber speakers and whistle-blowers from all over the world. You can contact him and stay connected to his work at his Facebook page. You can find his 65 chapter Book entitled "Alchemy of the Timeless Renaissance" at bookpatch.com.