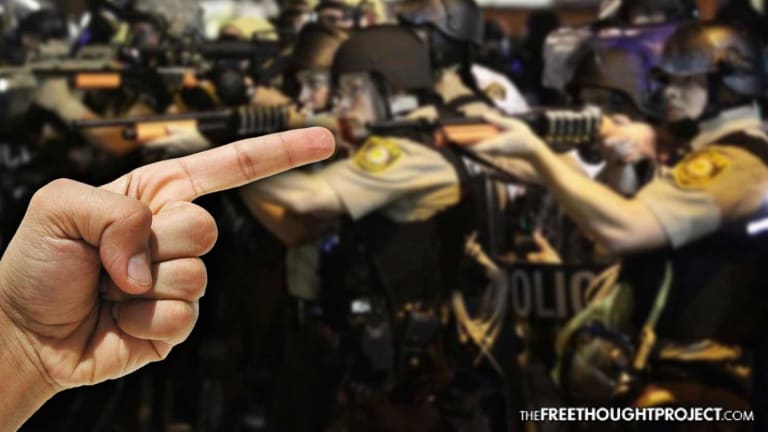 Court Rules Pointing Your Finger at a Cop is Illegal—Not Protected by 1st Amendment
A disturbingly unconstitutional ruling from a Florida court just declared that pointing your finger at a cop is a crime and not protected speech.
In Police State USA, the way you position your hand in a certain fashion around police officers can and will result in you being kidnapped and caged. According to a recent ruling by a Florida court if you point your finger at a cop and that cop thinks it looks like a gun, you can go to jail.
According to three Florida judges, forming one's hand into the semblance of a pistol and pointing it at an authority figure is not protected by the First Amendment, and is considered as 'threatening death or great bodily harm.'
"A judge has ruled that a Florida law used to arrest a man accused of threatening a Hialeah police officer is perfectly constitutional. The judge joined two others in Miami who have ruled that the misdemeanor law does not infringe on constitutionally protected free speech.

"'True threats' to injure persons are not protected by the First Amendment," Miami-Dade County Judge Maria Ortiz wrote in her order earlier this month."
The supposed "true threat" happened when Alex Romero pointed a finger gun at an off-duty police officer and said, "Officer Hernandez, I got you now!" The two apparently knew each other from previous run-ins, and Hernandez said the encounter made her fear for her life.
Perhaps Romero's status as an ex-con and a "305" tattoo on his eyelid made him appear to be a "bad dude" to Hernandez. It's more likely that Romero was joking around, albeit in poor taste. Even considering Romero's status and appearance, the fact that a completely harmless hand motion can be construed as a "true threat" in the eyes of the law is troubling.
"As almost everyone who was ever a child can testify, no one has ever been killed or injured by forming fingers into the shape of a gun and dropping the hammer [thumb]," Assistant Public Defender Paul Nuñez wrote in his motion to declare the law unconstitutional. "There is no objective true threat here from that gesture."
The Miami-Dade Public Defender's Office has been trying to challenge the "true threat" law in Florida since it was enacted in 2016. With this ruling, Florida courts have established a disturbingly broad definition of what authorities can consider a 'threat of death or great bodily harm.'
If Romero's case or others like it are appealed to higher courts, it will certainly set up a confrontation with First Amendment free speech rights. In other states, the act of shouting obscenities at cops has been protected as free speech, but cops arrest people for cursing anyway.
Florida's 2016 law was part of a number of 'Blue Lives Matter' bills passed around the country. Fourteen states have introduced at least 32 bills to give hate crime protections to law enforcement, with Louisiana being the first to enact a law. Many other bills have been withdrawn or voted down.
But cops don't need any more special designations than they already have, as all 50 states already "have statutes that automatically increase the penalties for violent attacks on police" -- and they don't even require a proven motive.
With a false "war on cops" narrative being pushed by authorities and TV talking heads, state lawmakers have seized on the opportunity to further protect an already protected class. While any unprovoked attack or ambush-style killing is a terrible act, if we look at the long-term trends, we see there is no actual war on cops.
Florida's attempt to include harmless free speech as a criminal threat to authority figures is a tragic move that should be challenged to the fullest extent.
Even before this law was enacted, TFTP has reported on numerous cases in which individuals have been shot at by cops who fear their finger.
Responding to a 911 call reporting a robbery in progress last year, two Los Angeles County sheriff's deputies pulled up to a payphone and gunned down an unarmed man pointing his finger at them. After killing the unarmed suspect, police investigators later discovered that no robbery had occurred.
In New Hampshire, in another display of paranoid trigger happiness, a Salem police officer fired on an unarmed man because he allegedly turned quickly toward them with his hands pointed in a "gun gesture."
Instead of apologizing for nearly killing him, police then arrested 31-year-old Raymond Shawdee and charged him with criminal threatening and reckless conduct.
Graphic body camera video was released last July showing an Oklahoma police officer kill an unarmed man — for pointing his finger. The shooting occurred after 25-year-old Andrew Henson led police on a high-speed chase for approximately 20 minutes. When the chase finally came to an end, Henson pointed his finger at the officer, who then killed him.