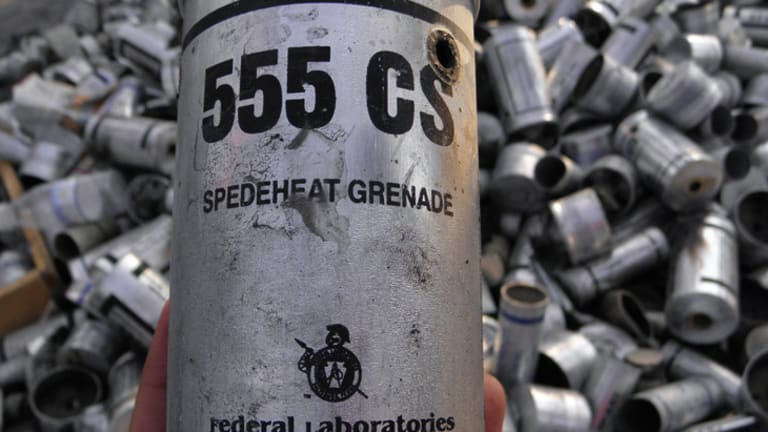 Police Accidentally Fumigate Elementary School With CS Gas During Training Drill
Parents of the Ohio elementary school children are outraged after their children were exposed to chemical weapons, banned by the Geneva Protocol.
Columbus, Ohio - This week, Columbus police accidentally fumigated an elementary school with tear gas while they were conducting a training drill nearby.
The training exercise was reportedly taking place at Cooper Stadium, which is very close to Sullivant Elementary School.
At one point during the drill, at least 15 tear gas canisters were deployed, creating a huge cloud of toxic smoke that quickly drifted over to the nearby school.
Over a dozen children experienced symptoms from the gas, and one pregnant teacher was even taken to the hospital.
Police department representatives are baffled by the incident, and have said that the school was well out of range and should not have been effected by their exercise.
"We thought we were certainly out of the range where we would have any impact. We are very apologetic for what happened. We will do whatever it takes to make sure this never happens again," Deputy Chief Tim Becker said in a statement.
Below you can see a map which shows close the school is to the training area:
The school was evacuated and ventilated for a period of time, and then classes were able to resume shortly after. However, some parents came to pick up their children, and were horrified by the carelessness of the police department.
"I was so scared when I heard there was tear gas going around the school, immediately I stopped what I was doing and come pick up my son," mother Musa Ente told reporters.
Tony Carey, another parent, said "C'mon I'm sure they wouldn't want this to happen to their kids."
A number of similar stories have recently surfaced in the news, where police have acted recklessly in front of children. Earlier this month, we reported on a similar story, where police accidentally pepper-sprayed a class room filled with children in the UK.
John Vibes is an author, researcher and investigative journalist who takes a special interest in the counter culture and the drug war. In addition to his writing and activist work he is also the owner of a successful music promotion company. In 2013, he became one of the organizers of the Free Your Mind Conference, which features top caliber speakers and whistle-blowers from all over the world. You can contact him and stay connected to his work at his Facebook page. You can find his 65 chapter Book entitled "Alchemy of the Timeless Renaissance" at bookpatch.com.