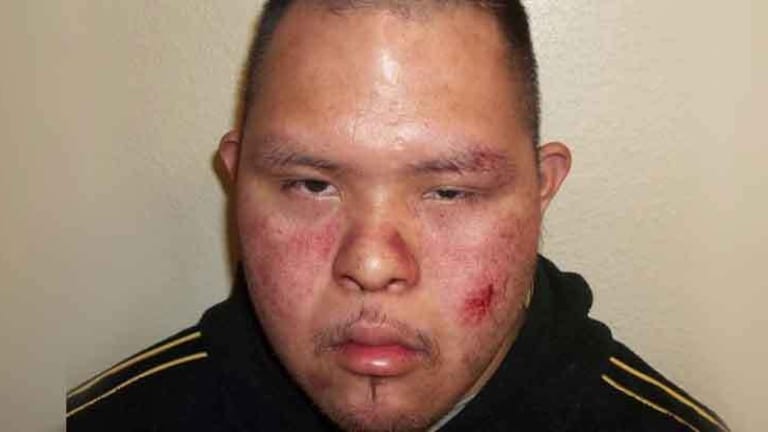 Police Admit Fault for Beating & Kidnapping Man with Down Syndrome, Refuse to Apologize
It takes a rare breed to unlawfully beat down a person with the mentality of a 7-year-old and then refuse to apologize.
Vista, CA-- Antonio Martinez is 22 years old, but doctors say he has the mental capacity of a 7-year-old.
Sheriff's Deputy Jeffrey Guy was unfazed by the fact that Martinez has down syndrome, and it didn't stop this cop from beating the 4′ 11″, 158 pound man during an unlawful detainment.
Guy stopped Martinez for the "crime" of pulling up the hood on his black hooded sweatshirt.
Now, in newly released video recording's of Officer Guy and Captain Joe Rodi's video depositions, the department is admitting their fault, but still refuse to make a public apology.
Deposition
"What did he do wrong?" asked Basile.
"He did not have reasonable suspicion to stop and use force on him," said Captain Rodi under oath in a newly released video deposition.
According to the family's lawyer, Jude Basile, a settlement could have been reached outside of court if the department would agree to three very simple conditions. The department only needs to apologize, release their policy on dealing with the mentally disabled, and have the officer involved volunteer for the Special Olympics. However, the department refused all three. The case is now going to trial.
"They said, 'Well, we don't know how to word that, for number one. For number two, we have no policies and procedures and the third thing, absolutely not. We cannot make the officer volunteer," Basile told 10 News.
Martinez was walking to his family's bakery on Dec. 20, 2012, when Guy yelled at him to stop. When Martinez did not stop, Deputy Guy became angry at him for "exercising his constitutional right not to stop for a consensual detention," the lawsuit alleges.
The lawsuit states that the deputy "looked Tony in the face and then unloaded a canister of highly irritating pepper spray into Tony's face and eyes," beat him with a weighted baton, slammed his face into the pavement and cuffed him. While the beating was taking place, Martinez' sisters were screaming at the officer that their brother has down syndrome, unsuccessfully attempting to appeal to the officer's humanity- something that he clearly lacks.
After Martinez was handcuffed, other deputies jumped in, and Martinez was taken to the hospital, detained, and then jailed for 5 hours- he was essentially kidnapped. He was charged with resisting arrest, despite the fact that there was no reason to stop him in the first place. Deputy guy testified that this was necessary to "document" the incident.
Deposition
"At the time you issued that citation, that was your discretion to do that, right," asked Basile.
"It was under the direction of my supervisor," said Guy.
"Did you agree with that," asked Basile.
"I agreed we needed to document it," said Guy.
Activists and anyone with common sense dispute his reasoning and offer a far simpler explanation.
"They would have had to charge him with resisting because they would have had to justify what Jeffrey Guy did to him that night," Tina Jillings, founder of Coalition for Justice, Peace and Dignity told 10 News.
Charges against Martinez were dropped the next day, and the department offered the family a "turkey dinner with all the trimmings" as compensation. The family declined the department's empty gesture and held on to their three demands.
Deputy Jeffrey Guy, who had been a deputy for about four months at the time of the incident, remains on the job. Despite his own Captain admitting that he was at fault and that he broke the law, he remains in a position of authority to abuse again.
Since the Captain refuses to publicly apologize because he "doesn't know how to word it," perhaps we should all send him some sample letters. Apologies, they aren't hard.