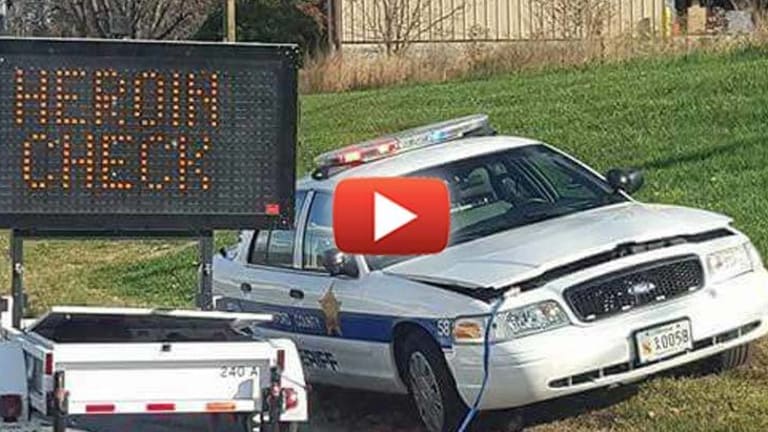 Cops Admit "Heroin Checkpoint" Resulted In Pot Arrests, Traffic Tickets...But No Heroin
Police shut down entire town to ostensibly find heroin. Instead of finding the drug, they generate thousands of dollars in revenue for the department.
Harford County, MD – On Wednesday, we reported that a small Maryland town was put on lockdown for an entire day, as police set up checkpoints in key travel areas of town in an alleged attempt to catch heroin traffickers. Many people had suspected that police were out in strong force ahead of the Thanksgiving holiday weekend, searching for drunk drivers. However, witnesses reported that the police were actually in search of drugs, specifically heroin, and they even had massive construction signs posted that said "Heroin checkpoint ahead, Drug K9 In Use."
We predicted that this was simply a scheme to generate revenue and that the police were simply using heroin as an excuse because of the fact that it is an emotionally charged issue that make people passively accept that nazi-style checkpoints have been set up all over their neighborhood. As expected, the police did not actually find any heroin, although they did write dozens of repair orders, confiscate over $7,000 in cash and seized about 20 pounds of marijuana. All of the arrests that were announced were for marijuana, prescription pills, a switchblade knife and drug paraphernalia. In addition to the arrests, police announced that they wrote 32 traffic citations, 148 warnings, and 18 repair orders.
In a statement the day after the operation, The Harford County Sheriff's Office said:
Yesterday, the Harford County Drug Taskforce, along with multiple law enforcement partners, conducted a multi-jurisdictional saturation effort throughout communities in Harford County. This special detail is part of law enforcement's ongoing heroin reduction efforts and focused on conducting vehicle and pedestrian interdiction on major roadways throughout Harford County, as well as in designated Safe Street neighborhoods.

The geography of Harford County provides several alternative routes often utilized by drug traffickers and others involved in criminal activity to avoid police interdiction efforts on I-95. Using a strong law enforcement presence, saturation, and interdiction efforts can result in arrests for narcotics violations, in addition to, arrests for other crimes to include burglaries, thefts, and traffic related offenses. The initiative was designed to meet the following goals: make the streets of Harford County safer for pedestrians and drivers; detect and arrest illegal drug users and sellers, and those drivers who are under the influence; promote public awareness of the dangers of heroin and drugged driving; most importantly, demonstrate to the citizens of Harford County that its law enforcement agencies care about the heroin epidemic affecting them and are united in their commitment to eradicating it.

Law enforcement utilized a combination of variable messages promoting heroin "check points" set up on major roadways throughout the county, combined with proactive vehicle and pedestrian interdiction in designated locations and "Hot Spot" neighborhoods known for heroin use and sales. Variable message signs were used throughout the detail to raise awareness that law enforcement was saturating the area. Focusing on areas known for drug trafficking and drugged driving, these "check points" were conducted on Route 152, Route 1, Route 24, and Route 40. As opposed to the traditional DUI Checkpoints most are familiar with, in these "checkpoint" areas, vehicles continued on the roadway without being required to slow down or stop. Those vehicles that were pulled over were done so after they were observed committing some type of motor vehicle violation. As we had the opportunity to come in contact with motorists, two pamphlets were available; the first provided heroin awareness information, the second provided information for those struggling with drug addiction.

In total, there were approximately 73 law enforcement officers who participated, representing: The Harford County Sheriff's Office, Maryland State Police, Maryland Transportation Authority Police, Havre De Grace Police Department, Aberdeen Police Department, Bel Air Police Department, and the Drug Enforcement Administration.

This detail resulted in ten arrests and the seizure of $7,000 cash, one switchblade knife, illegal drugs to include more than 20 pounds of marijuana, opiates and prescription pills, and related drug paraphernalia. Additionally, 32 traffic citations, 148 warnings, and 18 repair orders were issued during the operation.

Sheriff Gahler remarked, "This morning the number of heroin-related overdoses Harford County law enforcement have responded to stands at 156 nonfatal overdoses and 24 overdoses which have proven to be fatal. We must work tirelessly to eradicate this dangerous drug from our community. High visibility law enforcement details, such as the one from yesterday, send a clear message to the drug dealers in our community - you are not welcome here. Still, much needs to be done, but we will not rest until the job is complete."
After the statement, the sheriff's department listed the full names of the victims that they arrested for the sake of public shaming. Unfortunately, there were many misguided residents praising the police on their Facebook page, because they believed the cover story, that the police were doing this for their safety. However, a number of repair orders, marijuana arrests and petty traffic citations that were dished out by cops, compared with the number of heroin arrests (zero), should show that their operation was either a scam or a total failure.
" width="790" height="444" frameborder="0" allowfullscreen="allowfullscreen">
John Vibes is an author and researcher who organizes a number of large events including the Free Your Mind Conference. He also has a publishing company where he offers a censorship free platform for both fiction and non-fiction writers. You can contact him and stay connected to his work at his Facebook page. You can purchase his books, or get your own book published at his website www.JohnVibes.com.