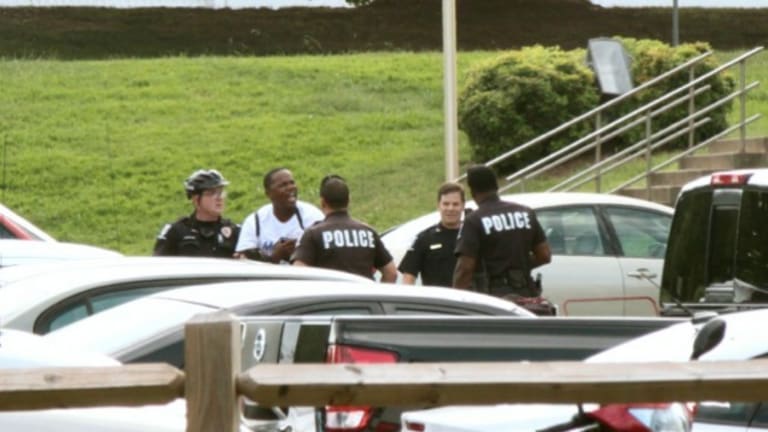 Police Arrest Young Black Politician For Distributing Voting Rights Leaflets
ThinkProgress.org | by Alice Ollstein
CHARLOTTE, NORTH CAROLINA—The stars of North Carolina's Moral Mondays movement took the stage on Labor Day at Charlotte's Marshall Park to condemn the state's record on voter suppression and racial profiling, and urge the community to organize and turn out at the polls this November. Just a few hundred feet away, police cuffed and arrested local LGBT activist and former State Senate candidate Ty Turner as he was putting voting rights information on parked cars.
"They said they would charge me for distributing literature," Turner told ThinkProgress when he was released a few hours later. "I asked [the policeman] for the ordinance number [being violated], because they can't put handcuffs on you if they cannot tell you why they're detaining you. I said, 'Show me where it's illegal to do this.' But he would not do it. The officer got mad and grabbed me. Then he told me that I was resisting arrest!"
There is a local ordinance prohibiting leafleting on cars. But according to local activist Casey Throneburg, who also filmed the arrest, it is almost never enforced, and "certainly not with handcuffs."
Instead of transporting Turner directly to the Mecklenburg County jail, which sits just a few blocks from Marshall Park, he said they took him first to an empty parking lot behind the highway. "They took me to three different spots other than the jail," he said. "They knew they were in the wrong."
This happened as the Moral Mondays leaders lead a small but enthusiastic crowd in prayer, song and chants of "Forward together, not one step back!" and "Fired up, ready to vote!" When they learned what had happened to Turner, they urged the rally attendees to join them on a march to the jailhouse to demand his release. About 30 people did so, walking silently behind the clergy and friends of Turner.