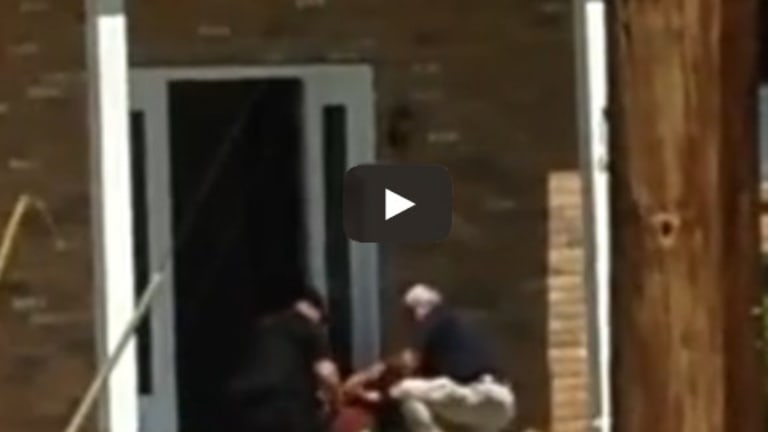 Cops Accuse Senior Citizen of Robbing His Own House, Beat & Arrest Him on Video
May 22, 2014
In a repugnant display of police incompetence and negligence, Clayton County Police arrested a man they thought was breaking into a house.
These highly intelligent police officers, thinking Dhoruba Bin-Wahad was a burglar who was lying about the presence of a fellow burglar in the house, tried to arrest him as he moved into the house he'd just rented.
Bin-Wahad, a senior citizen, was slammed to the ground and into a wall by these cops who thought he was breaking into his own house!
The entire incident was caught on video by a nearby resident and contradicts the initial claims of police that stated Bin-Wahad resisted.
Over a half-dozen officers were dispatched to protect the residents of the 300 block of Downing court, by beating one of them up.
"I was humiliated," he told reporters on Monday at a press conference with his attorney Robert Bozeman. "At first, I didn't want to move into my home. I didn't want neighbors thinking I was some kind of criminal moving into the neighborhood."
According to The Atlanta Journal Constitution, police were called to the scene by a neighbor, saying that she had never seen Bin Wahad before.
The witness lived behind the home where Bin-Wahad was moving, and told police that she believed that he was a "pervert trying to look at her or her children from the vacant location through the woods," the report says.

At least four officers responded to the call, police said.

One officer went to the rear of the home and an officer was at the front of the home. Initially, a third officer is seen in the video approaching the yard with his gun drawn. A fourth officer would eventually arrive on the scene, allowing one of the officers at the home to go inside.
Despite being told by Bin-Wahad, that he is moving in and was in possession of the key, the officers responded with violence.
The Clayton Country Police Department assures us that they are "investigating the incident," and they will do so objectively.
Comedian Dave Chappelle summed up this scenario up perfectly back in 2000 with his stand-up piece titled, "Killin' Them Softly."
Here is your moment of zen....