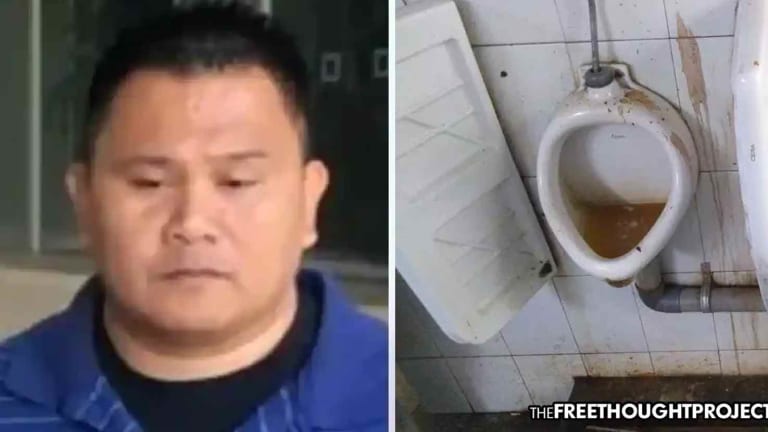 Cop Receives Unprecedented 4-Year Sentence for Forcing Homeless Man to Lick a Urinal
Though he was originally only facing 30 months, a former cop has been given a four year sentence for forcing a man to lick a urinal.
Honolulu, HI — As TFTP reported in December, officer John Rabago pleaded guilty to depriving a homeless man of his civil rights. This week, that sadistic Honolulu was sentenced to four years in prison — an unprecedented sentence — for forcing a homeless man to lick a public urinal to avoid being kidnapped and thrown in a cage. What this case illustrates is the power-tripping barbarous behavior of many men and women who claim to 'protect and serve.'
"You took from him his only possession: his dignity as a human being," .S. District Judge Leslie Kobayashi said, noting that the homeless man was just as defenseless as Rabago's own children.
An attorney for the victim, who filed a lawsuit this year, said he was expecting a slap on the wrist but was surprised to see this sentence handed down.
"He's pleasantly surprised that the court punished him appropriately," his lawyer, Myles Breiner, said. "He was under the impression that they would coddle him and give him a minimum term, a very low sentence."
TFTP thought the same. However, the climate appears to be shifting, at least in the short term.
The incident unfolded last year when Honolulu police officer Rabago and another officer responded to a nuisance complaint of a homeless man in a public bathroom. When officers arrived on scene, they found the homeless man in a stall.
When police began questioning him, he refused to cooperate and then gave officers a fake name, according to police. Rabago explained in court that the homeless man told he and his partner that he "would do anything not to get arrested." That's when this cop's sadistic gears in his head started grinding.
"To be homeless, not knowing where your next meal is going to be, to be forced to lick ... a dirty urinal by a uniformed police officer. There's only one word that comes to mind: hopelessness," Assistant U.S. Attorney Tom Brady said.
For his sadistic actions, Rabago would be charged in 2019 with one count of conspiring to deprive a person of his civil rights and another count of acting under color of law to deprive that person of his civil rights.
Despite initially pleading not guilty, Rabago admitted in court in December that he told the man, Samuel Ingalls, that he wouldn't arrest him if he licked the urinal. The man knelt down and put his head in the urinal, Rabago said.
Rabago and the other officer, Reginald Ramones, then allowed Ingalls to gather his belongings and leave the bathroom.
The victim's sisters, Mary and Melody Ingalls say that he actually suffered far more abuse than what was reported. They say Ingalls told them that cops forced him to sit in urine and then pushed his head into the toilet, holding it under water. They also said Ingalls had a big bruise on his arm where police had hit him with a stick.
"We know our brother. We know when he lies. We know when he's being dishonest," Mary Ingalls said. "And he was very sincere and very detailed and it never changed, what he said."
Despite being charged for this horrific act of depriving a homeless man of his civil rights, Rabago was not immediately fired and was merely placed on restricted duty.
Rabago attempted to claim that the order to lick the urinal was a mistake but U.S. District Judge Leslie Kobayashi didn't buy it, saying, "You knowingly and willfully forced S.I. to lick the urinal."
What's more, this sadistic cop admitted to similar actions in the past. According to the report, had previously threatened another man he was questioning by saying he wouldn't be arrested if he stuck his head in a toilet, court documents said.
Ramones previously said in court that Rabago persuaded him not to tell authorities what happened in the public bathroom and to delete their text messages about it.
In fact, Rabago bragged about that incident as S.I. walked out of the bathroom, laughing at his victim and telling other officers about what he had just done. Rabago said "the incident was 'just like what happened at Cartwright Field'" when he had told a "man that he would avoid arrest only if he stuck his head in a toilet," according to court documents.
Rabago originally only face 30 months in prison. However, given the current climate, his defense attorney, Megan Kau, said the judge is making an example. Which she should do.
"I think she's taking the national environment and making him an example," Kau said about the judge and the protests against racial injustice and police misconduct across the nation.
"This is not the same," Kau said, noting that Rabago is Filipino American and the victim is white.
However, as TFTP has reported at length, while the system as a whole certainly shows disparity toward the poor and minorities, anyone and everyone, including all races, social status, income, and education levels are potential victims of the police state.