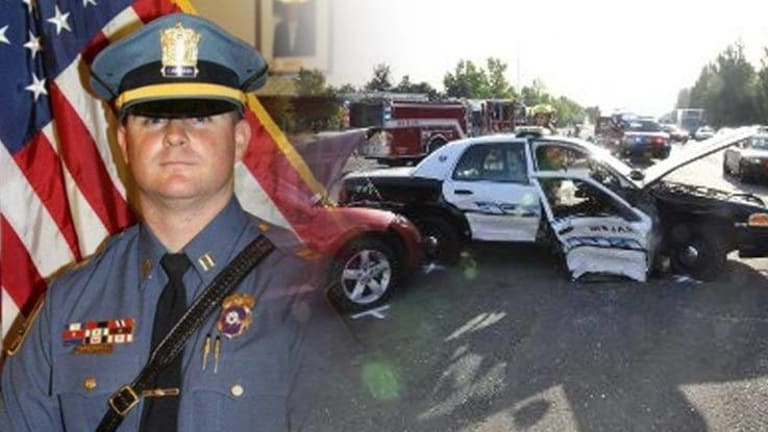 Cop Who Crashed While High On Drug Cocktail, Alcohol And Bath Salts Was Under Investigation
Police Department was aware of their captain's drug habit prior to his fatal crash.
Ocean Township, NJ -- A police captain was killed last month after he crashed his car while he was high on various drugs. It has also recently been revealed that he was under investigation at the time of his death.
According to toxicology reports, Capt. Earl B. Alexander IV of the Deal Police Department was high on prescription pills, street narcotics, alcohol, and bath salts - practically any type of drug that you could imagine. The report said that a dozen different chemicals were found in the 38-year-old officer's blood. Among other drugs, the blood tested positive for ethylone, butylone, methylone, dibutylone, dimethylone and fluoroamphetamine. Also, the prescription drugs Lexapro, Ambien, and another amphetamine-based pharmaceuticals.
In addition to the drugs, Alexander also had a blood-alcohol level that was more than twice the legal limit.
Dr. Lawrence J. Guzzardi, an expert who reviewed the report, told app.com that, "These are psychoactive drugs. They're designer drugs, club drugs, bath-salt-type drugs. These are very unusual drugs. I mean, I don't know how this guy gets these."
"0.08 is legally intoxicated. So 0.19 is very intoxicated," he added.
Guzzardi also said the prescriptions that Alexander were on are usually not prescribed together.
"It's not a typical prescription given by reputable doctors," Guzzardi said.
The Deal Police Department allegedly knew about Alexander's drug use prior to his death.
During a press conference this week, Police Chief Ronen Neuman admitted that the department was aware of Alexander's drug use, and that he was actually suspended without pay at the time of his death, but would not reveal any further details.
"At the end of the day, you've got to judge every person on his own character. You can't judge me because someone in my department did something wrong. Every business has got someone that's not doing the right thing and we try to address it every day. And no one's perfect,"Neuman said.
"That's the sad part about this whole case, is that he was a model officer, he moved up to the rank of captain, for a few years he hasn't even used a sick day," he added.
Oddly enough, the city's prosecutor said that there was no evidence of criminality in the case, despite the fact that the officer had numerous illegal drugs in his system while behind the wheel of a car.
"This was a motor vehicle accident and there was no criminality to this accident," First Assistant Prosecutor Marc LeMieux said.
Alexander was second in command at the Deal Police Department, where he worked for over 17 years.
John Vibes is an author and researcher who organizes a number of large events including the Free Your Mind Conference. He also has a publishing company where he offers a censorship free platform for both fiction and non-fiction writers. You can contact him and stay connected to his work at his Facebook page. You can purchase his books, or get your own book published at his website www.JohnVibes.com.