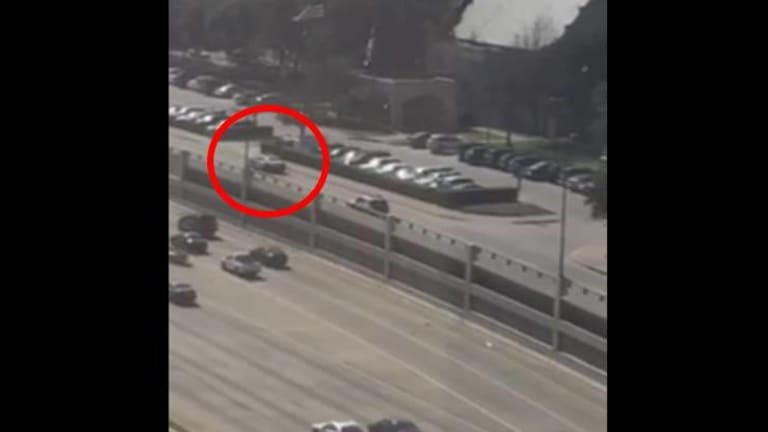 Video Shows Cop Car Dangerously Driving In Reverse Into Oncoming Traffic To Return To Speed Trap
If the ostensible purpose of speed traps is to "promote safety," then how do you explain this?
Dallas, Texas - A Dallas police officer was caught doing a strange maneuver in traffic nearly a dozen times in a row by Christine Pham and her co-workers last week. Eventually, Pham decided to capture the stunt on video.
Pham had witnessed the officer driving in reverse, against oncoming traffic to return to his speed trap all day. After getting one of the rotations on camera, Pham's video was posted the video the Dallas Police Department's Facebook page with the following caption:
"How do you expect people to respect authority ?? is this safe? legal?"
"My colleagues were like, 'What is he doing? That has to be illegal. Yeah, he is a cop, but why is he reversing like that?" Pham said.
"I hope he knows he shouldn't be breaking the law. If I can't reverse in traffic, neither should he," she added..
The police department has responded to the incident saying only that the case is under review, and that the maneuver that can be seen in the video is technically legal. However, it is highly likely that an average person would get pulled over immediately if they tried the same thing.
Lawyer and former police officer Pete Schulte pointed out that incidents like this can present some very embarrassing public relations issues for police departments.
"I think what's going to happen is they're going to use this as a training tool and say, 'Look, you're always being watched. It may be legal, but is this good public policy to be doing this where the public is seeing this sort of activity?" Schulte said.
Cops breaking traffic laws is one of the most obvious examples of police hypocrisy and shows that police are not held accountable to the same extent of the average citizen.
John Vibes is an author, researcher and investigative journalist who takes a special interest in the counter culture and the drug war. In addition to his writing and activist work he is also the owner of a successful music promotion company. In 2013, he became one of the organizers of the Free Your Mind Conference, which features top caliber speakers and whistle-blowers from all over the world. You can contact him and stay connected to his work at his Facebook page. You can find his 65 chapter Book entitled "Alchemy of the Timeless Renaissance" at bookpatch.com.