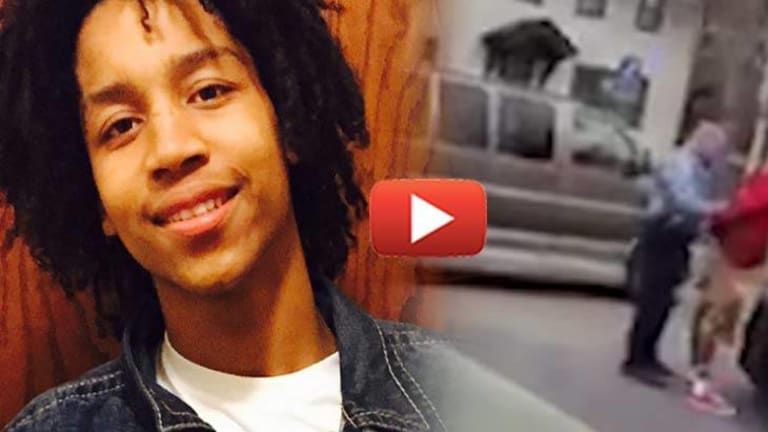 Police Caught on Video Telling Innocent Teen, "If You F*** With Me, I'm Going To Break Your Legs"
Minneapolis cop caught telling teen "If you f*** with me, I'm going to break your legs." He had committed no crime.
Minneapolis, MN - Minnesota police officer Rod Webber was caught on camera in March threatening 17-year-old Hamza Jeylani, as you can see in the short video on KMSP-TV.
Jeylani was in the car with his three friends after playing basketball at the YMCA when they were pulled over. The teens were compliant when asked who owned the vehicle, but were nonetheless pulled from the car. Jeylani filmed as Webber threatened him, saying,
"Plain and simple, if you fuck with me, I'm going to break your leg before you get the chance to run. I'm being honest; I don't screw around."
"I never said I was going to run," Joyland says in response.
Webber replies "I'm just giving you a heads up. Just trying to be officer friendly right now."
According to the ACLU, "police said the stolen car they were after was a blue Honda Civic. The teenagers, however, were driving a blue Toyota Camry." In addition, Jeylani asserts that the driver of the vehicle had documentation proving him to be the owner. Despite this evidence clearing the kids, the cops cuffed them all and made them wait an hour while searching the vehicle and doing background checks on all four teens, Faysal Mohamed told My Fox Twin Cities.
"Can you tell me why I'm being arrested?" asked the Jeylani, to which Webber replied, "Because I feel like arresting you."
According to ThinkProgress, the video was released with a report on racial arrest patterns in the city of Minneapolis. According to the report, African American teens who live in Minneapolis "are 8.7 times more likely than white people to be arrested for low-level offenses, like trespassing, disorderly conduct, consuming in public, and lurking," while Native Americans are "8.6 times more likely to be arrested for low-level offenses than white people."
All four of the boys were of Somali descent, and believe they were the victims of racial profiling. They planned to file a complaint. Minneapolis PD claimed the case will be investigated. Webber has been on vacation since May 6th and he's yet to face any charges.
Not surprisingly, the children no longer feel safe around police. Liban Yusuf, 18, told My Fox, "They had their guns drawn. I don't know why they were so aggressive."
Faysal Mohamed stated, "Anytime I see the police I get scared."
Good work, officers.