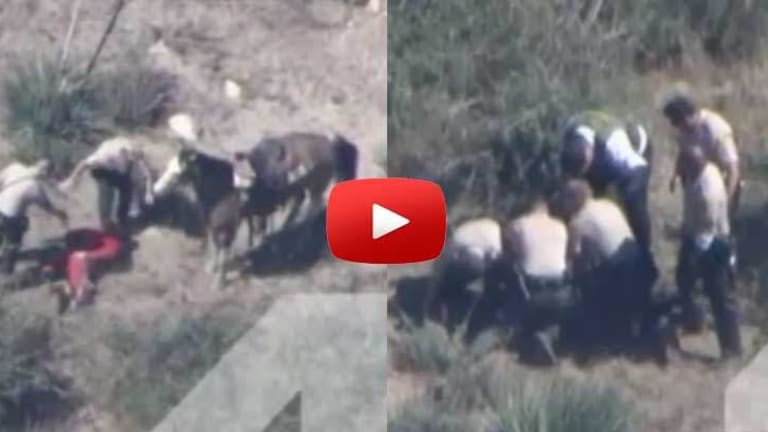 Police Chase Involving Man on Horse Ends With Vicious Unjustified Beating
An internal investigation has been ordered after a police chase involving a man on horseback ended with an extremely brutal and vicious beating.
Apple Valley, CA-- An internal investigation has been ordered after a police chase involving a man on horseback ended with an extremely brutal and vicious beating.
" width="790" height="444" frameborder="0" allowfullscreen="allowfullscreen">
Thursday afternoon a disturbing scene was captured by an NBC News helicopter as Francis Jared Pusok, 30, attempted to flee from officers on what is reported to be a stolen horse.
The officers approached Pusok at 12:12 pm and attempted to serve him with a search warrant in a case of identity theft that they were investigating. Pusok initially fled in a vehicle but abandoned it at some point during the chase opting to flee on foot until he spotted a horse. The man reportedly stole the horse and continued to elude the officers.
Around 3 pm an officer caught up to Pusok and appears to shoot him with a taser as he falls off the animal. A second officer catches up, and the man is tased by both officers. Following the dual tasing, the second officer on the scene begins kicking him in the face as he is on his stomach on the ground. The first officer then kicks the man in the groin, and both begin pummeling him. They strike him with their tasers, fists, and knees, as Pusok is under them, face down, and defenseless.
Several more officers begin arriving and swarm onto the man, getting their blows in like schoolyard bullies. A couple of minutes into the beating, which is so severe that it invokes images of Rodney King, there are nine officers surrounding him, then eleven. It can only really be described as a gang attack.
In the two minutes and eleven seconds following the first volts from the taser, Pusok was kicked at least 17 times, punched 37 times and struck with batons four times- over a dozen of the blows appear to make contact with his head. His body appeared to be limp and lifeless for over 45 minutes, during which time he received no medical attention.
Three officers were treated at a nearby hospital, two for dehydration and one after being kicked by the horse.
Pusok reportedly has had previous run-in's with the law, but seemed to be subdued and in custody while the beating occurred.
The department claimed force was used because the taser "was ineffective due to the suspect's loose clothing," and not because the officers were on a disgusting power trip and upset that they had to run.
San Bernardino County Sheriff John McMahon did, however, call the video "disgusting" and claims that an investigation is underway.
"I can certainly understand the concerns in the community based on what they saw on the video," McMahon told NBC. "I'm disturbed by what I see in the video. But I don't need to jump to conclusions at this point, until we do a complete and thorough investigation. If our deputy sheriff's did something wrong, they'll be put off work and they'll be dealt with appropriately, all in accordance with the law as well as our department policy."
Pusok has survived so far, although he is currently being treated for unknown injuries. His current condition remains unknown at this time.