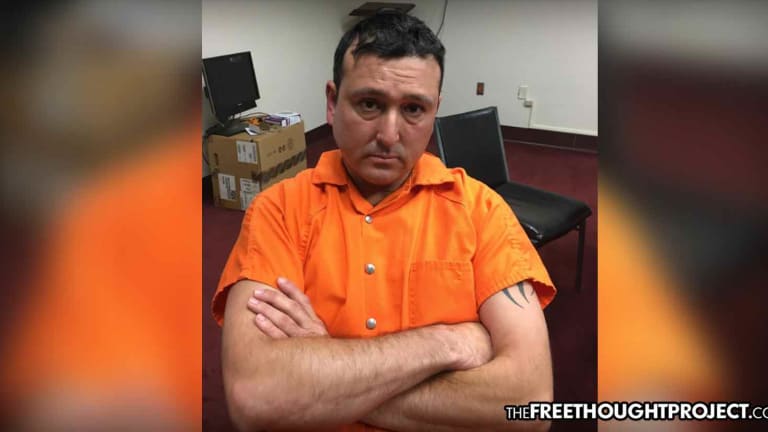 Alabama Police Chief Arrested for Allegedly Masturbating In Front of Children at the Beach
Not just a regular cop, but the police chief of an Alabama town was filmed on multiple surveillance cameras masturbating in front of children and teen girls.
Panama City Beach, FL — The chief of police for the city of Level Plains, Alabama was arrested after allegedly masturbating in public in an elevator as young children entered and exited. He was also witnessed masturbating while walking down the beach behind various teen girls and filming them shower.
Billy Maurice Driggers, the 44-year-old chief of police, was arrested at the police station last week and charged with four counts of disorderly conduct.
As the News Herald reports, 
According to Panama City Beach Police, security alerted law enforcement to a white male seen by guests masturbating while watching women, as well as sticking his hand down his pants and touching himself on three occasions while women and children entered the elevator. He was wearing just shorts, according to reports.

Officers located the man matching that description and identified him as Driggers, who was not a registered guest at the hotel.

It was also discovered that Driggers allegedly was seen touching himself while walking down the beach in front of the condo while following teenage girls, along with taking video and photos of girls rinsing off after coming off the beach.
The charges do not included exposing himself as police were not able to determine if he actually pulled out his genitals during the sick acts. However, police did describe the chief's actions as "obscene" and "sexually deviant in nature" after viewing the surveillance footage.
Below is a statement released by the department explaining their investigation:
On October 2, 2018, patrol officers responded to the Aqua Condominiums, in reference to a suspicious person. Officers made contact with security staff and were advised guests of the resort observed a white male masturbating while watching females. Officers were able to identify the male as Billy Maurice Driggers, 44, from Daleville, AL. Investigators later learned Driggers was the Chief of Police with the City of Level Plains, AL. It was discovered Driggers was not a registered guest of the condo nor did he have any valid reason to be on the property. Upon reviewing surveillance video, security discovered Driggers utilized the buildings elevator on several occasions. On at least three separate occasions, Driggers was seen in the elevator, with his hand down his pants, masturbating in the presence of women and children. Furthermore, it was also discovered Driggers masturbated while walking behind teenage girls on the beach. He was also observed filming or taking photos of the girls rinsing off in the outside showers. During the course of the investigation, Investigators were not able to locate an instance where Driggers exposed his genitalia while masturbating. However, Driggers actions were found to be obscene and sexually deviant in nature. Based on all these facts, Investigators obtained arrest warrants charging Driggers with four counts of Disorderly Conduct. Investigators with the PCBPD, with the assistance of Special Agents with the Alabama State Bureau of Investigations, and the Dale County Sheriff's Office, Driggers was arrested at his place of employment. Driggers was booked into the Dale County Jail to await extradition to Bay County, FL. This investigation is ongoing.
Driggers was arrested and held in the Dale County Jail as he awaited extradition back to Alabama last week. According to the Level Plains Mayor, Bruce Grantham, the chief has been placed on administrative leave without pay pending the outcome of the case.
One person made an ominous point on the Panama City Beach Police Department's post, noting that if this man was willing to do this in public, imagine what may be on his computer at home.
"Hopefully a warrant for his home to access his computer is issued. I can only imagine if he's blatantly doing this in plain view that he's got all kinds of stuff in his cell/computer," the Facebook user wrote.
We agree—especially considering the fact that police officers are caught all the time for horrific crimes against children. If these are the only crimes pinned on the chief, he only faces up to 60 days in jail and a fine of up to $500.