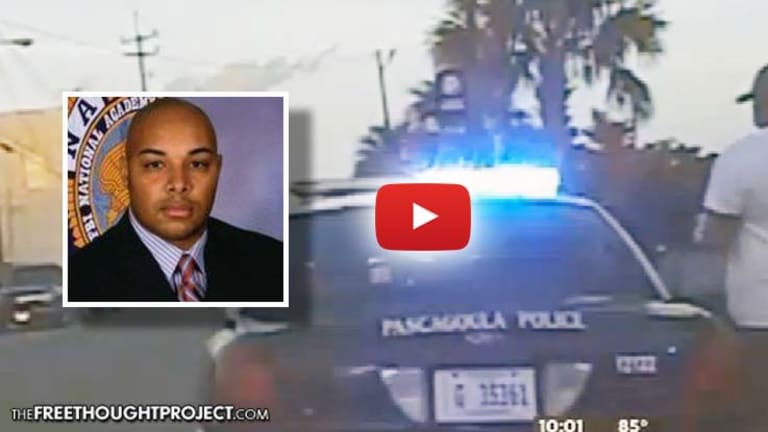 DASHCAM: Cops Conspire to Cover for Police Chief After He's Caught Drunk Driving at 109 mph
A police chief was caught on video driving over 100 mph, drunk, in the middle of the day and he was not charged and let go.
Moss Point, MS -- Time and time again, police officers and public officials are caught driving drunk only to be let go or given a ride home -- a convenience seldom afforded to the peasant class. Even when driving a dangerously fast 109 mph through neighborhood streets, and reeking of alcohol, the chief of police for Moss Point, Mississippi was shown a despicable level of favoritism and let go. The entire scene was captured on dashcam.
Only after the public became aware of the situation and forced the local government's hand, was Moss Point Police Chief Art McClung suspended -- a month after he got off scot free.
"I saw the video," said Mayor Billy Broomfield, who pointed out that the suspension is only based on the video at this point. "Based on what we've seen, which is all we have, we have not received any legal certification or confirmation from anybody other than what we all have read or seen in the papers."
On Tuesday night, the town's board voted to suspend McClung after the dashcam of the incident was publicly released. In the infuriating dashcam, you can hear the responding officers admit he's drunk after they caught him driving at deadly speeds through city streets -- only to uncuff him and bring him home.
"He's obviously DUI," says one officer.
"Does he smell like alcohol?"
"Oh yeah, he's toast. He knows it too, you can tell from the time we walked up," answers the officer.
During the stop, McClung admitted to having drinks. However, during a statement this week, he changed his story and said, "I'm never impaired. I would never put myself in that position."
Even if he wasn't impaired, which he obviously was, he was driving insanely fast and could've killed someone.
Not wanting to step on toes outside of their pay grade, the responding officers called Pascagoula police chief Kenny Johnson for advice on how to handle this situation that could have led to the average person being shot or killed.
"The officer called for a supervisor and the supervisor called me," explained Johnson. "We made a decision not to pursue the matter further and, in an abundance of caution, I instructed the supervisor to have one of our officers drive chief McClung to his home."
Must be nice.
One simple phone call and this top cop who was driving over 100 mph in the middle of the day, down city streets, drunk, was let off the hook.
When the local media asked residents how they felt about this special treatment, they were naturally upset.
"When I get stopped by the police, they take me to jail. They don't take me home," said Moss Point resident Robert Henderson, according to WLOX.
"Oh, I'm going to jail. I'm going to jail," said Moss Point Terry Roberts, imagining himself in a similar situation as the chief.
"If the stories are true that he didn't get cited, he should have been cited from drinking and driving definitely. I don't think that's right. I think that shows favoritism," said Raphael Patterson.
However, as if they had Stockholm Syndrome, they then condoned his behavior and said he should keep his job.
"I don't think anybody should lose their job for making a mistake. I think he should just be reprimanded and apologize to the public for what he did and move on," said Patterson.
"We need a police chief in Moss Point. He seemed to be doing a pretty good job," said Henderson.
Yes, people make mistakes. However, this is the chief of police who not only made a potentially deadly mistake, but he lied about it and conspired with fellow cops to cover it up. He betrayed the people of the town and proved to them he has no business being a cop. Still, they want him to keep his job.
It is a mentality like that which allows corrupt cops to trample on the rights of individuals and never be held accountable. Sadly, until enough people stand up and demand these cops be held accountable, this abuse and double standard will continue.
[author title="" image="https://tftpstagingstg.wpengine.com/wp-content/uploads/2016/03/magorist-e1456948757204.jpg"]Matt Agorist is an honorably discharged veteran of the USMC and former intelligence operator directly tasked by the NSA. This prior experience gives him unique insight into the world of government corruption and the American police state. Agorist has been an independent journalist for over a decade and has been featured on mainstream networks around the world. Follow @MattAgorist on Twitter and now on