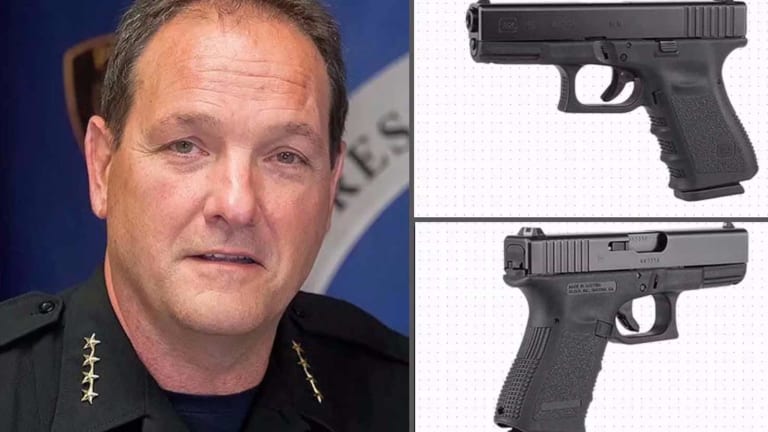 $500 Reward Offered After the Chief of Police 'Lost' His Gun in a LIBRARY
A police chief claims he lost his department-issued gun when he went to the restroom in a public library—but he waited 4 days to report it.
Prescott Valley, AZ — The police department in Prescott Valley is offering a reward to the person who finds and returns the police chief's gun—and it is not because it was stolen.
Prescott Valley Chief of Police Bryan Jarrell claims he cannot find his firearm, and he must have lost it when he went to the restroom during a town council meeting on Nov. 9.
The chief says his gun must have slipped out of its holster when he was changing clothes following the council's meeting at the Prescott Valley Public Library. The brand of firearm is a department-issued handgun is described as a Glock 19, 9mm in caliber and black. The serial number is YHC 944.
Jarrell claims that even though he believes he lost it on Nov 9, he did not report it lost until four days later. It is unclear why, Jarrell is supposed to wear his firearm daily, and likely should have noticed the weight imbalance on his duty belt. Also, as TFTP has reported, the notion that a gun can merely slip out of a holster is simply laughable as tension locks and restraint straps are standard issue making it nearly impossible for anyone but the gun's owner to pull it from the holster.
The department says anyone with information about the missing handgun should contact Yavapai County's Silent Witness program at 1-800-932-3232.
The police department issued the following statement addressing the firearm now missing from the armorer's inventory:
"On Monday, November 13th, 2017, when the Chief discovered the weapon was missing, he reported it immediately...The lost firearm was entered into the National Crime Information Computer (NCIC)."
This is not the first time guns have gone missing at a law enforcement agency. In fact, the problem extends from one side of the country to the other, even in Washington, DC. From 2011 until 2017, over 350 guns have gone missing from various law enforcement agencies in and around DC. News 4, DC writes:
"A compilation of police records obtained under the Freedom of Information Act reveals a series stolen or lost firearms at large and small police agencies. At least 35 of them were taken or lost from the Metropolitan Police Department in Washington, D.C., since 2011. Twenty-eight others were lost or stolen from Prince George's County Police. Ten were reported missing or stolen from Alexandria police, while eight were lost or stolen from Virginia State Police during the time period."
The phenomena of guns going missing while supposedly in safe hands (the police) is quite difficult to explain. First, there are those police officers who simply steal them, such as in the recent case of Simpsonville, Kentucky, police officer Terry Putnam. As The Free Thought Project reported, Putnam allegedly stole over $30,000 worth of guns, drugs, and cash from the police department where he worked.
There are other officers who simply allow their department-issued firearms to be stolen by others. Since 2010, nearly 1,000 guns have been stolen, were lost, or went missing in the San Francisco Bay Area, as well as across California. Mercury News' Thomas Peele investigated the phenomena. He described how, through negligence by offices, the guns are stolen:
"Their guns have been stolen from behind car seats and glove boxes, swiped from gym bags, dresser drawers and under beds. They have been left on tailgates, car roofs and even atop a toilet paper dispenser in a car dealership's bathroom. One officer forgot a high-powered assault rifle in the trunk of a taxi."
In the same way that few officers actually face charges for the serious crimes they commit, and rarely see the inside of a jail cell, few officers ever face serious consequences for failing to keep their guns safe. What constitutes a felony for the general public, when citizens improperly store their firearms, is barely a slap on the wrist for most police officers. Thus, Prescott Valley's Chief Jarrell will almost certainly not face any criminal charges for bringing a firearm into a public library, and allegedly losing it when he went to the restroom—something police would have taken seriously if it had been the actions of the average citizen.