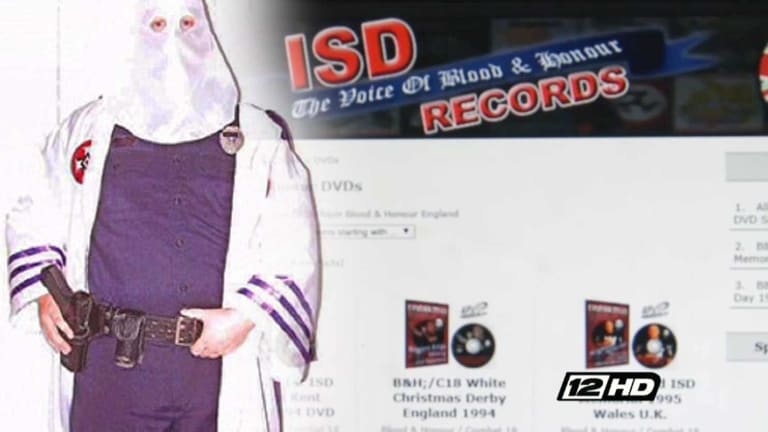 Police Chief Outed as Leader of Neo-Nazi Group Prepping for Bloody 'Race War', Owner of KKK Website
Two white supremacist websites were taken offline hours after a local news station found that they were linked to the new police chief.
Colbert, OK – A newly-appointed police chief has come under fire after he was directly linked to a website that promotes international racist skinhead gangs, the Klu Klux Klan, and media titled "Hitler was Right."
Bart Alsbrook was recently hired as the city of Colbert's third police chief this year, but it wasn't his connection to the police department that caught the attention of a local news station.
According to a report from KXII News, the Southern Poverty Law Center released a "hate map" last week, which claimed to track 917 hates groups across the United States. There was only one listed in the Texoma area: a website named ISD Records, which was created by Bart Alsbrook in 2004.
The website featured "a banner that reads 'The Voice of Blood and Honour,' an international coalition of racist skinhead gangs, ISD Records features artists like The Klansmen and album titles including 'Hitler was Right.'" The Bart Alsbrook who owned it was registered at an address in Denison, Texas, less than 10 miles from the city in which a man named Bart Alsbrook just became the newest police chief.
Reporters from KXII reached out to Police Chief Alsbrook to ask about the connection, and he claimed it must have been a different person with his name who created the website. However, the network noted that they "searched for another Bart Alsbrook and couldn't find another person with that name in the United States," and coincidentally, after reaching out to the chief, "Thesite was taken offline within hours of that conversation."
While Hitler and the KKK are more notable in the United States, Blood & Honor is an international coalition of racist skinhead gangs that originated in the United Kingdom in 1987, according to SPLC.
Blood & Honour founder Ian Stuart Donaldson described his mission, saying, "Eventually there will be a race war and we have to be strong enough in numbers to win it. I'll die to keep this country pure and if it means bloodshed at the end of the day, then let it be."

Bart Alsbrook was also listed as "Blood & Honour USA's Texas coordinator" in 2005, in a report from SPLC that claimed he was the owner of NS88 Videos, a white supremacist website similar to ISD Records. However, KXII noted that after the conversation with Chief Alsbrook, that website was also taken offline.
In a statement to Tulsa World, Alsbrook said the report has "ruined his life," and he plans to resign and will not continue as a reserve officer.
"Someone has been using my name for years on the Internet in regards to racist topics," Alsbrook said. "It's not me, rather someone who has hijacked my name due to my combativeness and rejection to white power skinheads who were always coming to the heavy metal shows, starting fights and messing up our scene."
While Alsbrook's explanation may account for the use of his name, it does not account for the use of his address, and if the websites had been created by people who were looking to get him in trouble, then why would they have been deleted within hours of a local TV station making the connection between the two?
As The Free Thought Project has reported, links between police officers and white supremacy in the U.S. are not a myth and have been ongoing for years. In fact, according to one investigation conducted by law school students at Syracuse University, during the Civil Rights movement, the KKK ordered its members to infiltrate police departments, "because the laws don't apply to them if they are the law."