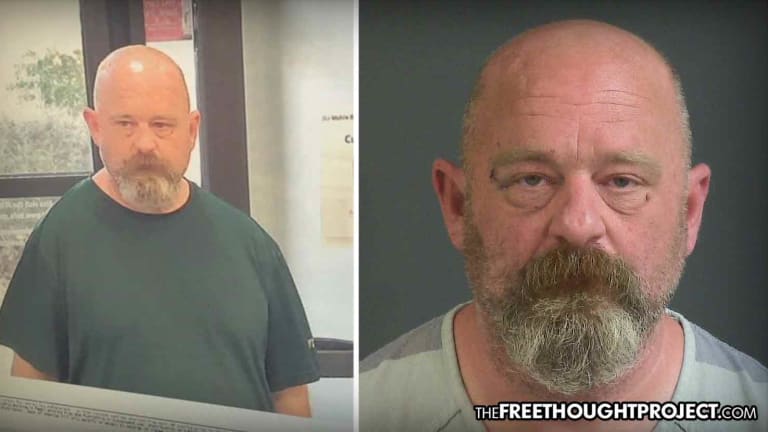 Police Chief Who Wasn't Jailed for Robbing Bank, Just Robbed Another Bank and Got Shot
After robbing a bank less than two years ago, this former police chief was sentenced only to probation, which has allowed him to rob yet another bank.
Williamston, SC — In 2017, the former police chief for Williamston, South Carolina walked into a bank of America with a gun, handed the teller a note, and then walked out of the bank with a sack of cash. He was later arrested and found guilty for committing armed robbery—a felony, according to 16-11-330— that imposes a penalty of 10 to 30 years. However, he received no jail time. Now, after receiving his blue privilege in the form of a wrist slap for robbing a bank, this former top cop has struck again.
Richard Edward Inman, 47, was arrested late last month for robbing yet another Bank of America—this time, in Pawleys Island. Inman was apparently on a mission to get away and as he tried to escape, he was shot.
According to police, Inman arrived at the bank around 6 p.m., handed the teller a note, and then took off in a van with an undisclosed amount of cash.
The Post and Courier reports:
Investigators deployed a bloodhound tracking team as part of their search effort and eventually engaged in a vehicle pursuit southbound on U.S. Highway 17 toward Charleston.

Around 7:30 p.m., Inman was stopped by Charleston County and Georgetown County sheriff's deputies on Highway 17 across from Doe Hall Plantation Road, according to the Charleston County Sheriff's Office.

During the stop, at least two deputies from the Charleston and Georgetown sheriff's offices fired at Inman while trying to apprehend him, both agencies confirmed. Inman suffered non-life-threatening injuries, authorities said, and was transported to a hospital.
The details as to how or why police shot Inman remain unclear. However, they likely considered him armed and dangerous since he had just committed armed robbery of a bank.
On Monday, authorities confirmed Inman had been booked into jail after being released from the hospital and charged with armed robbery, entering a bank with intent to steal, and failure to stop for blue lights.
Prior to quitting his job of police chief in shame for making racist jokes, Inman had been a cop for 25 years. When he committed the first armed robbery in 2017, the judge likely considered his prior career in law enforcement as the reason for only giving him four years of probation.
Now, however, prosecutors will likely throw the book at him as he's proven to be a repeat offender, in less than two years.
While a cop turning into an armed bank robber may seem like a rare and insane situation, TFTP has reported on multiple instances of this very phenomenon.
Just last year, right up the road in North Carolina, a police officer was arrested and charged with armed robbery following a bank heist in which the deputy was the only suspect. Davidson County Sheriff's Office (DCSO) Deputy Jeff Athey was arrested just four minutes after he allegedly committed the crime.
According to WSOC TV9, "Athey worked for the department for years, and also worked as a private contractor for Blackwater in Iraq and Afghanistan."
Athey allegedly robbed the F&M bank on West Main Street in Rockwell. He reportedly used a semi-automatic weapon during the robbery. Highlighting the ludicrous nature of Athey's situation is the fact that he was was scheduled to work later that day as a police officer for DCSO.
Also, as TFTP reported at the time, former Atlanta police officer Maurice Dodd fatally shot himself while fleeing police after he robbed a bank in Illinois. Dodd was reportedly in the Chicago area visiting family when he robbed the bank. He had just been fired from the department for a DUI arrest.
TFTP also reported on the notorious "Snow Bird Bandit," who was making headlines by robbing multiple banks and getting away with it. For months, the robber, who got his name because of his old age and gray hair, alluded authorities until he was finally nabbed in Orange County, CA.
When police finally caught up to him, they found the infamous bank robber was none other than 70-year-old Randolph Bruce Adair, a retired Los Angeles cop.