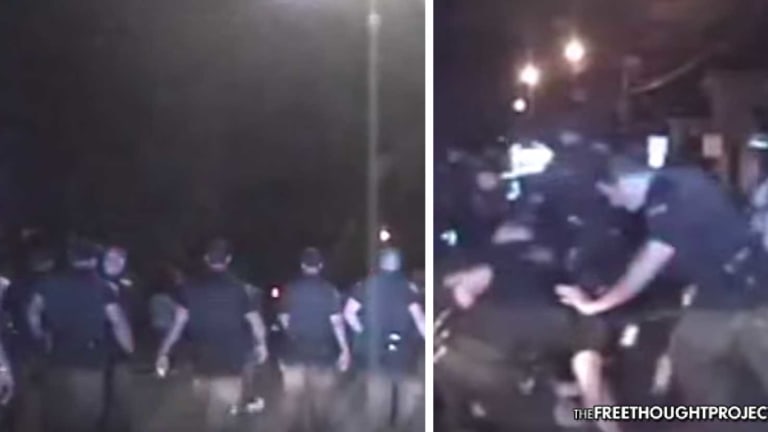 Cops Suspended After Black Teens Beaten & 'Herded Like Cattle' Out of Town on Video
Multiple cops including the chief and captain are in hot water after video was released showing them beating teens while "herding" them out of town.
Maplewood, NJ — Two of Maplewood's top cops have been placed on suspension following outrage from a video showing officers beating and "herding" a group of black teens out of town "like cattle."
According to WNYC, Committeeman Frank McGehee made those comments at a public meeting Tuesday night, when the township board voted to place Chief Robert Cimino on paid leave for 60 days. Police Captain Joshua Cummis has been placed on leave through the end of the month.
The chief was also asked to resign immediately following a motion of no confidence.
The officers were accused of using excessive force during a July 4th celebration last year. The teens complained that the cops forced them to march out of town using violent and unnecessary tactics.
A year after the alleged abuse, video was finally released showing the incident. Prior to the video's release, only a single officer had been suspended after the department found he violated the department's use of force policy. Now, five additional officers are facing "formal discipline for violating department rules and regulations."
"Black children … were herded like cattle out of Maplewood, a town that many of these children call home," McGehee said. "There is no greater message that you are not welcome than being driven out of your hometown simply because of the color of your skin. When did being black become a qualifying factor regarding residency in Maplewood?"
As NJ 1015 reports, Mayor Victor DeLuca said officials were "appalled" by the use of force used against the teens. In video of the confrontation, groups of police officers are seen taking two young men to the ground and punching them.
"We want to set the record straight that this type of behavior is not going to be accepted in Maplewood and this police department is going to right themselves," DeLuca said.
The video and subsequent audio of last year's incident are nothing short of damning. The officers can be heard over the radio profiling the teens and discussing how they are going to march them out of town. They are then seen violently engaging the teens.
According to NJ 1015:
On the audio recordings released by the township, a voice identified by local news site The Village Green as Chief Cimmino, orders officers: "We're going to send them east."

A voice identified by the news site as Capt. Cummis says: "Notify Irvington they are going down Elmwood toward their town."

Cummis then says: "Once they reach the Irvington border and they're in Irvington, I want you to maintain our border…"

"Maplewood units, I want them to maintain, once they leave our town, maintain our border."
Walter Fields, president of the South Orange/Maplewood Black Parents Workshop, while talking with NJ 1015, asked "Why weren't white children and youth from Maplewood marched into neighboring Millburn after the fireworks? That's why we believe this was clearly a case of racial profiling and we believe the department has to be held accountable."
As the video below shows, at the 2:30 mark, as the cops are herding the teens down the road, all of the sudden dozens of cops swarm one of the teens and begin throwing punches. One of the officers is even seen stomping the teen for no reason as he is already on the ground with multiple cops on top of him.
The video then freezes up as a second teen appears to suffer a similar fate.
Remember, as you watch the video below, none of these kids had committed a crime. They were simply being pushed from the white part of town back into the black part of town.
Because of the lax punishment of the officers involved, the town has now hired a consulting firm to investigate this incident further. The results of that investigation are due in September.
Until then, the officers involved in and responsible for the horrific treatment of these teens will be on paid vacation.