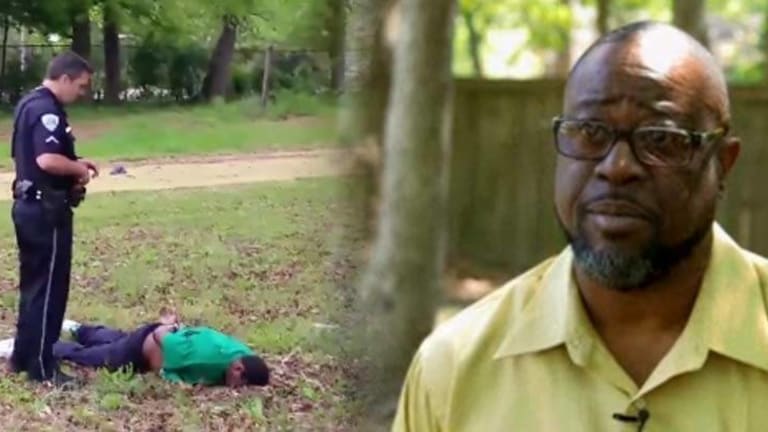 Police Cover Up? Cops Seized Man's Camera After Shooting His Brother, Walter Scott, in the Back
"So, are you going to kill me, too, now?" said Anthony Scott as police demanded he hand over his camera in an apparent attempt to cover up their fellow officer's misdeeds.
North Charleston, S.C. - In an extremely troubling revelation, it has come to light that officers, in the wake of Walter Scott being shot multiple times in the back, surrounded Scott's Brother and forced him to surrender his phone as he was taking pictures of the murder scene.
Judging from the narrative that police forwarded in the wake of the incident, but prior to the video being released, this was potentially part of a larger conspiracy meant to assist a fellow officer in covering up his crimes.
According to a report in The New York Times:
After the shooting on Saturday, Mr. Scott's older brother, Anthony Scott, 52, went to the crime scene. He stood taking pictures of his brother's covered body with his phone when police officers and detectives approached. Three of them surrounded him, telling him to turn over his phone, he said.

"So, are you going to kill me, too, now?" Mr. Scott said he asked them.

He eventually handed them his phone. Hours later, Chief Driggers arrived, returned Mr. Scott's phone and offered his condolences.

The chief was very kind, very kind," Mr. Scott said. "He was very gentlemanly, very different from the way everyone else was acting. Everyone else — it was eerie how they were acting. They were cocky."
Scott went on to tell the Times that North Charleston Police Chief Eddie Driggers, a former police chaplain, offered his condolences. While it is honorable that the chief had the decency to apologize, it's clear that his officers, judging by their actions, have no such tendency towards morality.
This incident is extremely troubling, as it calls into question if there was a larger conspiracy taking place immediately after the killing of Walter Scott.
The attempt to confiscate Scott's cell phone cannot be taken lightly in the wake of the evidence that Slager forwarded a fabricated story, which the video exposed as a lie.
We demand a complete and transparent investigation of all officers that may have participated in a conspiracy to conceal officer Slager's crimes.
Let's keep up the pressure and hold these crooks accountable! Help spread the word and share this article with a friend. Together we can make our voices be heard and force systemic change!
Jay Syrmopoulos is an investigative journalist, freethinker, researcher, and ardent opponent of authoritarianism. He is currently a graduate student at University of Denver pursuing a masters in Global Affairs. Jay's work has previously been published on BenSwann.com and WeAreChange.org. You can follow him on Twitter @sirmetropolis, on Facebook at Sir Metropolis and now on tsu.