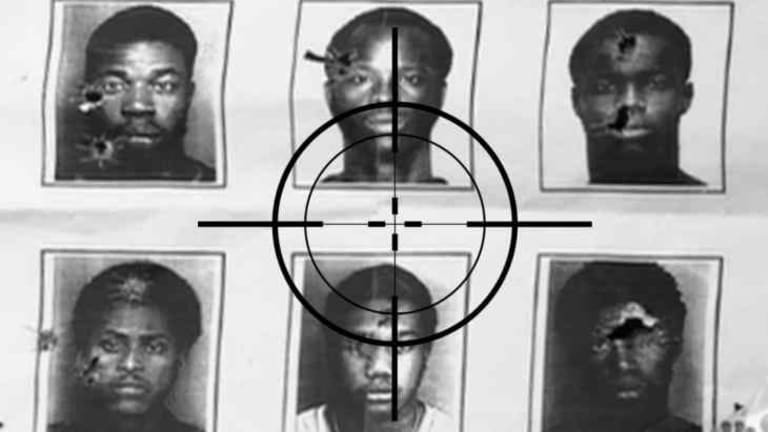 Police Department Caught Using Mug Shots For Target Practice
"Why is my brother being used for target practice?"
Miami Beach, Florida - The North Miami Beach Police have caused nationwide controversy this week, after it was discovered that they were using mug shots from people in the community for target practice. To make matters even worse, the department has been entirely unapologetic in the matter, saying that the officers involved did not break any policies.
The disturbing practice was uncovered last month when the Florida Army National Guard's 13th Army Band went to a local shooting range for their annual weapons qualifications training.
When the soldiers arrived at the shooting range they were horrified to see that North Miami Beach Police snipers were using mug shots from their department for target practice. Even more disturbing was the fact that Sgt. Valerie Deant, one of the soldiers on the firing range that day, actually recognized one of the people in the mug shots. She quickly recognized her brother's 15-year-old mug shot that was taken after a drag racing arrest.
"I was like why is my brother being used for target practice?" Deant asked.
"There were like gunshots there, and I cried a couple of times," She added.
Valerie called her brother Woody Deant right away and told him about the terrifying ordeal. Woody was just 18-years-old at the time of his arrest, and has since become a loving father and husband.
"The picture actually has like bullet holes. One in my forehead and one in my eye. Now I'm being used as a target? I'm not even living that life according to how they portrayed me as. I'm a father. I'm a husband. I'm a career man. I work 9-to-5," Woody Deant told reporters.
"Automatically in his mind he's going to think target, target, target…," Woody added.
North Miami Beach Police Chief J. Scott Dennis said that he believes his officers were doing nothing wrong, and mentioned that none of them will face any discipline for their actions.
"Our policies were not violated. There is no discipline forthcoming from the individuals who were involved with this," Dennis said.
The Deants have contacted Attorney Andell Brown to handle their case, but they have not officially announced any lawsuits.
"This can create a very dangerous situation, and it has been ingrained in your subconscious what does that mean when someone [police] comes across Woody or another person on the street and their decision-making process on using deadly force or not," Brown said.
John Vibes is an author, researcher and investigative journalist who takes a special interest in the counter culture and the drug war. In addition to his writing and activist work he is also the owner of a successful music promotion company. In 2013, he became one of the organizers of the Free Your Mind Conference, which features top caliber speakers and whistle-blowers from all over the world. You can contact him and stay connected to his work at his Facebook page. You can find his 65 chapter Book entitled "Alchemy of the Timeless Renaissance" at bookpatch.com.