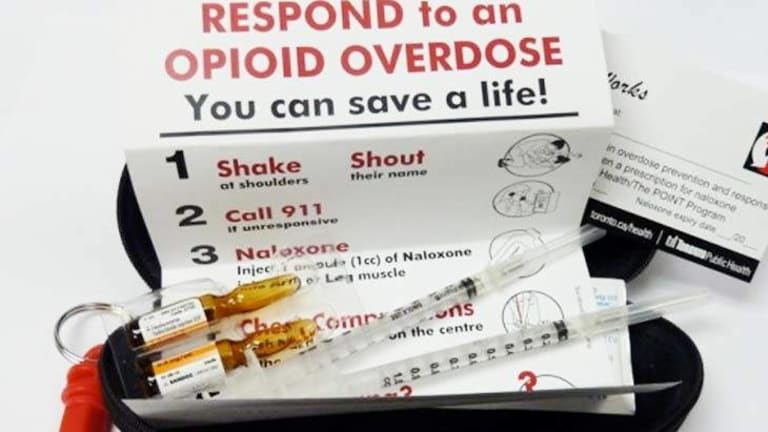 Cops 'Not Concerned with Saving Lives' Refuse Free Life-Saving Overdose Reversal Kits
Apparently saving the life of a person who's experiencing an overdose it too inconvenient for cops in Pennsylvania, even when it's free and easy.
Lehigh County, PA -- As batches of heroin in America are becoming more and more deadly, a police department in Pennsylvania is refusing to carry a medication called naloxone that works as an overdose antidote and saves many lives every day. The medication temporarily clears the effect of opiates for a short amount of time so the person can receive medical care before their respiratory system shuts down.
Many police departments have started carrying the medication without complaint, along with other first responders, since heroin overdoses have become so unfortunately common.
In Lehigh County, Pennsylvania, District Attorney James Martin recently set up a program to provide the local police department with free Naloxone, but the police department has refused, saying that it would be "too complicated" for officers to carry the medication.
"It's not very complicated. They just don't want to do it. Every other police department in the country is doing it without any logistical problems that I'm aware of," Martin told The Huffington Post.
Martin is right, the medication does not pose any risk or liability to police departments, it has no value if stolen and resold on the black market, and does not produce any psychoactive effects.
Nearby, Northern Berks Regional Police Chief Scott Eaken has refused to allow his officers to carry naloxone and does not seem very concerned with saving lives.
"Is that going to justify me having to take naloxone in and out of the police car every shift, every day, flip it back and forth between the cars for something that maybe I can envision? Where does it stop for police? We're carrying everything under the sun, now we're going to be medical people. At what point does it stop?" Eaken said.
Corey Davis, deputy director for the Network for Public Health Law's southeastern region hit the nail on the head saying basically that many police departments don't care if people overdose from drugs.
"There's been this cultural shift, where it doesn't seem like police, particularly the chiefs and people speaking on behalf of the department, it seems like they don't feel that they can say the sorts of things that get to the idea that some people are not worth saving. I think that's new," Davis said.
"If this was something else that was killing people, we'd be putting naloxone into milk cartons. We wouldn't even be talking about it," he added.
Naloxone many times goes by its name brand, Narcan, and in many cases is not that difficult for the average person to obtain to keep on hand in the unfortunate circumstance that someone nearby experiences an overdose. CVS recently announced that they will begin to sell naloxone over the counter in 14 states where local laws allow. In many places, local health departments require you to sit through a two-hour seminar and will give you the medication for free.
John Vibes is an author, researcher and investigative journalist who takes a special interest in the counter-culture and the drug war. In addition to his writing and activist work, he organizes a number of large events including the Free Your Mind Conference, which features top caliber speakers and whistle-blowers from all over the world. You can contact him and stay connected to his work at his Facebook page. You can find his 65 chapter Book entitled "Alchemy of the Timeless Renaissance" at bookpatch.com.