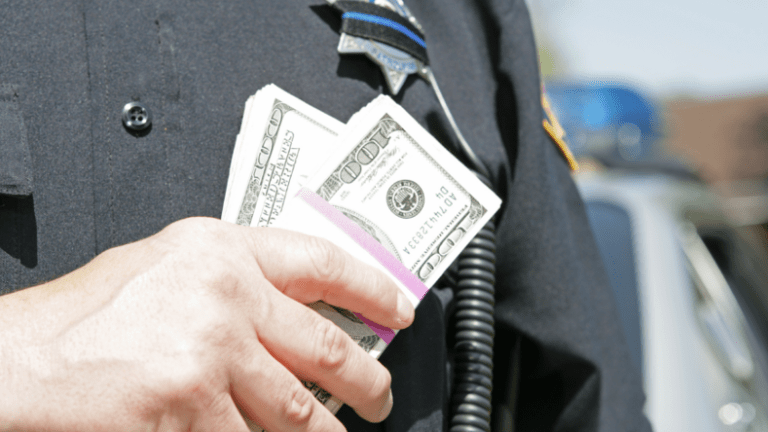 Is this a Police Department or a Street Gang? Or Both? Systemic Police Corruption Runs Rampant
"Corruption – it's embedded in Lincoln Heights. They need a house cleaning. The only way to get rid of the cancer is to cut it out – all of it. You can't leave any of it, because it will fester and re-grow. What we have here is a cancer."
Lincoln Heights, OH -- An investigation into the Lincoln Heights police department has revealed everything from the hiring of convicted criminals to under-the-table payouts to ridiculous promotions of negligent cops.
WCPO 9 Cincinnati has conducted one of the most eye-opening investigations into police corruption this year.
The investigation begins with Michael Glover who was wrongfully detained by officer Angala Taylor. Taylor, having no reason to legally detain him, could not stop Gover as he walked away, so she called for backup, but not before drawing and pointing her pistol at him.
"The gun was dangling, and I'm staring down the barrel of a gun – and I'm just frozen like a deer in headlights," said Glover.
As other officers showed up, the scene quickly turned violent. Officer David Smack arrived and tasered Glover and then stomped on him.
"I look back to see Officer Smack stomp me in the back, with full force, right over the screws that are holding my spine together," Glover said.
Officers Laroy Smith, Mike Lowe and Justine Pile were also called in to arrest Glover. During the struggle, some of Smith's ammunition "dislodged from his duty belt and fell onto Glover's back," according to the report.
"(They said) 'Look, there's bullets. He's got a gun.' When you say that around police officers, that's pretty much death right there," Glover said.
Luckily Glover wasn't killed, but he was arrested for disorderly conduct and resisting arrest. The charges were eventually dismissed. Glover then filed a written complaint with the department's IA unit claiming that he "was falsely arrested and tased without justice."
It was later decided the "officers could have dealt with the situation in a more tactful way," investigators said.
While looking into this incident WCPO discovered that Officer Smith was convicted in 1996 for falsification and then violated his probation but was still allowed to be a cop. Also his criminal past did not stop him from being promoted to second in command by Lincoln Heights Police Chief Conroy Chance.
However, he was demoted and fired this year after a sting operation by the sheriff's department. He was caught and charged for felony theft, while on duty.
Of course, like all facets of government do, Conroy blames this corruption on the 'prior administration.' He says that some hires at his department before his tenure were "questionable."
"Now we're actually paying the cost of those decisions that were made back then," he said.
They are literally "paying the cost." WCPO found that the department has shelled out nearly a quarter of a million dollars pf tax-payer money in a confidential settlement with residents who were beaten by Lincoln Heights cops for no reason.
"We are living in a sick place when we let guys like these become officers," William Franklin, high school science teacher said before suing the department with former vice mayor Gary Brown.
Both of these men were part of the quarter million dollar lawsuit and were forced sign "non-disparagement" agreements promising not to talk "in any way criticize the village of Lincoln Heights" to anyone, including "the news media."
"Officer Maddox, Officer Smack and Officer Capps beat me while I had my handcuffs on," Franklin said before filing the lawsuit.
All of these officers are still on the force.
According to WCPO, Officer Phillip Capps was fired by Lincoln Heights in 2001, and then rehired. Since then, he's been written up for "a pattern of behavior" of flirting with female drivers, according to police documents. Officials said he also issued fake citations when the women didn't respond to "his flirtatious advances."
Capps was required to quit five biker gangs, including the "Made Men" and the "Ground Assassins" after he showed up during a jury trial in uniform to support a fellow biker charged with a felony, an internal investigation states.
Another Lincoln Heights resident, Marcus Simpson, has joined in a lawsuit with Glover, after he was falsely arrested and the charges later dismissed.
"Corruption – it's embedded in Lincoln Heights," Simpson said. "They need a house cleaning. The only way to get rid of the cancer is to cut it out – all of it. You can't leave any of it, because it will fester and re-grow. What we have here is a cancer."
This is one town, in one state, in a nation of over 12,000 independent police departments. The problem of corruption is not isolated to Lincoln Heights. The Free Thought Project receives way too many police corruption stories every day to report on all of them. One needs only go to our front page to confirm this.
We are also contacted by police who want to expose the corruption in their department but are afraid to do so because they could be fired, charged with a crime, or worse.
We have come up with a plan to help these officers who want to expose this corruption. The Free Thought Project has started a fund to help financially support whistleblower police officers. Please consider donating to this fund so we can all work together to help remove this "cancer."