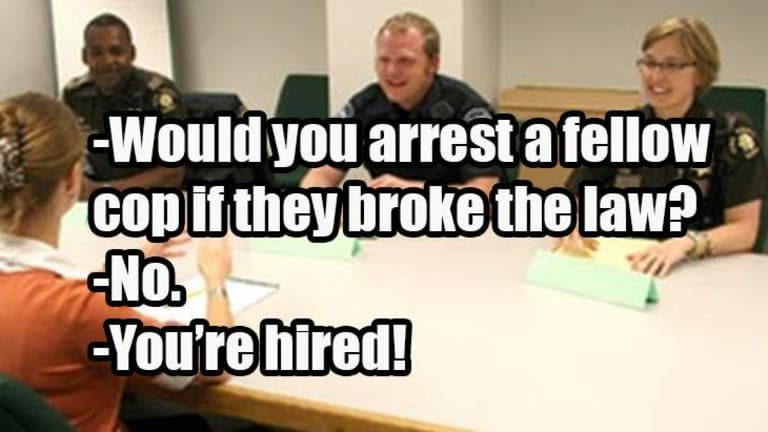 Police Dept Caught Giving Preference to Job Candidates who Said they Wouldn't Arrest Fellow Cops
The Methuen police department only hires cops who promise to be corrupt and cover for their fellow corrupt officers. This practice is more common than you think.
Methuen, MA -- In what can only be described as a "see, I told you so" moment for those in the police accountability sector, a police department in Massachusetts has been caught in a perfidious hiring scheme. They were giving preference to job candidates who said they wouldn't arrest fellow cops.
In other words, the Methuen police department was only hiring cops who promised to be corrupt and cover for their fellow corrupt officers.
According to the Boston Globe, 
A Civil Service Commission official wrote that he was dismayed to learn that the city gave higher points to applicants who said they wouldn't arrest a family member or an officer they knew, while docking points from who said they would.
"The City turned the interview process upside down," wrote Christopher C. Bowman, chairman of the Civil Service Commission, in a July 9 decision. "There is simply no valid basis to award the highest points to candidates who express a willingness to apply one set of rules to strangers and another set of rules to friends and family members."
Ah, but there is a valid basis to award applicants who promise not arrest their fellow cop. Ever hear of the thin blue line?
In police departments across the country, cops who go against this standard and try to hold their fellow officers accountable, are often the subject of demotions, firings, and have even had their lives threatened.
Of course, the Methuen police are spinning this practice of seeking out those who would protect their fellow law-breaking officers by saying that it helps them assess the honesty of candidates.
"I'm looking for some bearing, some honesty, and how quickly the person can think on their feet," Police Lieutenant Michael Pappalardo testified.
To Lieutenant Pappalardo, it is called 'honesty' when police officers look the other way as their fellow officers break the law. How valiant and noble of them!
"Some of the interview panelists actually heaped high praise on those candidates who stated that they would arrest a stranger but not arrest a friend or family member based on the same facts, citing their understanding of 'discretion,'" Bowman wrote in his decision.
This special treatment for cops who get caught breaking the law and are not charged is called "professional courtesy." As the Globe noted in December, it is, in fact, quite rare for cops to be charged when they are caught drinking and driving.
"Every police officer who testified before the commission testified that the routine and customary practice when a stop is made on a fellow police officer, is to show professional courtesy and not call in the stop," the report said.
The hiring practice of Massachusetts police cherry picking cops who won't hold their fellow cops accountable seem to have been particularly effective. Cops can rape, kill, drink and drive, steal, and commit a myriad of other crimes and the majority of the time they receive but a small slap on the wrist.
The public recognition of hiring those who will simply act as another brick in the blue wall gives us incite into how and why it is so rare and difficult for police officers to prevent corruption in their own departments.
The next time you see a cop, like Timothy Boling of the LMPD, keep his job after getting caught driving drunk in his police cruiser, or firing at SWAT officers during a standoff in which he's the bad guy -- you'll know exactly why.
Or, the next time you see a cop, like Officer Dale Reising, keep his job after being caught stealing cars, you'll know that it's not the criminal's fault, he's just receiving what's known in the biz as 'professional courtesy.'