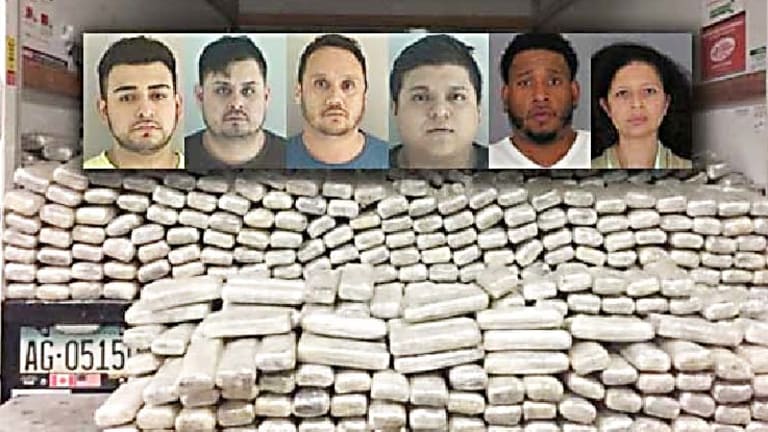 Police Dispatch Supervisor Busted in Massive 600lb Mexican Drug Conspiracy
A Cincinnati Police Department dispatch supervisor was among six people busted for trafficking 600 pounds of pot valued at $500,000.
Cincinnati, OH — A Cincinnati Police Department dispatch supervisor was among six people arrested in Ohio on Tuesday in conjunction with a traffic stop in which police scoured a vehicle and confiscated over a quarter ton of cannabis, which authorities say emanated from Mexico.
Law enforcement officials claim the weed holds a value of around $500,000.
Butler County Sheriff Richard Jones told the media on Wednesday the Fairfield stop of a tractor-trailer led officers to conduct a detailed search — leading to the discovery of nearly 600 pounds of cannabis in a "hidden well" built into the vehicle's walls.
"It took [the suspects] about six hours to get the dope out of the back of the tractor trailer and into the U-Haul," Tim Reagan, Resident Agent in Charge of the Cincinnati Office of the Drug Enforcement Agency, told local NBC affiliate, WLWT.
Officials said undercover agents and sheriff's deputies observed the group's activities for six hours before swooping in to make arrests.
"They got into the semi truck, and at that point, the doors were locked," the sheriff explained. "They were inside, taking the walls apart inside the truck. At that point, the doors were opened, the marijuana was put into the U-Haul truck, and at that point, there was a stop made in Fairfield."
Sheriff Jones noted the bust came after a monthlong investigation.
According to WCPO, court documents state Taneal Poole — a ten-year police veteran and dispatch supervisor — allowed live-in boyfriend, Damian Gray, to use her home in Silverton to store hundreds of pounds of marijuana.
"Poole was charged with possession of drugs, a first-degree felony, as well as permitting drug abuse, a fifth-degree felony,"WCPOreports.
Besides Poole and Gray, Jose Antonio Santiago-Razo, Brandon Guijosa, Miguel Alberto Trillo, and Oscar Paz-Diaz were also arrested on charges of drug possession and trafficking, after being caught with 400 pounds of pot — approximately 200 additional pounds were discovered after the execution of a search warrant for the dispatch supervisor's home.
Without identifying whom, Jones told the press one of the men arrested was here illegally from Mexico — and was previously deported in October.
"Lord knows how many times and what he's brought across the border," Jones, who also called cannabis "poison," asserted, "but at this time, hopefully when he goes through the good old U.S. court system, hopefully he gets some prison time here in the good old United States before he is deported again."
Reagan, from the DEA, added that, allegedly, this isn't the first time the same suspects transported drugs into the Greater Cincinnati area, and the DEA had worked this specific case for a month.
"We are confident that four or five times at least they ran this up into this area," he said, noting additional arrests are still possible. "Very sophisticated traps in the back of the trailer. Like the sheriff said, it took them, we believe, about six hours to get the dope out of the back of the tractor-trailer."
Cincinnati City Manager Harry Black emphasized the police department would cooperate fully with the DEA's investigation of Poole, who worked for the Cincinnati police since 2007.
While arresting a police supervisor for literally hundreds of pounds of cannabis certainly rests within the purview of the law, it must be emphasized this plant has never killed anyone — it's marijuana prohibition and the larger war on drugs doing a bang-up job of that.
Indeed, the government's misguided reign of terror against anyone daring to ingest or possess this plant — whether for medical or recreational purposes — arguably began American policing down the authoritarian path to militarization and a culture of impunity for police in the justice system.
Of course it theoretically isn't right to break the law — or, at least, there are often disproportionately grave consequences for nonviolent drug offenders who do — but when the prohibition in question serves only to stuff the coffers of for-profit prisons, generate revenue for police departments, and permanently ensnare otherwise upright citizens in our farce of a justice system, it's difficult to respect what that law ordains.