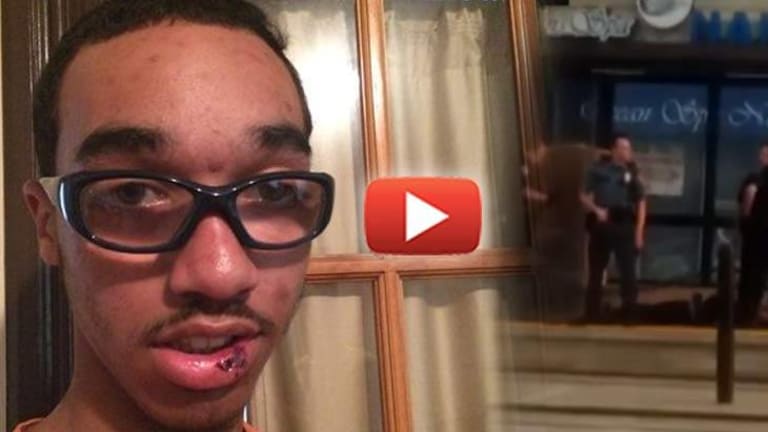 Because they Lack Crucial Training, These Cops Severely Beat a Blind Autistic Teen Unconscious
"I don't want autism to be a crime, I don't want people that have it to think that it is a crime," explains the boy's mom after her son was beaten by cops who couldn't recognize autism.
St. Paul, MN – The family of an autistic teen is speaking out after he was violently arrested, and rendered unconscious by Metro Transit Police while traveling home after working at the Minnesota State Fair. Marcus Abrams is an apprentice with Urban Boatbuilders, a youth organization, and had been exhibiting his work at the Minnesota State Fair. On his way home, an encounter with the police left the teen beaten and unconscious.

During the incident, Abrams, 17, suffered two seizures after police used force against him at the Green Line's Lexington Parkway Station. The attack resulted in a split lip and lacerations on his face and head, according to his mother, Maria Caldwell.
The teen suffers from Asperger's syndrome, which causes him to strongly dislike being touched or having people in his person space, and is considered legally blind, wearing extremely magnified glasses, according to Caldwell.
Caldwell said that upon approaching her son it should have been plainly obvious to the officers that her son had disabilities.
"If they had training with dealing with an autistic child or someone like an Alzheimer's patient ... it would seem they would have known how to handle him better than they did," Caldwell told the Pioneer Press on Wednesday.
Abrams was standing on the train tracks moments before police approached him. When police initially approached, the teen was wearing headphones and couldn't hear everything police said, with officers then accusing him of using drugs or being intoxicated.
"One grabbed my arm and the other one grabbed my wrist and I told them to get off me -- I did nothing wrong," Abrams told KARE 11. "They just slammed me right on the ground. I tried to get them off me and (one officer had his) whole body on my whole face and I couldn't breathe."
According to a report by KARE 11:
Abrams and friends who were with him are apprentices with Urban Boatbuilders, a youth organization, and they had been demonstrating their work at the Minnesota State Fair. They were heading home from there, waiting for a train, when Abrams jumped onto the tracks. The teen said Wednesday he was "mostly playing around, like play fighting."

Abrams was on the tracks for about 10 seconds, said his 15-year-old friend, who was helping Abrams get home; Abrams usually has someone to help him wherever he goes, his mother said. Abrams had just returned to the platform when officers approached.
Officers thought the non-compliance of Abrams was reason enough to justify forcibly taking him down, which resulted in him being battered and left unconscious.
Abrams non-compliance wasn't done out of malice, but out of not really understanding the situation, and believing he hadn't done anything wrong. Abrams' autism makes it extremely difficult for him to interpret the intentions or feelings of others, according to his mother.
"He has the mind of a 12 year old ... even though he doesn't look like that," Caldwell said.
Police released the teen to the custody of his mother rather than take him to the juvenile detention facility, with his disabilities being "one of the determining factors," according to Caldwell.
Police do not plan on presenting the case to prosecutors or to bring any charges, according to Metro Transit spokesman Howie Padilla.
"He's not out to harm anybody. He's just like any teen, trying to find their place in the world, but needing just a little special help," Caldwell said.
Caldwell said she simply wants to see officers recognize abnormal behavior and people exhibiting signs of mental illness.
"I don't want autism to be a crime, I don't want people that have it to think that it is a crime. I don't want people going around saying, 'oh well if your child is this way they shouldn't be out here by themselves,'" she said. "He was put in a situation where he was stressed out, a lot of pressure and confused. And I think that is what brought on his seizures."
Police are trained to think like the military in combat, which means they prioritize their own safety and the safety of fellow officers over everything else, including that of the citizens they allegedly "protect and serve."
They are trained to take control of situations, rather than think critically, which results in an exponential number of unnecessary violent altercations with citizens who questions their "authority." In reality, many of these incidents would require no force, or violent response whatsoever, and could be easily de-escalated and peaceably resolved.
When your only tool is a hammer, suddenly everything begins to look like a nail; including the disabled and mentally ill.
Jay Syrmopoulos is an investigative journalist, free thinker, researcher, and ardent opponent of authoritarianism. He is currently a graduate student at University of Denver pursuing a masters in Global Affairs. Jay's work has been published on BenSwann's Truth in Media, Truth-Out, AlterNet, InfoWars, MintPressNews and many other sites. You can follow him on Twitter @sirmetropolis, on Facebook at Sir Metropolis and now on tsu.